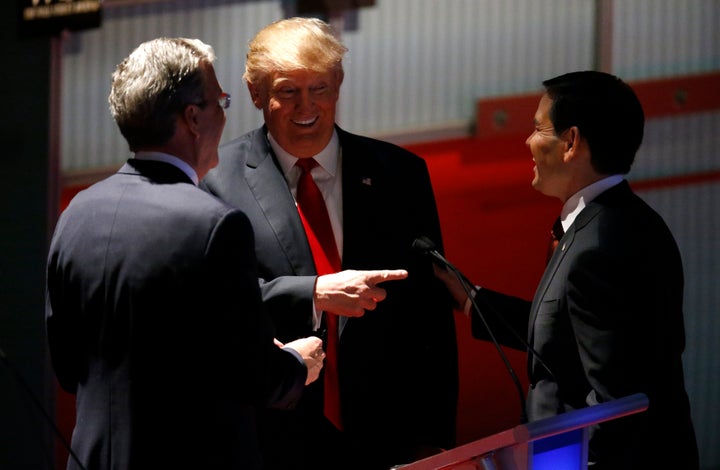 Sen. Marco Rubio (R-Fla.) won -- and former Florida Gov. Jeb Bush lost -- Wednesday night's Republican debate, pundits are proclaiming. But Bush's campaign has an answer for that: The race for the 2016 Republican presidential nomination "isn't going to be won and lost by debates in October" 2015, Bush spokesman Tim Miller told CNN's "New Day" Thursday morning. 
CNN's Alisyn Camerota criticized Bush for not appearing on "New Day" Thursday to recap his debate performance the night before, listing the other candidates who had agreed to talk to the network -- including Rubio, New Jersey Gov. Chris Christie, former Arkansas Gov. Mike Huckabee and former Hewlett-Packard CEO Carly Fiorina.
Rubio's communications director, Alex Conant, wasn't shy about calling his boss' performance a win -- or putting the candidate before the cameras. "In the next hour: @marcorubio talks about debate win on NBC, CBS, ABC, FOX News, CNBC & CNN," he tweeted Thursday morning.
"Shouldn't Jeb Bush be talking about what happened last night?" Camerota asked Miller.
Miller noted that Bush was on a plane to New Hampshire, before saying, "That's what this thing is really all about. This is a decathlon, and there are a lot of elements to this race. Winning the early states is important, so [Bush] is getting up there bright and early today."
Behind Camerota's questions -- and Miller's answers -- was some rapidly congealing conventional wisdom: That Rubio, perhaps Bush's top mainstream rival for the nomination, had a better debate Wednesday and has a more realistic path to victory going forward.
"Rubio scored a flat out knockout punch on Jeb Bush," conservative pundit Erick Erickson wrote late Wednesday night. "Rubio is just better at this than Jeb Bush," The Huffington Post's own Scott Conroy and Sam Stein concluded. The New York Times reported Thursday that "critics" believed "Rubio won." 
Miller is technically correct -- formally winning the GOP nomination requires winning delegates to the party convention, and you win those by winning primaries and caucuses. But political scientists have long argued that an "invisible primary" among donors, party honchos and political activists narrows the field before those contests ever take place. Six days ago, Bush cut staff salaries on his campaign, a clear sign his team is worried about money -- and that donors are worried about his chances. 
The latest HuffPost Pollster polling average shows Bush in fourth place in New Hampshire -- behind reality show star Donald Trump, neurosurgeon Ben Carson and Fiorina, but ahead of Rubio, who's in sixth.
REAL LIFE. REAL NEWS. REAL VOICES.
Help us tell more of the stories that matter from voices that too often remain unheard.