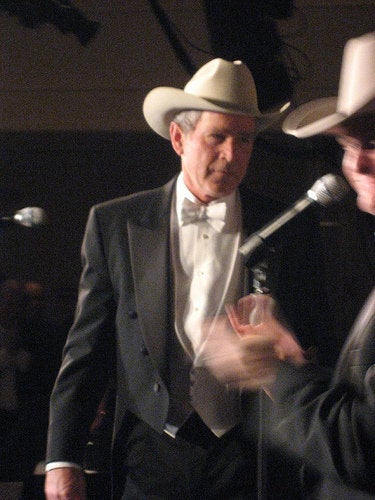 George Bush took the stage and sang an early farewell at the Gridiron, an annual roast among politicos and journalist in D.C. Lynn Sweet has a nice rundown on the evening's festivities and most popular targets of jest (Hint: running for President paints a big target on your back).
Although the media weren't allowed to bring their cameras, somebody did manage to smuggle us out of some footage. For you viewing pleasure, here is George W., singing goodbye (lyrics below).
Yes you're all gonna miss me,
The way you used to quiz me,
But soon I'll touch the brown, brown grass of home.

I spent my days clearing brush
I clear my head of all the fuss
But the fuss you made over harriet and brownie
Down the lane I look and here comes Scooter
Finally free of the prosecutor

Chorus

And then I wait and look around me
At the oval walls that surround me
I realize I was only dreaming
For there's Condi and Dick, my old compadre,
Talking to me about some oil rich Saudi,
But soon I'll touch the brown brown grass of home."

Chorus

That old White house is behind me,
I am once again carefree,
Don't have to worry 'bout a crisis in Pyongyang.
Down the lane I look, Dick Cheney is strolling
With documents he'd been withholding,
It's good to touch the brown brown grass of home."
Calling all HuffPost superfans!
Sign up for membership to become a founding member and help shape HuffPost's next chapter