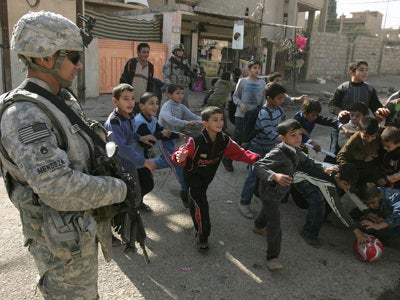 There he goes again! Standing in front of thousands of applauding soldiers at Fort Campbell in Kentucky, President Bush staunchly defended the US-led invasion of Iraq and the overthrow of Saddam Hussein.

"The consequences of success in Iraq will resonate far beyond that country's borders... will resonate when your children and grandchildren begin to study the history of peace," he said. "Success will frustrate Iran's ambitions to dominate the region. Success will show millions across the Middle East that a future of liberty and democracy is possible."
The president must have missed the sight of tens of thousands of Iraqis who on Friday gathered in Firdous Square where Saddam Hussein's statue once stood and chanted, "No, no, no to the occupiers!" He must have missed them dragging and pummeling his effigy with their shoes -- a gesture of contempt in the Arab world -- then jumping hysterically on it as they stamped out flames that had erupted after someone set it afire.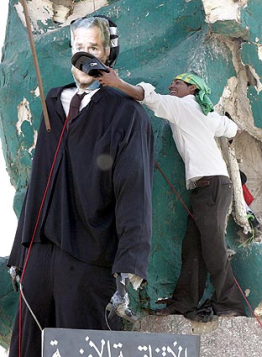 These telling images of "success" were beamed to millions of viewers in the Arab world. Are they waiting anxiously for a similar experience of liberty and democracy?
Today, Iraqi MPs delayed a vote to endorse a wide-ranging accord that will allow US troops to stay in the country for another three years despite reservations by Sunnis and fierce opposition by Shia hardliners. The vote is now scheduled for Thursday. It has drawn fire from Sunni groups, as well as followers of the Shia leader, Moqtada al-Sadr.
It is still expected to pass, but this is hardly a success Bush can claim. The success belongs to the Iraqi people, as they have managed to win a number of concessions in the deal, including a hard timeline for withdrawal, the right to search US military cargo, and the right to try US soldiers for crimes committed while they are off their bases and off-duty. The agreement also requires that US troops obtain Iraqi permission for all military operations and that they hand over the files of all detainees in US custody to Iraqi authorities, who will then decide their fate. The pact also forbids US troops from using Iraq as a launch-pad or transit point for attacking another country.
The Bush administration had initially opposed any firm timetable for withdrawing US forces in Iraq and resisted most of these demands.
Guess who wants a similar deal? -- Afghanistan's president, Hamid Karzai, is demanding foreign powers set a "timeline" for the withdrawal of their forces from his country.
He told a delegation from the UN Security Council that without a timeline, he would have to seek a political solution to the Taliban-led insurgency.
According to Homayun Hamidzada, Karzai's chief spokesman, the president told the delegation that: "The international community should give us a timeline of how long or how far the 'War on Terrorism' will go.
Perhaps Bush should add this to his list of "successes."
Calling all HuffPost superfans!
Sign up for membership to become a founding member and help shape HuffPost's next chapter