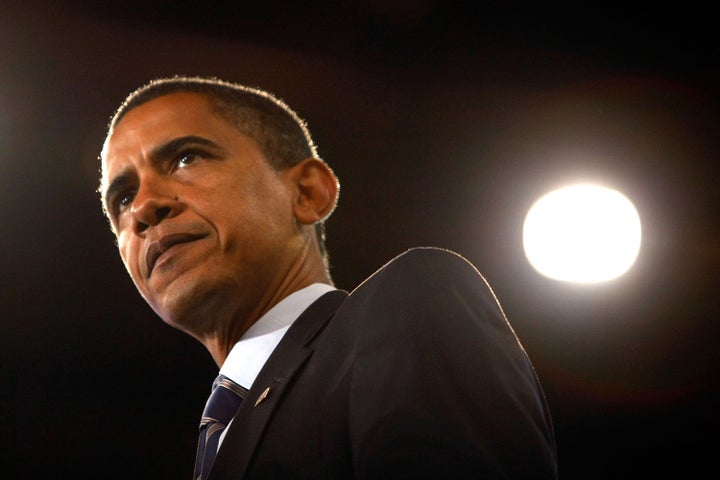 WASHINGTON -- An informal deal to hold four "test votes" with Republicans was canceled late Thursday night, according to a spokesman for Senate Majority Leader Harry Reid (D-Nev.). Instead, Democrats planned to file cloture Thursday night and hold votes Saturday on two separate measures.
The first, by Sen. Max Baucus (D-Mont.), would extend the Bush tax cuts for families making less than $250,000 a year. The second, authored by Sen. Chuck Schumer (D-N.Y.), would raise the tax cut threshold from $250,000 to $1 million a year.
Earlier, Democrats and Republicans had arranged to hold two additional votes on Republican-authored tax cut measures, but Reid was informed during an impromptu visit to the Capitol office of Senate Minority Leader Mitch McConnell (R-Ky.) that one Republican member objected to such an arrangement. McConnell had just left for dinner, so Reid was forced to phone his opposite number from McConnell's own office to get the news.
"We thought we had something worked out to have a number of votes, but the Republicans couldn't clear it," Reid said afterward. "So we are going to have cloture votes on our priorities on Saturday."
While declining to name the dissenting Republican, a stressed that there was the possibility that his or her objections could be dropped and negotiations over the informal four-vote arrangement could resume.
Democrats seemed less than optimistic that compromise could be reached, however.
"We are for tax cuts for the middle class and they will do everything they can to further their number one goal, tax cuts for millionaires and billionaires," said Sen. Chuck Schumer (D-N.Y.)
The GOP proposals included a permanent extension of all the tax cuts -- put forward by McConnell himself -- and a so-called compromise measure that was expected to call for a two-year extension of all of them. The latter option had received cautious support from at least one Democratic senator familiar with the negotiations, given the lack of movement on the other options, but it was ruled out.
The test votes were to be "fake filibusters," designed to see if any measure could get 60 votes. Senate Democrats convened a rare Thursday evening meeting in the Capitol to plot the way forward on negotiations, with several senators canceling flights to attend. Sen. Bill Nelson (D-Fla.) was the first to arrive, wearing jeans and a sweater, telling reporters on the way into the room that he knew nothing and had been en route to the airport.
Democrats were told of the caucus after 6 p.m. Thursday night -- most had long since left for the evening -- perhaps to show that there was no intent by Reid and McConnell to circumvent the rank and file.
Senate Majority Leader Harry Reid (D-Nev.) emerged from a caucus-wide meeting Thursday afternoon vowing to press forward with key Democratic agenda items in the face of GOP opposition and swirling rumors that the White House is pressing House and Senate negotiators to cave to GOP demands.
"I'm confident and hopeful that we can work our way through all these things," said Reid. "That is, we are going to make sure that we move forward on the fire fighters, we move forward on the DREAM act, we are going to move forward on the 9/11 New York situation, we are going to do something on Don't Ask Don't Tell, we of course have to do something to fund the government through next year or into next year, and we have to do something about the tax cuts. All those things are on my agenda... and START of course is part of that."
Reid spent much of the rest of the afternoon reaching out to his leadership and others in the caucus to chart a course forward, said a senior Democratic aide, adding that Reid is considering quickly bringing the House bill, which extends only the middle-class tax cuts, to the Senate floor. A vote could come as soon as Friday on the bill the House passed Thursday and would need 60 votes to prevail.
Throughout the day, Democrats on the Hill became increasingly concerned that the party's negotiators, at the behest of the White House, were inching closer to caving to GOP demands that tax cuts for the wealthy be extended for several years.
Those fears are being aired in the press in the hopes that President Obama will stiffen his spine in ongoing negotiations with congressional Republicans. "I would hope the president would stand firm on what he campaigned on in Iowa," said Sen. Tom Harkin (D-Iowa). "The Republicans painted themselves into a corner. I hope we don't let them out."

The final contours of a deal -- being hashed out by the Secretary of the Treasury, Director of the Office of Management and Budget and bipartisan lawmakers -- have not been set. "There is no impending deal," said a senior administration official. A likely announcement would come over the weekend, added a senior Senate aide. The negotiators met in the Capitol Thursday afternoon.
The deal Democrats fear will be pushed by the White House would give the GOP a two-year extension of all tax rates. In exchange, Republicans would allow for an extension of unemployment benefits for a yet-to-be-determined period. Democrats would also get smaller tax provisions that they have been pushing for this past year, such as the Make-Work-Pay tax credit. They would also secure a vote on the START Treaty, a nuclear non-proliferation pact with Russia.
Both the White House and Senate Democrats stressed that any compromise on tax cuts would not affect efforts to push two other party priorities -- the DREAM Act and Don't Ask Don't Tell. But even then, there was doubt on the Hill that the other provisions could be passed by the time Congress left for recess.
Following publication of this and other reports that the White House was close to a deal, Robert Gibbs released a statement that pushed back on the notion, while at the same time leaving the impression that the White House saw no way to pass a bill with only the middle-class tax cuts.
"The President continues to believe that extending middle class tax cuts is the most important thing we can do for our economy right now and he applauds the House for passing a permanent extension. But, because Republicans have made it clear that they won't pass a middle class extension without also extending tax cuts for the wealthy, the President has asked Director Lew and Secretary Geithner to work with Congress to find a way forward," Gibbs said. It is not up to Republicans to "pass a middle class extension," however, because the GOP does not control the upper chamber.
"Those discussions started just yesterday and are continuing this afternoon. The talks are ongoing and productive, but any reports that we are near a deal in the tax cuts negotiations are inaccurate and premature," Gibbs added. One senior aide said that Biden briefed a Democratic Senator on the White House plan to accept the extension of all the tax cuts.
"All of this could change rapidly," said another top Hill aide. "It is clear the White House has been pursuing the strategy for the last 24 hours or so. The question is how will it be perceived in the caucus?"
As the Hill aide spoke, the caucus was meeting. Throughout the week, said a Senior Democratic aide, Senate leadership had been in discussion with Vice President Joe Biden about briefing the caucus on the negotiations. Biden did not appear today, prompting speculation that he didn't want to face the wrath of angry Senate Democrats. A trip to the Hill, however, had not been officially on his schedule and an administration official said he had not been planning to travel down Pennsylvania Avenue.
The sense from aides privy to past talks was that such a deal would simply not be enough for such a retreat, considering that what Republicans would be "giving up" originated with President Reagan. "The idea that Republicans would give us a vote on their fucking treaty--I mean, this was Ronald Reagan's treaty, we're just extending it--is crazy," said one top Democratic aide. "We have the White House and the Senate. Why should they get their top choice when we aren't?"
As talk of the deal was percolating through Congress, the House took up a bill that would extend the tax cuts only for the middle class and passed it by a 234 to 188 margin. Three Republicans voted for the measure: Reps. Ron Paul (R-Tex.), Walter Jones (R-N.C), Jimmy Duncan (R-Tenn.).
But as lawmakers celebrated, the sense was creeping in that the victory was just theater.

The White House sees little other option. "The House will vote [on their tax cut package], it may pass," said the administration official early Thursday afternoon. "Senate will then vote and then it will fail. And then, I ask, What next?"
Even a one-year extension of unemployment benefits will leave Congress facing the same predicament at this time next year, with little hope of economic recovery in the short term. Still, advocates for the unemployed are pushing for what they can get.
The National Employment Law Project has pushed hard for a year-long reauthorization of extended unemployment benefits. "NELP knows that the president and his team are acutely aware of how crucial a year-long reauthorization of federal unemployment benefits is," said NELP lobbyist Judy Conti in an email to HuffPost. "They have made that point time and time again, as recently as today with a strong report from the Council of Economic Advisors that details how important UI has been to families in surviving this recession. We are confident that they will continue to fight hard on this point and will not give up on it."
This story has been updated to reflect additional reporting. Arthur Delaney contributed to this report.

Popular in the Community