WASHINGTON -- President Barack Obama would veto legislation that extends all of the Bush administration's tax cuts, including those for the middle class, White House Press Secretary Jay Carney said Monday.
But top Republican aides said they don't buy it.
During his daily briefing, Carney was initially vague about whether Obama would go so far as vetoing such a bill if it landed on his desk. Republicans are pushing to extend all of the Bush tax cuts before they expire at the end of the year, while Democrats only want to keep the cuts targeting people making $250,000 or less. Until now, the White House hasn't definitively said whether Obama is prepared to veto an across-the-board tax cut extension, even if it includes the tax cuts sought by him and Democrats.
"He would not support it. He would not sign that bill," Carney said, when asked if Obama could support a bill that extended all of the Bush tax cuts. Pressed further on whether the president would simply not sign such a bill or if he would actually veto it, Carney finally said, "He would veto."
Throughout the debate on the Bush tax cuts, Democrats regularly accuse Republicans of holding middle-class tax cuts hostage to tax breaks for the wealthy. Carney dismissed the idea that, with a veto threat now waged, Republicans could make the same argument about Obama holding the tax cuts hostage to the wealthy. Instead, he said, Republicans should focus on where there is middle ground on the issue.
"There is a great deal of disagreement about whether or not the wealthiest of Americans should see their tax cuts extended," Carney said. But the president believes "that it's good economic policy to extend the tax cuts for 98 percent of taxpaying Americans, and so do Republicans. So let's do that."
House and Senate leadership aides suggested Carney was bluffing about the veto threat, particularly since Obama backed a full, albeit temporary, extension of all of the Bush tax cuts in 2010.
"We've heard it all before, but the president has even fewer Democratic allies in Congress than he did two years ago, when he signed a full extension," said Brendan Buck, a spokesman for House Speaker John Boehner (R-Ohio). "No one believes the president would really derail our economy just to fulfill his quixotic desire for small business tax hikes."
Don Stewart, a spokesman for Senate Minority Leader Mitch McConnell (R-Ky.), said it would show Obama's "serious commitment to job-killing tax hikes" if he vetoed a bill to extend all of the Bush tax cuts.
"It's certainly interesting that the president's commitment to raising taxes on nearly a million small businesses would extend to him vetoing a bill that, to get to his desk, would have passed in both a Republican House and a Democrat Senate," said Stewart.
For now, Congress appears no closer to finding middle ground on the issue. The Republican-controlled House is lining up a vote later this month to extend all of the Bush tax cuts, while the Democratic-controlled Senate appears ready to move a bill to extend only the middle-class cuts.
Before You Go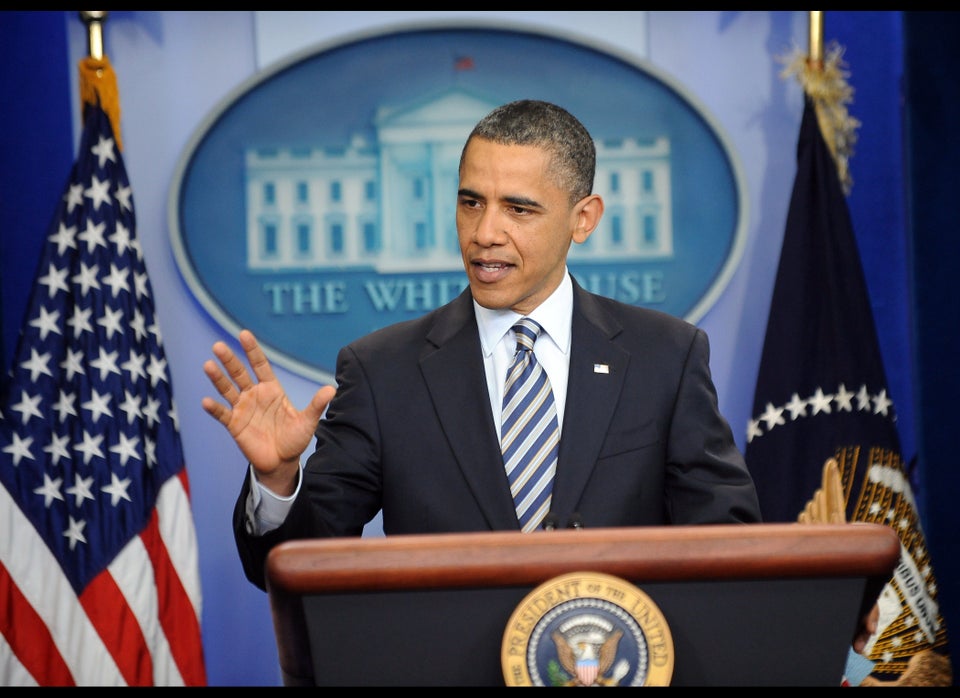 Barack Obama's Greatest Hits
Popular in the Community