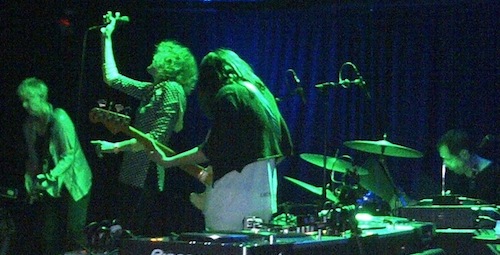 Bush Tetras played Le Poisson Rouge on June 10, 2011
There were three people walking ahead of me on Bleeker, and somehow I knew that we were all going to the show together and that they had seen Bush Tetras perform some three decades ago. They walked with the purpose that accompanies the anticipation of seeing an old friend. Then, downstairs in the music hall, a middle-aged man adjusted the rice hat on his head and opened the door for us.
I was surprised that the place was half-full, permitting one bouncer the space and lack of supervision to shadowbox. Bush Tetras are figures of late 70s / early 80s no wave lore, and they rarely play. Was this a result of a marketing snafu? Impending rain? Indifference?

The entire hour-and-a-half set was magnetic. Cynthia Sley commanded the stage as any good singer should, but her presence was not overwhelming, proud or god-like. She, and the rest, seemed to simply love playing the songs. Pat Place was wearing Adidas athletic sandals and white socks, which didn't convey cool as much as comfort or podiatric affliction. Place's guitar playing - jangly, controlled dissonance - was tightly calibrated with Laura Kennedy's Julia Murphy's slick bass and Dee Pop's drumming. They didn't miss, and inspired a wide range of dancing, from erratic head-and-body-trashing to smooth grooving within a modest perimeter.
"We are happy to be on planet Earth," Sley said in greeting. The enamored crowd agreed; a younger attendee referred to the Bush Tetras Wikipedia page on his iPhone. No hit was left unplayed - "Too Many Creeps", their biggest, was saved for last - but the unreleased and lesser known songs garnered the same amount of swaying and shaking. The only evidence of torpor was Sley's protestation, mid-set, "Cut the white lights...we're too old for white lights."
When they played "Stand Up and Fight", I felt a bit queasy. "Stand Up and Fight" had always irked me, coming off as disingenuous, too punk and out of place ("Stand up / and fight! / You have a right to fight!"). Most Bush Tetras songs portray the young life as mundane ("With our sex and our drugs and our endless spare time"), frustrating ("I just can't pay the price / of shopping around / anymore / because there's just nothing that's worth the cost"), superficial ("When everybody says hello / but never says I love you"), and frenetic ("Dance, dance, dance / Talk, talk, talk / Well the walls are so thick that I can't even walk") in a matter-of-fact way, just shy of sarcasm ("Rats bite / Boys fight / Noses run / Girls have fun"). Sley said after "Stand Up", "Ah the Reagan years...but it's still relevant now."
There was something touching and intriguing about Sley's optimism. No Wave has been described as nihilistic, "a movement predicated on negation - except those involved didn't consider it a movement, and didn't predicate it on anything." Like the Contortions, Bush Tetras made danceable music, rooted in funk and blues, avoiding the more entropic experiments of contemporaries DNA or Mars. But all these bands possess an anti-everything ethos which is nevertheless celebratory, deriving its power from a shared understanding that the world is a mad and meaningless place. As China Burg (of Mars) explains in Mark Masters' account of the era, "There was a sense that it's impossible to imagine a future, with the direction things were going in. Nihilism can be rejecting something worse than the positives of going along with a disaster scenario." Their fight was not for or against anything in particular (as punk was) but rather was against everything received, planned or expected.
Approximately thirty years later, Sley is right, the music is still relevant, and the disaster scenarios are even more pernicious and vicious. And live, loud, with loose hair and earnest insistence, Bush Tetras summoned the joy and energy that can result from investigating the panic and boredom of being alive. Introducing "Too Many Creeps", Sley explained, "there are still creeps in this city."
"Too Many Creeps" music video:
REAL LIFE. REAL NEWS. REAL VOICES.
Help us tell more of the stories that matter from voices that too often remain unheard.