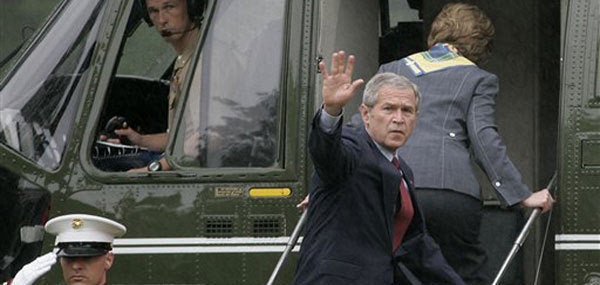 President Bush on Thursday ordered an indefinite halt in U.S. troop withdrawals from Iraq after July, embracing the key recommendations of his top war commander. Bush said Gen. David Petraeus will "have all the time he needs" to consider when more American forces could return home.

Bush's decisions virtually guarantee a major U.S. presence in Iraq throughout his term in office in January, when a new president takes office.

"It is clear that we're on the right track," the president said. That track, he said, leads to a self-sufficient and free Iraq, where those who foment violence will find themselves increasingly unwelcome, and indeed on the run from Iraqi military and security forces.

Mr. Bush said that big challenges must be surmounted before Iraq is truly free and secure, and that more sacrifices will be demanded of Americans "for some time to come." But increasingly, the president asserted, the United States military will be able to shift to a training and support role.
The Washington Post furthers the point that Bush is essentially leaving the fate of 140,000 troops in Iraq in the hands of the next President.
The bottom line seems to be that after pulling out the extra forces Bush sent last year, the United States will keep about 140,000 troops in Iraq at least through the November presidential election. In the short term, the debate in Washington instead will focus more intently on trade-offs at home, including the strain on the armed forces and the Treasury.
Calling all HuffPost superfans!
Sign up for membership to become a founding member and help shape HuffPost's next chapter