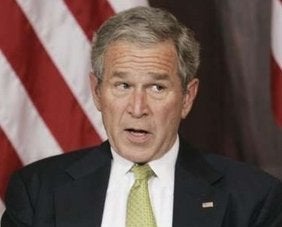 George W. Bush is unworthy of the presidency. He is a disgrace to himself, our Nation, and the high office he holds.
In a speech to the Israeli Knesset on Thursday, Mr. Bush forfeited the last scraps of his moral authority, dishonoring himself by using one of the world's most important pulpits to launch a false and vicious political attack against Barack Obama.
I am such a strong supporter of Israel that when I worked in the White House some of my friends called me a "Likkud Democrat." It is especially appalling to supporters of Israel that Mr. Bush would stand on a hilltop in Jerusalem to invoke the Holocaust in order to make a cheap and deeply dishonest political point.
I am a person of faith, so it is especially galling that a man who calls himself a brother in faith would stand in the Holy Land and violate one of the Commandments God gave to Moses: "Thou shalt not bear false witness against thy neighbor."
This is what Mr. Bush said, according to the text released by the White House:
"Some seem to believe we should negotiate with terrorists and radicals, as if some ingenious argument will persuade them they have been wrong all along. We have heard this foolish delusion before. As Nazi tanks crossed into Poland in 1939, an American senator declared: "Lord, if only I could have talked to Hitler, all of this might have been avoided." We have an obligation to call this what it is - the false comfort of appeasement, which has been repeatedly discredited by history."
His attack was disgraceful, demeaning and dishonest. Bush's own government has repeatedly conducted negotiations with terrorists and radicals, including:
Iran. Bush sent Ambassador Zalmay Khalilzad, then posted to Baghdad, to negotiate with Iran over security issues affecting Iraq. Bush's current Ambassador to Iraq, Ryan Crocker, told ABC News, "We are willing to sit down with Iran face to face for talks on Iraqi security at the invitation of the Iraqi government. We've had three rounds of those talks and we've told them we are ready to again."
Libya. Although Libyan dictator Moammar Gadhafi was behind the December, 1988 bombing of Pan Am Flight 103 over Lockerbie Scotland, which killed 270 people, most of them Americans, the Bush Administration conducted months of negotiations with the terrorists, culminating in a 2003 agreement to dismantle Libyan long-range missiles and weapons of mass destruction;
North Korea. The Bush Administration, led by Assistant Secretary of State Christopher Hill, has held numerous direct negotiations with the North Korean regime, a charter member of Mr. Bush's "axis of evil."
It should be noted that in each instance, the negotiations actually advanced America's security position. So even the Bush administration, by its actions, attests to the efficacy of negotiating with evildoers.
All this is to say George W. Bush is a hypocrite. So deep is his cynicism that he would go on foreign soil to invoke history's greatest crime to condemn conduct he himself has engaged in.
As an American I am ashamed that such a man represents me.
I say this as someone who has not supported Barack Obama in the Democratic primaries; someone who has reservations about Sen. Obama's plan to engage Iran in talks without any preconditions. But there comes a time when intra-party rivalries must yield, and all of us must stand together against the degradation of the Office of the Presidency.
Calling all HuffPost superfans!
Sign up for membership to become a founding member and help shape HuffPost's next chapter