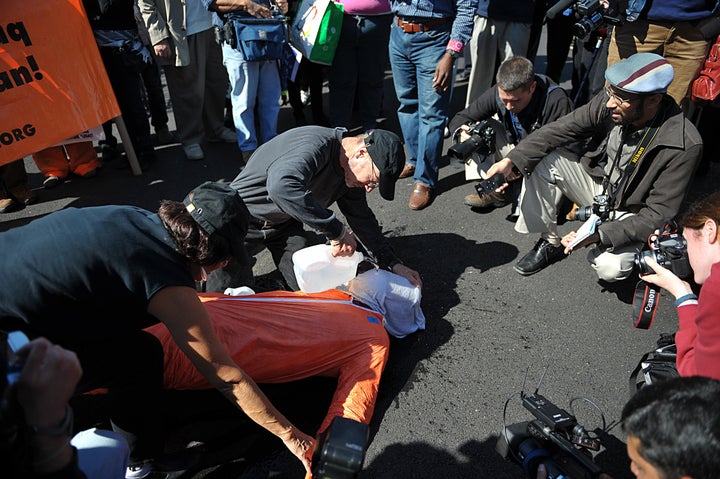 That's what former president George W. Bush told CIA officials when they came to ask him for permission to waterboard alleged 9/11 mastermind Khalid Sheik Mohammed, according to a Washington Post report on the 43rd president's forthcoming book, "Decision Points."
Mohammed supposedly had knowledge of brewing terrorist plots against the United States, and Bush had little reservation about using the practice of simulated drowning on the detainee to extract them.
"I'd do it again to save lives," Bush, who refused to call the interrogation technique "torture" during his presidency, said at a forum earlier this year. He repeats this willingness to use the procedure and maintains that it isn't torture in his book, according to the Post.
President Obama and the current Justice Department have tightened their view on waterboarding, characterizing it as an act of torture that is prohibited by international stricture, and, while the Post reports that there may someday be legal repercussions for those who directly authorized torture, the Obama administration has shown little interest in pursuing action against Bush and others, such as Dick Cheney, who have openly supported and admitted using the interrogation tactic.
Earlier advanced looks at "Decision Points" have also provided insight into the mindset of the former president. According to a sneak peak by the New York Times, Bush considered dumping Cheney as his vice president in 2004 because of his "Darth Vader" image and the common perception that he was the real source of power and decision making in the White House.
Bush also writes that he was heartbroken and repulsed by rapper Kanye West's reaction to his handling of the Hurricane Katrina catastrophe, when he said on live TV that "George Bush doesn't care about black people."
Large segments of the book will also focus on Bush's struggles with alcoholism, his faith and key decisions he made on 9/11, according to a Drudge Report preview.
Popular in the Community