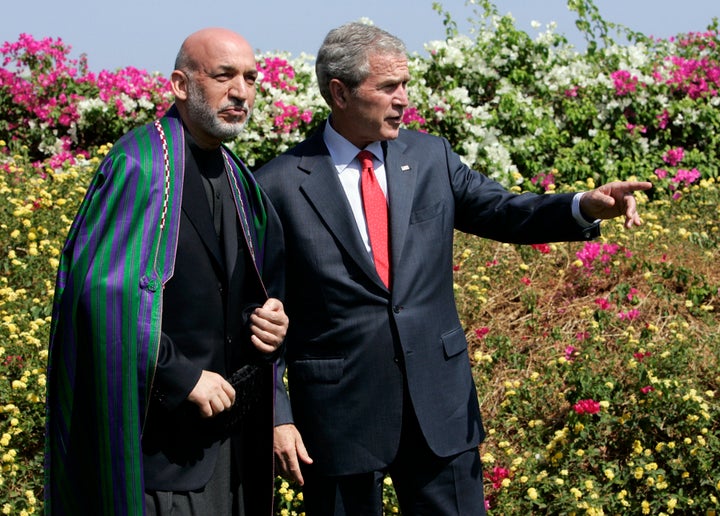 WASHINGTON -- After 10 years in Afghanistan, former President George W. Bush doesn't think it's quite time to pull out of Afghanistan yet.
"My concern of course is that the United States gets weary of being in Afghanistan, it is not worth it, let's leave," Bush said in an interview that aired Thursday on Fox News' "On the Record with Greta Van Susteren." "And Laura and I believe that if that were to happen, women would suffer again. We don't believe that's in the interests of the United States or the world to create a safe haven for terrorists and stand by and watch women's rights be abused.
"We liberated Afghanistan from the Taliban, because of providing a safe haven for Al Qaeda," Bush said in his interview with Van Susteren. "I believed then and now we have an obligation to help this young democracy in Afghanistan survive. And thrive. And one of the best and most effective ways is to empower women."
Bush added that he has heard there is "great progress" in the cities of Afghanistan, although there's still often an "inherent prejudice" against women.
"In the rural areas of Afghanistan in particular, women are still subjected to barbaric rule," he said. "So the objective is not to look and say how terrible it is. It is to think how good it can be."
Bush has kept a relatively low profile post-presidency, and the interview marked one of the first times he has commented on the war in Afghanistan, which he launched in 2001, since leaving office.
First Lady Laura Bush also spoke with Van Susteren and reiterated the need to help empower women in Afghanistan, saying, "[W]e know that economies can't succeed unless all the people can be involved. In countries where half the population, where the women are left out of the economy and can't work we see countries that are failing and economies that are failing."
In early March, The Washington Post's Rajiv Chandrasekaran reported that the Obama administration is lowering its expectations and opting to focus less on transforming women's rights in Afghanistan than it had been, with one senior official saying, "Gender issues are going to have to take a back seat to other priorities. There's no way we can be successful if we maintain every special interest and pet project. All those pet rocks in our rucksack were taking us down."
Popular in the Community