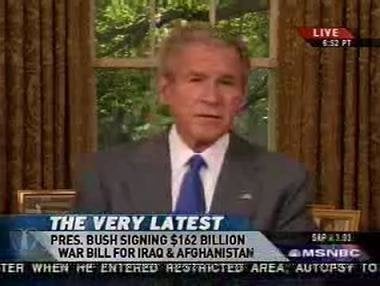 President George W, Bush wasn't exactly a friend to the efforts put forth by Senators Jim Webb (D-VA) and John Warner (R-VA) as they worked to secure bipartisan, veto-proof support for an updated U.S. G.I. Bill, which would provide our veterans with enhanced educational opportunities. But Bush is stuck with the bill now, so naturally, he went in front of the press and deemed himself pleased with its passage.
It didn't escape our attention though, that as Bush acknowledged the House and Senate members who came together to support the bill, he slipped in the name of one who labored to obstruct the bill -- Senator John McCain. Instead of being rightly excluded from the list of thanks, McCain was given the same credit as those who had steered the passage of the bill from day one. Surely, though, John McCain will correct the President, because STRAIGHT TALK, RIGHT?
BUSH: The bill is a result of close collaboration between my administration and members of both parties on Capitol Hill. I appreciate the hard work of my cabinet, especially the leaders of Defense and State and Veterans' Affairs and Office of National Drug Control Policy, as well as OMB. I want to thank House and Senate leadership and leaders of the House and Senate Appropriations Committees. I am particularly grateful to Congressmen Boehner, Hoyer, Obey and Lewis. I want to thank members who worked hard for the G.I. Bill expansion, especially Senators Webb and Warner, Graham, Byrd, and McCain. This bill shows the American people that even in an election year, Republicans and Democrats can come together to stand behind our troops and their families.
Popular in the Community