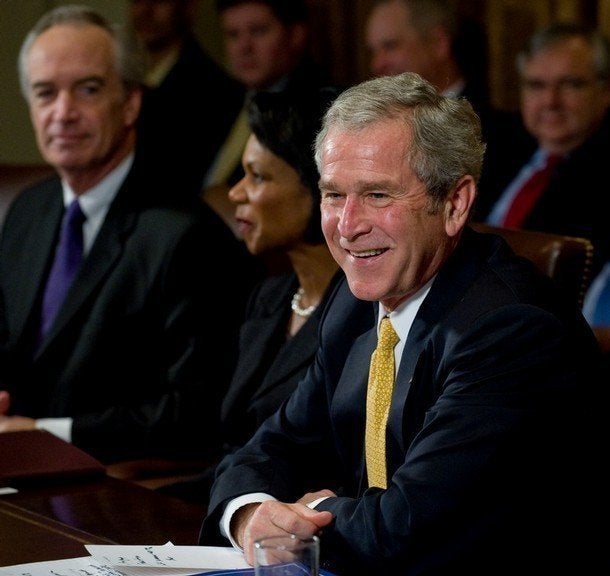 Washington DC's social scene is in full swing this weekend, with events and galas and fetes and soirees and makeout sessions between Christopher Hitchens and Andrew Sullivan. It's a level of excitement that Washington only occasionally sees. But it's not just the inauguration of Barack Obama that people are celebrating -- it's also the end of the Bush administration, and Sunday night, President Bush and his friends celebrated the end of his term with a party of their own at Glen Echo Park. Slate went, for some reason, and their account makes the whole thing sound like the most depressing event in the world.
The party, dubbed "Crossing the Finish Line" and held in the park's giant Spanish Ballroom, was organized by outgoing White House Chief of Staff Josh Bolten and his predecessor, Andy Card.

The venue had been somewhat controversial, according to attendees. There was no heating, so a lot of bodies were needed. "Due to the historic nature of the venue, there are limitations on what can be done in terms of climate control," the hosts warned in an e-mail. "DO: Wear layers and coats. DON'T: Dress like you're going to Gold Cup or Smith Point."

Apparently some of the more climate-controlled venues had been taken. "There weren't a lot [of places] available," said Card. "There weren't a lot of bands available, either."
So, basically, everyone was rubbing against each other for warmth and totally unemployed. Just contemplate the multitudes that are contained in this single depressing sentence: "One outgoing Treasury employee had already landed a job as a manager at Abercrombie & Fitch." The Great Gatsby could have ended with that line.
Anyway, there they all mingled, freezing their asses off, as Karl Rove talked about Twitter, Alberto Gonzalez walked around with a bloodshot eye, and the president mangled some more grammar.
Look, people, if you are out the next two days, and you see these mopes walking all despondent down the street, for God's sake, take them out a plate of canapes or something and call it national service. Then wish them luck at their new jobs, folding on, sweaters against the sale rack, borne back ceaselessly into the past.
Related
Popular in the Community