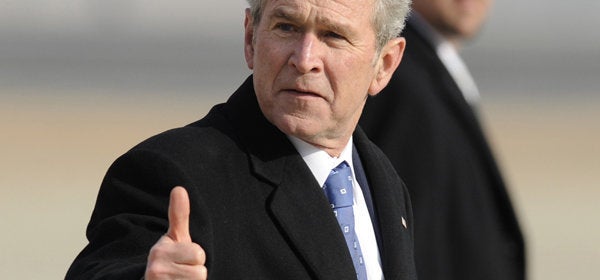 Former President George W. Bush will give his first post-presidency U.S. speech in Erie, Pa., on June 17 to the Manufacturer & Business Association, Politico reports. They add that domestic speeches will be announced soon, and that some of the event will be open to media coverage. The former president's first speech will be March 17, in Calgary, Canada. That speech will reportedly be closed to the media.
Christian Darbyshire of tinePublic, the group organizing the event, says news outlets won't be able to listen to Bush's lunchtime speech at the Telus Convention Centre. "It's actually been closed to the media," says Darbyshire. The Calgary event, called "A Conversation with George W. Bush," will be the former president's first public speech since leaving the White House in January. A table for 10 at the private event costs $4,000.
The invitation for the Calgary speech says Bush will discuss "his eight momentous years in the Oval Office" and "the challenges facing the world in the 21st century."
Popular in the Community