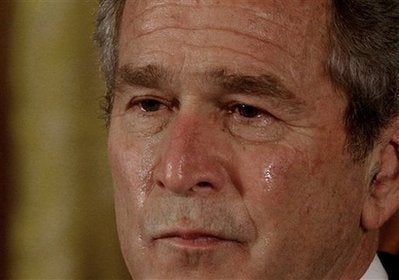 I beenz Precedent of The United over 8 to 10 yearz gone bye. I haz fun to be Precedent of y'all, even immegrantz, but not gayz. I am done now with itz. Here is my list of favorites, all favoritez, for you:
-I gotz wear pilot costoom suit on big boat. BIG BOAT!
-My house haz bowling amy for bowling ballz. Me and Karl play. Karl iz fat.
-Mister Chainy gave me cake for me only me because I go get him oil from sandy country in dessert. Camels. Mister Chainee likez oil. I gets cakez.
-We played hide andgoseek with Valery Planes. I think I winned.
-Carl show me picturez of ewwy pile of guys with naked buttz in prison. Eww.
-Easter EGGS!!!!!!
-Barney bitez me once and I bitez him back!!
-Karl cut up my pretzels because once once it pretselz hurt my neck. Owwy. But now little tiny weeny pretselz no hurt George.
-Bye bye Donny Rumsfelt. Donny leave. No one know where hez go?? Smell still here.
-I win Amarica.
Daddy said I comez back to Texas now. Yea! No more scary microfone men reports. Barney bitez one once! That was best day of my Barney. Good Barney.
See you next time I'z Precedent!!
(Previously titled: My Farewell to "Bush Is Stupid" Jokes - We Will Miss Thee)

Popular in the Community