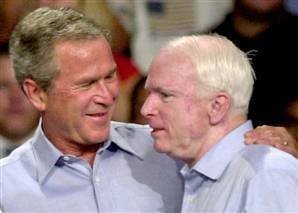 Senator John McCain's presidential fundraising apparatus is increasingly beginning to resemble that of George W. Bush. While the spectacular amount of cash that the president raised in 2004 may not be the same with McCain four years later, many of the major donors are.
Through the end of January, McCain had received roughly $200,000 in personal contributions from 2004 Bush Rangers, those major contributors who each helped the president raise more than $200,000 in his reelection bid. About a fifth of that total has come in the last month alone, an analysis of campaign finance reports shows.
In the world of political fundraising, seeing the same big money contributors from election cycle to election cycle is hardly rare.
"If you are really great at shaking the money tree," noted Bill Hogan, director of the Buying of the President project, "history tells us that you are going to get donations from a lot of people in the party. It is a question of migration from one campaign cycle to the next. Some donors might sit it out or support other candidates early on. But as the campaign goes on the donors will increasingly gravitate to the likely nominee."
But the scenario does present somewhat of a double-edged sword for McCain. The Arizona Republican desperately needs the cash. And the coalescing of the Republican political and financial establishment certainly bodes well for party unity. But the image of McCain being propped up by Bush's backers also provides fodder for those arguing that he is an extension of the Bush presidency. And it invites reporters to look for seeming conflicts of interests.
The crossover list of McCain and Bush bundlers includes, for example, lobbyists such as Raymond Wagner, who runs Enterprise Rent-A-Car; Dirk Van Dongen, the lobbyist chief of the Washington-based National Association of Wholesaler-Distributors; David Girard-diCarlo, chairman and CEO of Blank Rome Government Relations LLC; and Wayne Berman, managing editor of Ogilvy Government Relations.
"Bringing the people who give and raise money for other candidates is an element of unifying the party,'' Berman told Jonathan Salant of Bloomberg News. "What attracts them is the comeback story... A lot of these folks don't agree with him on every issue, but they're attracted by the way he came back.''
Adding another element of the vaunted Bush fundraising team to his staff, McCain recently announced that Mercer Reynolds, the national finance chairman for Bush's 2004 re-election campaign, was going to help him raise cash.
Reynolds and the former Rangers have work cut out for them. While McCain raised more than $7 million in January compared to just $6.8 million in for the last three months of 2007, the roughly $48 million he has raised so far in the presidential campaign puts him still behind long-departed candidate, Rudy Giuliani.
Popular in the Community