For the second year in a row, a slew of artists, performers and DJs are slated to take over Art Basel Miami Beach for a showcase and blowout in true Bushwick fashion.
Curated by artist Ms. Fitz and Christine Tran's creative agency Witches of Bushwick, "Bushwick Gone Basel" will bring together a spectrum of the neighborhood's cutting-edge creatives for an all night "Bushwick cascade" on the festival's final night.
The line-up for "Bushwick Gone Basel" is impressive, ranging from Tumblr "It Girl" Molly Soda to performer Neocamp to seminal DJ Pictureplace of Witch House fame. In all, this is one Art Basel Miami Beach closing party that you don't want to miss.
The Huffington Post chatted with Ms. Fitz this week about her curation of this year's line-up and her vision for "Bushwick Gone Basel."
What is the driving concept behind your curation of "Bushwick Gone Basel" this year?
What drove me to create Bushwick Gone Basel in 2013 was the understanding that Bushwick is a neighborhood filled with many talented artists who are consistently on the cusp of new trends, ideas and bold creative happenings -- in a lot of ways, the cultural zeitgeist. It's important that the commercial art world understands that we have a voice.
Born out of warehouses, DIY clubs and artistic collectives, this neighborhood's artists embody a raw and untethered creative spirit that is incredibly important in terms of the larger conversation regarding art and culture. Massive art fairs like Basel are commercialized and can be difficult for independent artists to showcase their work. By providing the platform at "Bushwick Gone Basel" we hope to expose the beating heart of the underground to a larger audience.
It's also an opportunity for our community to come together and celebrate all that we've achieved together.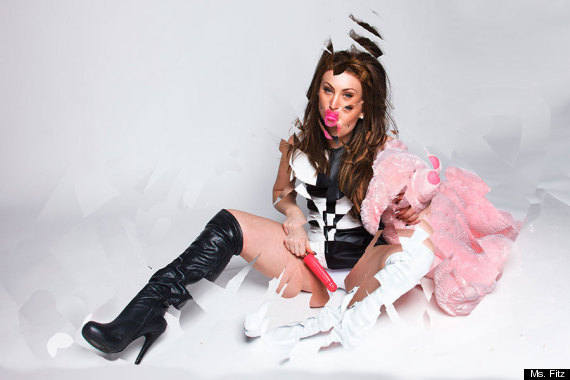 How will "Bushwick Gone Basel" function? Will everyone involved showcase their work together?
This year we've partnered with a large space in Wynwood called the Brickhouse -- a far cry from last year's event at a dive bar on Collins. The visual artwork will be displayed throughout this space.
The visual works are a mixture of paintings, prints and interactive pieces from artists, including Terrell Davis, a 16-year-old local Bushwick net artist whose work was recently referenced in the New York Times. Also, Ilana Savdie, a fine art oil painter who creates imagery of computer-glitched portraits, Pam Tietze, the designer behind H0les eyewear who was recently commissioned by Revolve Detriot to transform broken parking meters into interactive kaleidoscopes, and Nicky Ottav.
At 9 p.m. we'll begin the video showcase featuring new videos from original Tumblr "It Girl" Molly Soda, Alli Coates and more. From there we'll transition into the live performance showcase with our favorite Bushwick performers like thrash core rapstress Cunt Mafia, Bushwick by way of Ireland performer and singer Neocamp, experimental fine art dance duo FLUCT, sex troll Signe Pierce and queer rapper Robot Moonjuice.
The evening rounds out with Bushwick DJs including Pictureplane, the musician accredited with spearheading the Witch House music movement, Bossa Nova resident DJ Chris Video and Brian Whatever from Whatever21 (All I can say is #Healthgoth).
Its going to be an energetic Bushwick-style blowout to end the weekend of Basel festivities.
How did you choose the people to be involved in this showcase of Bushwick artists?
I aim to select artists who embody the spirit of Bushwick's creative underground -- they are tenacious, talented and live their art with a collective spirit and the sense of the community that has been built here. I keep my ear to the ground throughout the year and approach artists who I think are appropriate for the showcase. This year I partnered with the collective Witches of Bushwick and have also worked with Stream Gallery and some of their artists. Having said that, I can't possibly know all the great artists in Bushwick, so next year I'd like to open it up for submissions.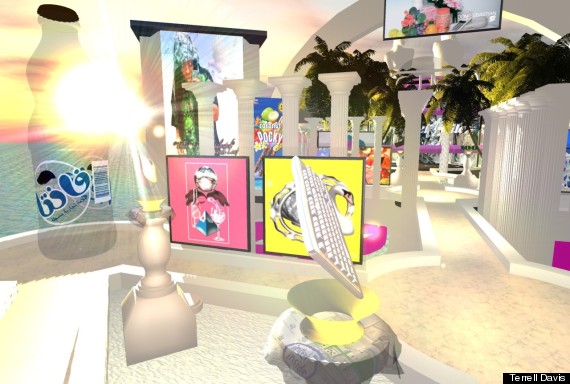 What do you see as the future of artists operating within and coming out of Bushwick?
The future is bright for artists coming out of Bushwick! The rent is affordable -- for now at least. It's still a little grimy and the artists here are keen to work and create new ideas together. I think that in a lot of ways leaders in art, music and fashion look to Bushwick as purveyors of the next big trends, and there are many opportunities to work with that in the future.
"Bushwick Gone Basel" will take place at Brickhouse in Wynwood, FL on Sunday, Dec. 7. Head here for more information and check out the images below to see more from this group of artists.
Calling all HuffPost superfans!
Sign up for membership to become a founding member and help shape HuffPost's next chapter