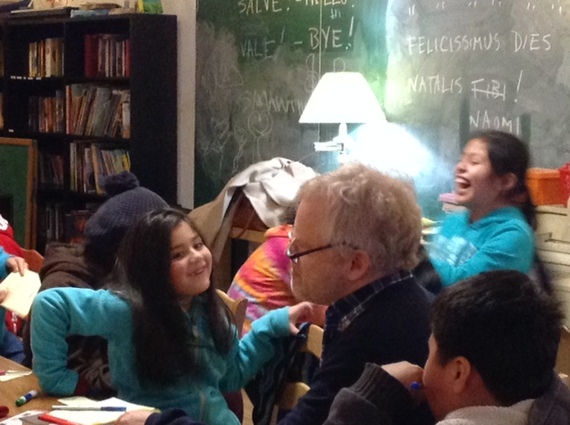 There is an incredible teacher whose free store-front after-school program down a narrow side street in Brooklyn's Bushwick neighborhood is educating at-risk kids, ages 5-13, the way Alcoholics Anonymous saves those who once thought alcohol was the answer: with storytelling, listening and love.
"The therapeutic process needs to be at the heart of education. To understand yourself and others, to practice loving our neighbors. What could be more important?" Stephen Haff says with a furrowed brow and narrowed dead-serious eyes behind small scholarly glasses, his messy grey hair a match with the profusion around him.
Donated books, novels mostly, line an array of collected bookshelves, top surfaces including an old white upright piano, and spill out of cardboard boxes around the floor. A green chalkboard wall shouts out Latin words and their definitions, like SALVE!--HELLO! and AMO--I LOVE, and eager happy children fill the chairs around a long table and press up against each other on a variety of couches in the space he aptly dubs Still Waters in a Storm. It is a place of peace in the unquiet city.
A police car waits outside, its lights streaming through the large plate glass windows and door, until they finally nab a perpetrator, but inside, the 30-plus children of mostly immigrant Hispanic families, ranging in age from 5-13, listen, safely harbored, to the last two chapters of Margaret Bradham Thornton's novel, Charleston.
Mr. Haff and a handful of volunteers pass around copies of Ms. Thornton's novel for the kids to keep and he introduces her as "a scholar, an expert on an American playwright--Tennessee Williams--and author of this sad and beautiful book.
A little boy, Melvin, who Mr. Haff later said was "Nine, but with a much older soul," sighs loudly. "Time for the tissues," he says, "we're going to cry."
Mr. Haff pulls his blue cardigan over his blue plaid button-down and looks at Melvin with soft sympathetic eyes and an agreeable half-smile. "Yes," he nods. "The chapters you hear today will make your heart hurt."
MORE THAN 75 LITERARY GREATS HAVE COME THROUGH TO READ TO KIDS
On this Saturday in early January, Ms. Thornton was the latest on a list of more than 75 literary greats who have made their way to 286 Stanhope Street over the last five years since Mr. Haff outgrew working with kids in a local pizza parlor. Authors including Peter Carey, Zadie Smith, Richard Price and Jonathan Safran Foer have come to read their work and listen to the writing it inspires from the children.
On different days, there are lessons in violin and viola and music composition from violinist and composer Concetta Abbate, as well as classes in Latin, in partnership with The Paideia Institute, a non-profit organization that promotes the study of the classical humanities. These programs are run by three part-time staff, Mr. Haff and a rotating array of 50+ volunteers.
"Listen with care," Mr. Haff says to the attentive girls and boys. And they do. You can hear a pin drop as Ms. Thornton opens her copy of Charleston and begins softly to read the passages Mr. Haff chose, passages about a woman re-finding love and losing it again, a child losing a parent, about finding a home back in one's childhood city. Themes of loss and suffering and understanding emerge clearly through her words.
There are no interruptions until she ends, after about 15 minutes straight of reading. When he begins to speak about the passages, and a child's voice breaks in, Mr. Haff closes his eyes and quietly put up his hand. "I'm still talking, you have to listen," he says. And they do, until he asks them to share their thoughts, and then he listens.
"THERE'S A WORD FOR THAT: EMPATHY." -- Stephen Haff
"How did Eliza help Lawton?" he asks.
He calls on one of the many children raising their hands. "She listened," she says.
"Yes," he nods. "She felt what he was feeling, right? There's a word for that: empathy."
Ms. Thornton later recalled, "One child wrote about the loss of his beloved green toy car with windshield wipers that worked, another about fear, another about being sad and not knowing the reason why. I felt as if I were a guest musician in an orchestra conducted by Stephen who understood that all of these children wanted and deserved to be heard."
It is a far cry from Bushwick High School, where Mr. Haff left seven years ago, finally fed up with the creativity-killing metrics imposed on the public school system after Bush's No Child Left Behind. Despite his successes with kids there, imbuing theater and literature with relevance through a Spanish and street-based version of Shakespeare that traveled to Europe, among other projects, including a dramatization of Milton's Paradise Lost, "It was a violent place, full of perpetual power struggles between kids and grown-ups," he says. In his own space, he has changed the model.
"In school, typically, the attention flows from students up to the teacher. Listening is part of obedience. At Still Waters, children and grown-ups listen to each other. I am the boss, but my job is to make sure that everyone listens to everyone."
He cites the Tao Te Ching, Verse 29 as inspiration for the idea of taking the control and forcefulness out of education:
Trying to govern the world with force I see this not succeeding. The world is a spiritual thing, it cannot be forced, to force it is to harm it, to control it is to lose it.

"The one-room schoolhouse, where a mixed-age group takes care of one another, that model feels healthy and right," Mr. Haff says.
"My visit to Still Waters was one of the most extraordinary days of my life," says Peter Carey, the two-time Booker Prize-winning Australian novelist who has steered many of his writer friends to Mr. Haff's homey space to share their knowledge. "The thing that matters is the notion that kids can learn to write and learn to express themselves. For successful writers to take the time to come and read and listen to these kids is a form of much-needed societal love."
One author who came in to read has never left. Maria Venegas, a Mexican novelist, author of the acclaimed Bulletproof Vest, The Ballad of an Outlaw and His Daughter, now comes regularly to work with children, many of whom grapple with some of the same kind of culture of violence she experienced and writes about.
"It is so important to offer these kids a chance to express themselves in a safe, supportive environment like Still Waters, which is like a second home to them," Ms. Venegas said.
Nine-year old Betzi loves the freedom of expression. "We can write about anything we want," she says. "I love to write about insects."
Words--written and spoken in English, Spanish and Latin--are one way the kids at Still Waters can express themselves. Music is another. Ms. Abbate, whose own album, Falling in Time, comes out this month, started working with Mr. Haff in 2010 and has since developed a full-blown two-day-a-week strings program that includes music theory and composition.
"Stephen allows me to develop the curriculum, and I enjoy being creative as a teacher, using improvisation and composition to really let them say what they need to say musically," she said.
The families who bring their children to the space, as many as four days a week,
are deeply appreciative.
"These experiences with violin, Latin, meeting authors...these don't come easily for kids in this neighborhood," said Kenny Carrasquillo, whose 13- and 8-year-old daughters attend Still Waters.
"My kids are more open at school because of Still Waters, not afraid to speak up and they make friends more easily and learn to respect others," said Maria Salgado, whose 9-year-old boy and 11-year-old daughter have been coming for three years. Her daughter, she says, "has become very profound in her thoughts."

Ten-year old Naomi says, "This is a peaceful place where we all feel like we belong here. I feel brilliant here."
Mr. Haff stands at the door at 5:30 to greet the parents and give them information on what's coming up the following week.
The kids hug him or give him big waves goodbye. He is gentle, the picture of Still Waters in a Storm.
""The children are happy here," he says. "Every child, regardless of the family's ability to pay, needs beauty and joy," he says.
He has created both and is working hard to continue. Staff salaries, rent and utilities, supplies and the food he provides free of charge every evening and lunch on Saturday, comes from soliciting donations and grants.

BENEFIT FEBRUARY 22nd FEATURES SALMAN RUSHDIE, JOSHUA BELL
On February 22nd, Still Waters will host a benefit at City Winery featuring Booker Prize-winning author Salman Rushdie and Grammy-winning violinist Joshua Bell. For more information, go to http://www.stillwatersinastorm.org.
Popular in the Community