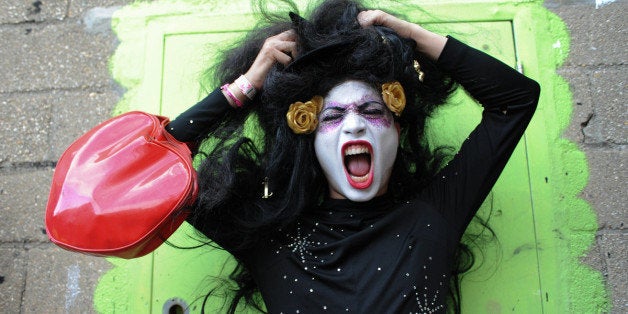 This is the eighth installment in an ongoing series that explores drag culture and the nightlife scene in Brooklyn, N.Y. Over the past two months, this project has highlighted the ways in which different members of this community have created a new, queer world entirely their own. Accompanied by a larger movement to understand drag culture outside of the pageant circuit, many individuals engaged in the drag community in this borough approach drag culture through a nontraditional lens of "alternative" drag or performance art, enabled largely by the malleable and queer nature of this part of New York. Now, it's time to take a look at the large-scale festival that put Brooklyn on the map in terms of drag culture. Photographers Stephanie Keith and Cameron Cole contributed their work to this project.
On Sept. 20, 2012, a drag festival broke new ground at Secret Project Robot in the Bushwick neighborhood of Brooklyn, N.Y.: Bushwig. Over the course of the past 15 months since this first festival, drag culture in this outer borough has exploded, with the festival itself growing from 30 performers to almost 75 for its second inception this past September.
Founded by Horrorchata and Babes Trust, Bushwig is a massive community effort that brings together a multitude of drag artists, performers and community members to celebrate gender expression and fluidity, queer performance art, drag culture and love and respect for what, at its root, is a family.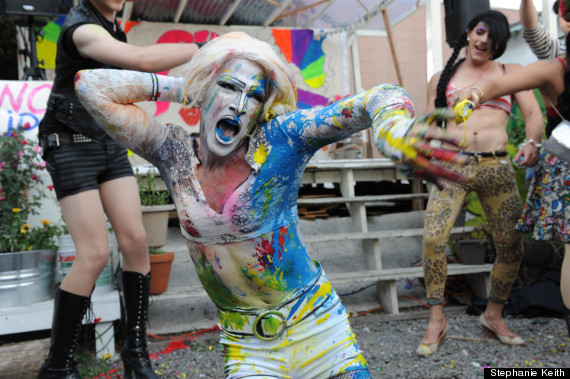 "Bushwig is an event that not only acknowledges and honors its predecessor, Wigstock, but also forges new ground with the electric energy of a community living in Brooklyn and beyond," prominent community member Untitled Queen told The Huffington Post. "The festival becomes an equal opportunity stage for performers to come together amongst their peers and a huge audience and blow everyone away."
As discussed in the previous installments in this series, members of the drag community and nightlife scene in northern Brooklyn have created a queer, new world, largely by reworking and subverting traditional notions associated with what it means to be a drag performer -- and the Bushwig festival has become a massive creative outlet and platform for these community members.
"Bushwig represents a full spectrum of drag. Because of the festival's inclusive nature, many alternative kweens find that it represents them and their community more efficiently than any other event in the area," Trey LaTrash stated. "Bushwig represents what is wild about drag, what is interesting about north Brooklyn, and hopefully new practices in community culture, in and out of a drag context."
The concept of Bushwig draws heavily from the famous Wigstock festival (referencing Woodstock), which was held annually in New York's East Village throughout the late '80s, '90s and 2000s. Hosted and co-founded by Lady Bunny, Wigstock grew from a group of drunken friends spontaneously holding performances in Tompkins Square Park in 1984 to a massive event with over 50,000 attendees in 1995. Artists and performers at the event were on caliber with RuPaul himself, who was launched into superstardom in 1993 with the release of "Supermodel (Of The World)." As a celebration of drag culture, artistic expression and transgressive queer culture, Wigstock continued to blossom into the 21st century.
With only two festivals under its belt, the legacy of Bushwig is still being written within the future trajectory of the New York drag scene. Through the festival has already become a source of cultural production for the Bushwick community, Bushwig, like most of the performers engaged in the festival, is extremely malleable -- developing, shifting and growing as a creative outlet alongside the larger changing landscape of northern Brooklyn.
(The story continues after the slideshow of images from Bushwig 2013 below)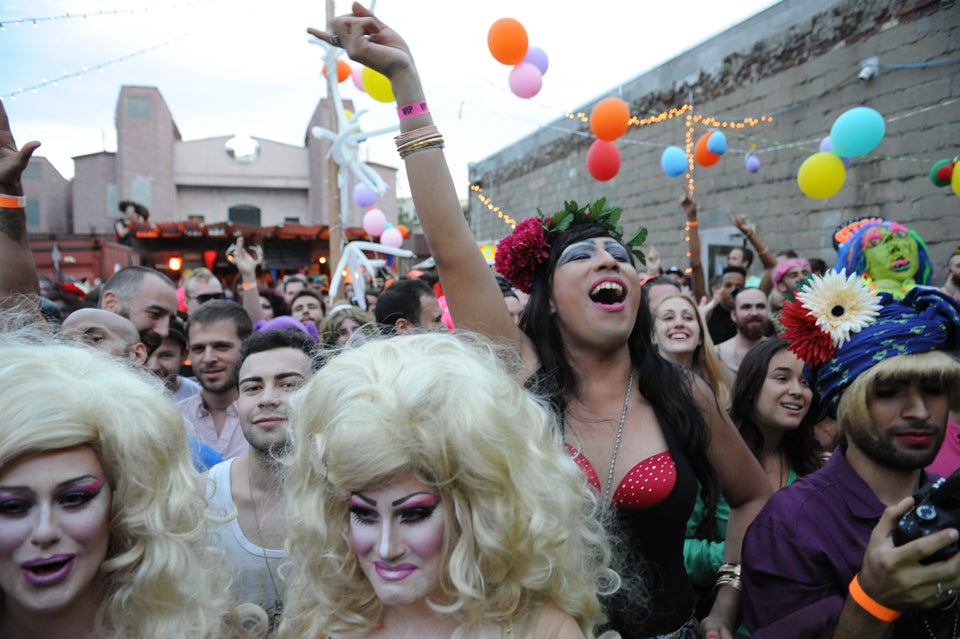 Bushwig
"Bushwig is a baby crawling and it is still learning to walk," co-founder Horrorchata told The Huffington Post. "It takes time, but together we will get there. I think it's too early to tell what the values will be in the future... [but] I want to make it huge! I want it in a park with more stages, live music, more drag queens, DJs and to bring in local Brooklyn shop venders. That's just a dream -- but dreams can come true and we are the future."
"Bushwig is a gift for me," co-founder Babes Trust told The Huffington Post. "I enjoy creating things for people, I'm not really one to crave the limelight, I prefer to be in the background oiling the cogs... my hope is that we can sustain a huge festival that feeds back into the community via a full time space that doesn't become over-institutionalized."
Prominent community member and drag mother Merrie Cherry echoed Babes Trust's apprehensions about losing the spirit of Bushwig if the festival were to be taken over by corporate interests.
"It is my hope that one day we do become more community-based and focus more on giving back and adding to the place we freaks call home... It is important for us to grow Bushwig as a family and keep things progressive yet simple. For me, the worst thing that could even happen is if we get huge corporate sponsors that take the soul out of what everyone has created. 'Keep It Local,' -- that is what I say."
The next Bushwig festival is slated to take place in September 2014 at Secret Project Robot. If you've missed the previous installments in this series, check out the slideshow below to explore and get to know different Brooklyn nightlife community members. Visit HuffPost Gay Voices every weekend as we continue to embark on this 20-part series surrounding the concept of A Queer New World in Brooklyn, N.Y.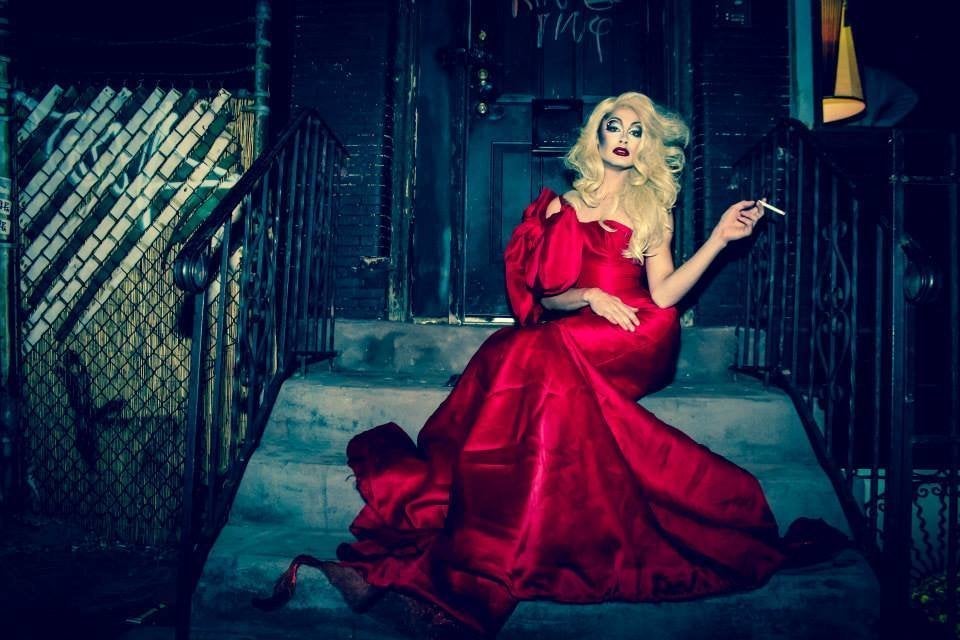 Queer New World: Brooklyn Drag Culture
Popular in the Community