I got sent home from high school once for a dress code violation. The head master deemed my black dress and thigh-high striped socks inappropriate and said, "This is not a nightclub! Go home and change immediately." The look certainly was quirky. But inappropriate? Hard to say. The dress wasn't too short or too tight, but I think it was the general outside-the-box spirit of the outfit that he rejected.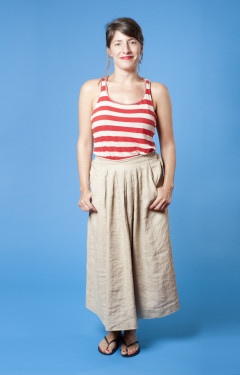 Photo: Raydene Salinas
So, it's not without irony that I work as a fashion editor and come to work dressed in everything from a caftan to cutoff denim shorts. That said, even at a creative company where jeans are the norm, there is still quite a bit of ambiguity on what is acceptable in the workplace. The idea of an office has changed so much in the past ten years, from the days when a suit and tie were expected for a man and nylons were de rigueur for women. These days, most of the population subscribes to the notion of "business casual" which Monster.com defines as "In general, business casual means dressing professionally, looking relaxed, yet neat and pulled together."
Those terms are pretty vague, so I decided to delve a little deeper. As I sat down in my office to write this piece I noticed a woman in a strapless dress and a gentleman wearing a blazer, shirt, and ... shorts. But who can blame them? Our culture as a whole has gotten more informal, so people are left to interpret a dress code with what they define as casual. Recently, I felt the uncertainty when I wore a sundress with criss-crossed straps that left my upper back exposed. I felt comfortable in the street and on the subway, but in the office I couldn't be sure if it was too bare, so I ended up wearing a wrap all day.
On the hunt for a definitive answer, I spoke with an official from Human Resources to get her take on company dress code. She explained that "smart casual" is the norm for most companies, to which I replied, "What does that mean exactly?" We went back and forth a few times, and the only thing we could pin down was what NOT to wear to work.
My advice would be to get your hands on your company's official dress code. Then, if you're still unsure, ask yourself, "Would I go for an interview in this outfit?" If you're iffy, skip it. Here, eight items to avoid wearing to the office, unless a trip to HR is your idea of a good time.
1) The mini-skirt: A reasonable length skirt is the norm in most offices. If you sit down, there should be zero chance of bare-tucchus-to-chair contact.
2) Rubber flip flops are considered gauche in the workplace. Leather sandals are the elegant alternative, but as a general rule, closed-toe shoes are the best option.
3) Strapless tops/dresses: Beware of bare shoulders in the office. After all, this is a workplace, not a wedding reception. Cover up with a cute jacket or a blazer.
4) Anything ripped or otherwise destroyed. Do we even have to go further with this?
5) Anything sheer. Stand by a window and check all angles (especially the rear view) to get a true reflection of how you look in the bright light of day.
6) Workout clothes, including any type of sweatpants. Neat and pulled-together does not include terry cloth in any incarnation.
7) Cleavage is a big no-no. Leave the girls at home. If your top is low-cut, add a tank top underneath, or just choose another top entirely.
8) Shorts are questionable. Knee-length Bermuda shorts are acceptable in most creative companies, but the situation is different in more formal workplaces.
Support HuffPost
A No-B.S. Guide To Life
Related
Popular in the Community