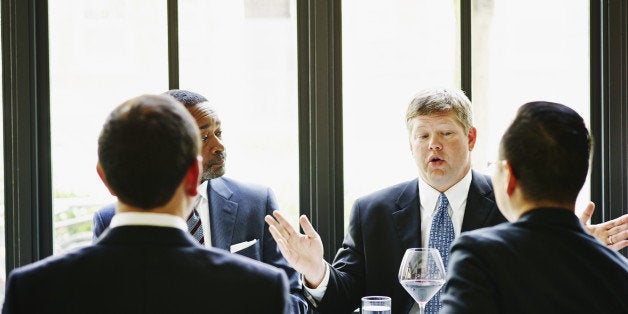 Last year, I wrote in US News & World Report that executives should add one or more foreign languages to their skill set to increase their competitive advantage in the workplace. I cited language expert and CEO of BRIC Language Systems, Ryan McMunn as saying, "In fact, those entering the workforce in 2014 with second language fluency can expect an additional 10 to 15 percent pay increase." Without fluency in Mandarin, McMunn would not have had the opportunity to develop relationships with Chinese executives and conduct business successfully. The language barrier would have been insurmountable.
Etiquette is equally important in the cultivation of business relationships, and those with international colleagues and clients are finding that they must globalize their manners to fit today's corporate environment.
I interviewed Beaumont Etiquette Founder, Myka Meier for advice on conduct in the workplace and beyond. Meier studied at several traditional etiquette schools in the United Kingdom, trained in part in London under a former member of The Royal Household of Her Majesty the Queen, and graduated from the prestigious Institut Villa Pierrefeu finishing school in Montreux, Switzerland. Her company has been featured across international media including Good Morning America, ABC World News, NY Observer and the London Evening Standard.
What is business etiquette?
It's more than just the practice of good manners and following respectful protocol when doing business with others -- it's the difference between a good businessman or businesswoman and a great one. Business etiquette is a customary code among professionals. I've met people in business who refuse to work with someone because they are rude or disrespectful. We recently worked with a CEO who said he was so turned off by a high level exec's dining manners over a lunch interview that he couldn't possibly hire the candidate in fear that they would be an embarrassment in front of clients.
Having good business etiquette can only elevate your career. Starting from making the best first impression when you walk into the room (good eye contact, a strong handshake and confident posture), business etiquette spans across many important topics.
Why is business etiquette important?
You can be the smartest person in the room, but if you don't practice proper business etiquette, the chances of maximizing success can be are slim. A Harvard study reported in Forbes revealed one's success is based 85% on social skills and 15% on technical skills.
Due to our current employment rate and downsized companies, working this 85% is never more important than when networking. Whether it's official business or social, making conversations can make or break how we build a network of people to call on as we make our journey up the professional ladder.

As the old saying goes, "You never get a second chance to make a first impression." Likewise, what comes out of your mouth can never taken back. Remember - working a room is work. It's exhausting, and it can be overwhelming
If you wonder why you haven't climbed the proverbial ladder fast enough, then maybe it's time to look at some of the many changes you can make through business etiquette.
Can business etiquette make or break a deal?
Absolutely. For instance, many business meetings can happen over a meal, and having bad table manners can be a horrible distraction. The four hours you spend learning dining etiquette can change the way you do business forever. Another common mistake is being lazy about your professional appearance. "Being" the brand may be more important than you may think to a company, from grooming and dressing to professional polishing. We love the quote "dress for the position you want, not the one you are in." To be the head of a successful firm, you're not coming in every day unshaven and wearing a wrinkled shirt. It's all about getting the small details right and making your company proud to put you out in front of clients.
Has the digital age ruined etiquette?
No, but etiquette is constantly evolving because of technology. In today's tech era, communication has increased through through emails, texts and social media. If you're writing a business email or text, you should remain formal and not use shortened version of words. Shortening words can often come off as sounding unsophisticated, uneducated or lazy in business. With work emails, always sign off with "Best regards" and never use emojis (often seen as unprofessional) when speaking online with clients. With social media make sure your opinion does not offend anyone and that you keep your personal issues just that... private. Whether it's "public" or not, once it's on the internet, it's never private!
Why do people think it's acceptable to be late???
People know it's not okay to be late but they often prioritize their own schedules over others. Good etiquette means being thoughtful and considerate towards everyone else. If you're late, give as much advance notice as possible. Alerting three minutes before the time you are supposed to arrive to say you are 15 minutes late is not good etiquette, and instead you should give a minimum of two minutes notice for every minute you're late. Therefore, if you're running five minutes late for a 1pm meeting (even a conference call), you should apologize for any inconvenience no later than 12:50pm.
Thankfully, yes. As society changes, so do the rules, and successful people adjust accordingly to reflect these changes.

Is etiquette global?
It has to be. From politics to business, if you want a successful working relationship with someone in another country, you must show respect for the culture you're working with. If you're an American and trying to do business in China, without training, the chances you may offend the other party are high. With a bit of preparation and training before working with another culture, you can confidentially do business globally.
What are the current worst offenses in business etiquette?
Being late
Texting/emailing on your phone when someone is talking to you or while in meetings
Interrupting someone when he or she is speaking
What are the top three business etiquette habits to practice?
Appropriate professional attire and grooming -- your appearance is an extension of the brand.
Have great table manners and dining etiquette -- it says more about you than you think.
Be positive and smile -- it sounds so basic, but people prefer to do business (and work with) positive people.
If you have to ask yourself if something is appropriate or not, the answer is usually no. Once you know the main rules of good business protocol, etiquette is a lot of common sense.
Send hand-written thank you letters when possible (it's much more effective).
Make sure your stationery is representative of you. If emailing a thank you, it should go out immediately.
Related
Popular in the Community