I am and always will be a student, continually looking for ways to make our organization even better. One of the most significant lessons came as a result of my own altruistic mission to support women's empowerment -- I now make it my business. Christine LaGarde has said it well, at its core women's empowerment is an economic principle. As I have traveled the globe, I have had the opportunity to see this fundamental principle in action. There is no question in my mind -- women's empowerment is the best investment that a business can make.
According to Strategy& (formerly Booz & Company) nearly a billion women will enter the marketplace in the next decade. Today, women control up to 70 percent of household income and $20 trillion in consumer spending worldwide. In an increasingly resource constrained world, investments that tap into potential growth areas are savvy investments. Yet, as business leaders we still don't have enough compelling answers for how we are coming together to invest in women to drive growth in the economy.
Ultimately, we need skin in the game. Until recently, businesses sat on the sidelines when it came to proactively advocating for policies that enable women's engagement in the market. This was in part because it wasn't seen as a business imperative. However, this lack of investment was also a case study in how the public sector still struggled to speak our language and fully demonstrate the return on investment.
With the groundbreaking work of organizations like the World Economic Forum's Gender Parity Working Group and UN Women's Private Sector Leadership Advisory Council, among others, non-profits and multilateral bodies are talking about the return on investment for companies who consider women as valued stakeholders and engage in public-private partnerships to empower women.
During the 20 year anniversary celebration of the Beijing Platform for Action, it is important for business leaders to consider how we are leveraging all of our capital - human and financial - to act as catalysts to help attain the promises made during the original Beijing Conference 20 years ago - a conference that attracted over 40,000 participants, mostly women, from around the world. Beijing represented profound hope. Without all of us the promises will not come to fruition. In 1998, only 1 woman was the CEO of a Fortune 500 company, as compared to 25 today. Women still need a stronger pipeline so that there is greater representation at the highest echelons of leadership. About 40 percent of the board of directors of our company are women. In our organization, we have three group presidents, two of them women.
We have five candidates for CEO succession, three of them are women.
Women are central to what we do at Tupperware Brands and we work closely with them to develop their confidence and tap their full potential. Through our Chain of Confidence, which is at the core to our business model, we empower our nearly 3 million strong sales force, 90% of whom are women, to gain financial independence and change their lives through opportunity, support and relationships. I truly believe that women are the greatest investment of our lifetime. That is why I joined HeForShe, UN Women's solidarity movement for men to support gender equality. I am a proud HeForShe Impact 10x10x10 Champion, taking up the mantel to champion women and girls' rights around the world.
I am proud that Tupperware Brands is engaging in important projects that extend beyond our salesforce. This year for International Women's Day, I am honored to be a guest of UN Women at the 59th annual Commission on the Status of Women. This is the first year Tupperware Brands will celebrate International Women's Day with UN Women as a partner and extend our empowerment philosophy through our salesforce as advocates, champions and allies.
From Brazil to India, we are forging local-level partnerships where our sales force will use their training to support UN Women's mission to spread the message about women's empowerment and use their training to impart entrepreneurship training and mentorship to their UN Women counterparts. This partnership is a perfect example illustrating how Tupperware Brands' is activating our Chain of Confidence to an extended value chain.
As a global business leader, my job is to create opportunities for members in my organization to use their training in the "Tupperware way" to deepen our connections in local communities and empower women. This is also embodied in the Global Links program, a "train the trainer" public-private partnership that we co-founded along with the U.S. Department of State's Office of Global Women's Issues and Rollins College, which supports promising business professors from emerging economies to impart best in class social enterprise development to women in her home market. This year, Dr. Sharmistha Banerjee from Calcutta University is Tupperware Brand's guest at the 7th annual Women's Empowerment Principles event.
I invite other business leaders to join me in celebrating International Women's Day, and to reflect on how transformational leadership can make an immediate and profound difference to the women we work with and the communities we work in.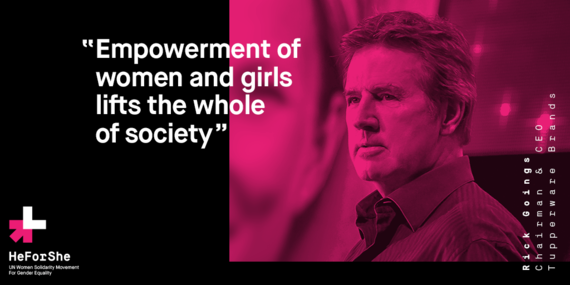 Calling all HuffPost superfans!
Sign up for membership to become a founding member and help shape HuffPost's next chapter