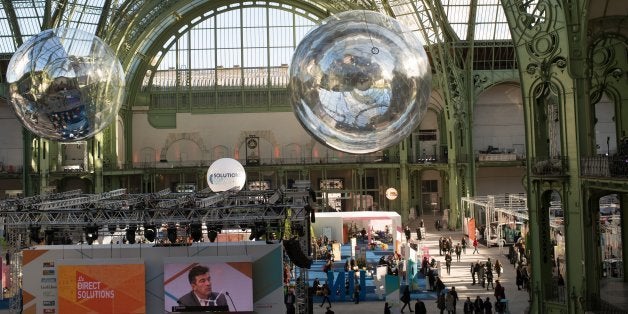 PARIS - Wandering the halls of the UN COP 21 climate summit venues here, it's easy to see how businesses are helping lead the way in real action on climate change.
*More than 150 U.S. companies, from giants like Apple and Autodesk to small businesses like Ohio energy efficiency company Energy Optimizers USA and Los Angeles-based Lakeshore Learning Materials, have signed on to the American Business Act on Climate Pledge, putting their money where their mouths are when it comes to cutting carbon emissions by going solar or reducing wasted energy in offices and factories.
*Even unexpected businesses are joining in the climate action movement, such as the cement industry and the healthcare industry, both of which made major pledges in Paris to reduce their greenhouse gas emissions in coming years.
Of course shareholders, investors and others need to hold these companies to these pledges.
If they do, it's good for our environment -- but also for our economy.
When Google goes solar, that means work increases for solar companies stretching from North Carolina to Northern California.
When BMW, Nike and Wal-Mart make their stores and factories more energy-efficient, it creates jobs at local lighting companies, HVAC companies and every other company that supplies those corporate giants.
And when captains of industry such as Bill Gates, Sir Richard Branson and Tom Steyer -- all of who are in Paris urging global climate negotiators to be ambitious in setting greenhouse gas reduction targets -- the world listens.
Earlier this week at COP 21, a group of 10 Democratic senators, led by Sen. Ed Markey of Massachusetts, toured the La Galerie exhibit hall space, where businesses are showing off real -world examples of innovation that's addressing climate change.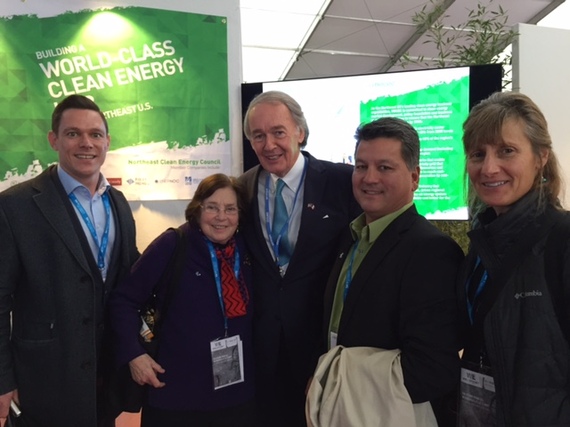 PHOTO: Sen. Ed Markey (center) with E2 members Wes Tucker, Berl Hartman, Bob Keefe and Susan Nedell
"What you see here are people who are going to protect what the president is putting on the table here in Paris as a promise from the American people to the world," Sen. Markey later told the Guardian newspaper.
Unfortnately, other short-sighted lawmakers back in Washington are promising to muddle and mess up a global climate agreement any way they can.
While businesses, cities, states and countries move steadily toward taking action on climate change in Paris, lawmakers driven by fossil-fuel industry campaign dollars - lawmakers led by Sens. Mitch McConnell and Jim Inhofe and Rep. Ed Whitfield - are pledging to stop progress on climate change.
First, they voted against the federal Clean Power Plan to cut carbon emissions by cleaning up dirty power plants, increasing renewable energy and improving energy efficiency. Then, they threatened to cut funding to help countries switch to cleaner energy and deal with threats like sea level rise. Now, they're promising to stop the U.S. participation in a global climate agreement - even though they know they don't have the legal authority to do so.
Business leaders know it's a bad idea for Congress to get in the way of a global climate treaty. Doing so, they know, would send the wrong market signal to the rest of the world: A signal that while the rest of the world leads a transition to clean energy, some in the United States want to remain in the dirty energy dark ages.
Businesses are speaking out. This week, more than 250 business owners, investors and others signed on to a letter from Environmental Entrepreneurs asking Congress not to interfere with the Paris climate talks.
Thousands more signed a similar letter from the American Sustainable Business Council.
These are big companies, like Ben and Jerry's, and small companies, like Ideal Energy in Iowa.
Zach Tucker, co-founder of St. Louis-area lighting company ONE3LED, also is in Paris at COP 21 to show business support for strong action on climate change.
"Defusing the threat of climate change won't be easy," Tucker wrote in a recent opinion piece in the Kansas City Star. "But thankfully many countries -- and companies -- are committed to building a more vibrant and sustainable future."
It's too bad some of our lawmakers aren't committed to the vision of a vibrant and sustainable future that so many business leaders know is possible.
Calling all HuffPost superfans!
Sign up for membership to become a founding member and help shape HuffPost's next chapter