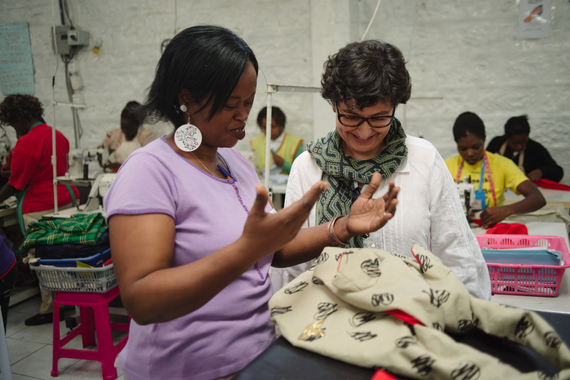 Arancha González discusses with a worker at the ITC Ethical Fashion Initiative's hub in Nairobi.
This year, governments will make decisions that will shape sustainable development possibilities for generations to come. In September, world leaders will gather in New York to agree on a new set of international development goals. Less than three months later, in December, Paris will host crucial United Nations talks on a binding global agreement to curb greenhouse gas emissions. The year will end with the World Trade Organization ministerial meeting trying to breath life into global trade opening.

The policy goals we collectively choose - or fail to choose - will matter. Without an effective development agenda, hundreds of millions of people will remain unable to share in broader global prosperity. Without action to de-carbonize our economies, unchecked climate change threatens to batter lives and economies around the world, hitting the poorest people hardest. Without strong multilateralism we will turn to the law of the jungle to the detriment of all.

But even if we choose well, commitments and good intentions are of little value without financing to support them.

Coming up with an effective international framework for funding global development goals is the target of a less prominent - but no less important - conference this week in Addis Ababa - on Financing for Development.

It might seem unusual to hold a meeting on financing before governments have even adopted the prospective Sustainable Development Goals (SDGs). But in fact, discussing financing up front is good for the credibility of upcoming decisions on the SDGs and climate finance. When the Millennium Development Goals (MDGs) were adopted in 2000, discussions about the means to finance them did not follow until two years later.

Fifteen years on, the eight MDGs are now widely acknowledged to have contributed to more than halving extreme poverty and improving the lives of billions, reducing child mortality, bringing more medicines to those suffering from AIDS and promoting access to primary education for girls. It is true that not all of the goals have been met. And that it is sometimes hard to separate the effects of the Millennium agenda from the global positive trends on growth and development. Yet the MDG experience makes clear that clear and measurable goals, underpinned by commitments on aid, technology transfer and trade, matter. Not only do they influence government policy and give coherence to aid priorities; the spotlight of global goals catalyses innovative thinking - and funds - from new actors who might previously have not been part of the development debate.

The prospective SDG agenda aims even higher seeking to end poverty, and to build prosperity and sustainability for all. This time around it is more than goals and targets, it is about building a transformative agenda that will help us ban poverty from our societies.

This week's Third International Financing for Development Conference in Addis Ababa is an opportunity to set lasting precedents for how governments can cooperate with each other and with the private sector and to help businesses in developing countries thrive within a new and sustainable world order.

Small and medium-sized enterprises will be central to achieving the inclusive economic growth promised by the post-2015 development agenda. They account for up to 80% of all formal employment opportunities across the developing world, and hold the key to future growth. But they need infrastructure to trade goods and services. Entrepreneurs - both women and men - need equal and fair access to finance - to create new businesses, to reach to new markets, and to adapt to climate change.

Creating the right enabling environment for SMEs requires contributions from everyone. Particularly in the fragile states that are increasingly home to the world's poorest, traditional development assistance remains critical, which is why longstanding donors must stick to their pledges. Modestly better-off developing countries, meanwhile, remain home to hundreds of millions of very poor people. Better domestic tax collection would help them fund essential infrastructure and services - and here, too, development assistance and better tax compliance by multinationals can help.

Finally, international companies can do a lot to help SMEs in developing countries succeed. Companies that operate across borders have the expertise SMEs need. Who better to help smallholder farmers navigate complex sustainability standards than the companies who demand - or set - them? For the private sector, supporting business activity in developing countries is a straightforward matter of enlightened self-interest: successful companies and people with better jobs in previously marginalised parts of the global economy mean new customers and suppliers. When the International Trade Centre, the agency I head, works with German electronics giant Bosch to help Kenyan food processing companies boost their productivity and export competitiveness, we may well be creating future customers for Bosch washing machines.

The development financing challenge has been described as the need to go from billions in traditional donor assistance to the trillions needed to end poverty and tackle climate change. This can't happen without the private sector. In Addis Ababa this week, and in New York and Paris later this year, governments and international agencies need to build bridges with business. And business needs to respond in kind: its bottom line will depend on it.
Related
Popular in the Community