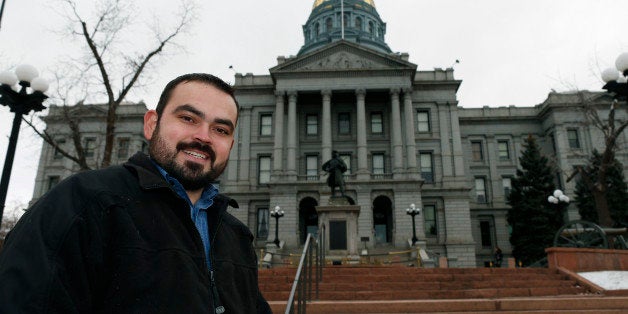 Edgar Antillon, who's promoting his restaurant's "White Appreciation Day," ran as a Republican for House District 32 (Commerce City) last year, and for House District 35 (Westminster) in 2010. He lost both times. His House District 32 campaign is still active, according to state records.
Calls to Antillon's restaurant, Rubbin Buttz, to find out if his "White Appreciation Day" has the backing of any of Antillon's Republican colleagues were not returned. Antillon also did not respond to an email seeking comment.
In addition to running for office, Antillon served as the Adams County chair of Mitt Romney's Hispanic-outreach effort, called "Juntos con Romney," and he's organized extremist pro-gun events aligned with Republican legislative initiatives at the state legislature.
In 2013 Antillon organized a "Guns for Everyone" rally at the state capitol. (He runs an outfit with the same name.) He and others vowed to pack concealed heat at the event, which turned out to be a bust but managed to capture the media spotlight anyway. Last year he grabbed attention by advocating that legal marijuana users get gun permits.
9News, Denver's NBC affiliate, reported Antillon's thoughts on his "White Appreciation Day":
"We have a whole month for Black History Month," Antillon said. "We have a whole month for Hispanic Heritage Month, so we thought the least we could do was offer one day to appreciate white Americans."

...

Antillon says the discount isn't meant to discriminate, but instead bring people together. He added that he has been the target of racism in the past. He hopes opening up the discussion will prompt others to think differently about race.

"We're all American, whether you came from a different country, or you were born here," Antillon said. "We're all American."
The progressive blog ColoradoPols reported in 2010 that Antillon maintained an identity as "Juan a Be the Luchador" where he posed with assault weapons. The blog also stated that Antillon was personally introduced at the GOP state assembly by Republican Frank McNulty.
When Antillon made his legislative run in 2010, the Denver Post reported that he'd "pleaded guilty in 2004 to misdemeanor perjury in connection with giving an alias to police," and that he'd failed to appear in court 18 times on minor charges. Antillon told the Post that he had family troubles and was a teenager at the time.
Calling all HuffPost superfans!
Sign up for membership to become a founding member and help shape HuffPost's next chapter