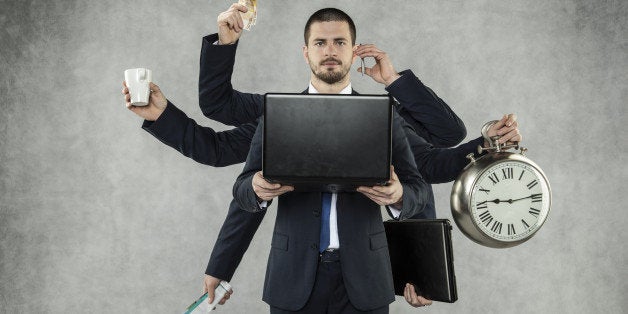 Many small business owners report being too busy with operational concerns to effectively plan for their company's future. According to a survey of nearly 1,300 participants in the Goldman Sachs 10,000 Small Businesses program, small business owners spend an average of 43% of their time on day-to-day tasks, but wish they could cut that in half to focus more on big-picture planning.
Patricia G. Greene, professor of entrepreneurship at Babson College and the national academic director of the 10,000 Small Businesses program, and Joy Crump, co-owner of FOODE and a program graduate, shared advice about how to better manage your time and resources, and sharpen your skills as a leader.

I spend nearly half my time each day juggling lots of small tasks. How can I shift some of the day-to-day business management so that I can focus on the big picture?
Patricia Greene: Small business owners need to learn to delegate. Track how you spend your time at work for a couple of weeks and start to group the hours spent on various tasks into categories. Next, think about who else might be able to do these things. Talk to your team about their interests and about stepping up.
Joy Crump: I think the single biggest challenge is figuring out what to delegate. The business is your baby, but sometimes you need to step back in order to accomplish more. That's one of the most valuable lessons I've learned: if you try to do everything, you won't achieve much.
PG: It's also important to set your staff up for success. There should be very specific and measurable objectives for whatever you're handing off. If you're delegating sales, for example, you need to have an agreed-upon set of metrics to measure performance. Even though you are delegating tasks to your employees, try to treat them as partners and collaborators by listening to their input on the performance goals you've set. Work closely with them to provide support and guidance in their progress toward achieving your metrics goals.
I have a vision for my company, and if I'm going to delegate, I want my staff to share that vision. What are some ways I can get everyone in the organization to start thinking about the future?
JC: You have to articulate the vision of your company and get everybody behind it, whether they're managers or dishwashers they have to see that every task they're working on is moving the business toward your goal. With every candidate we interview [at FOODE], we have them read and sign on to our mission statement. That makes it clear how serious we are about having every person we hire support our vision.
PG: You have to include everybody in discussions of what the future will look like. The key is building on the owner's vision so that everyone understands it, whether your goal is being the best regional, national, or global company in your industry. Remember that you need to create a culture where people feel they're part of something greater and have a sense of pride in their accomplishments. When that happens, culture becomes a productivity tool.

As the owner, I know the buck stops with me. How do I inspire the same sense of accountability in my staff?
PG: If they feel a sense of ownership and success, and experience the celebration of that success, they become more accountable. Clearly understanding how to accomplish their work goes back to guidelines and metrics, so you need to communicate the rewards for a job well done.
JC: The business only works when you have a transparent sense of expectations and guidelines. We focus on having everyone feel accountable for their failures and successes, and we've been thanked for it by our own employees. If employees know exactly what they should be doing, they're able to do it better.
I want to reward my staff's successes, but what if I simply can't afford to?
PG: Rewards go beyond the salary because there are other ways to make people feel valued. It can be anything from letting them bring a pet to work, to loosening the dress code, to having ice cream Fridays and birthday celebrations. It also helps to show the value of your company within the community. Consider designating a day when the whole company goes to volunteer at a nonprofit people generally feel good when they know their company is doing good.
JC: For employees, there are forms of currency that aren't just money. They want to work for a company that subscribes to certain ideals, and outlining those ideals helps define your culture.
A lot of my time is spent on finances. How can I make the most of my company's financials to better plan for the future?
JC: The [10,000 Small Businesses] program teaches you to no longer be intimidated by financial data, to know how to [manage] it and control your bottom line. One of the things we did immediately was replace our bookkeeper with an actual accountant and tax strategist. That was big for us.
PG: It's all about knowing your business well enough to know which five or six metrics you really need to watch, whether those are revenues, cash flow, debt, operating costs, wage and benefit costs, or profitability per product line. You need to be able to know that if you're hitting these goals, you're doing okay.
JC: We set up a weekly meeting to review our financials, and now I can say there's not a single thing I don't know about our finances. I look at the numbers regularly and can easily spot any discrepancy. If you're forecasting to predict upcoming gains and losses, you can make plans and dodge potential problems. We're in much more control now.
These are just a few of the long-term planning, time management, and leadership strategies taught in the Goldman Sachs 10,000 Small Businesses program. Share your small business advice in the comments section below, and visit www.goldmansachs.com/10000smallbusinesses for more information on how the Goldman Sachs 10,000 Small Businesses program can help you grow your business.