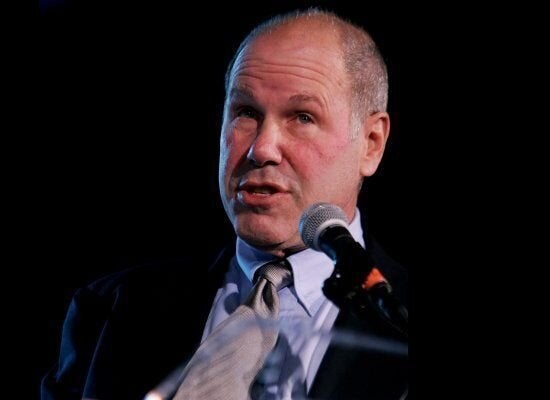 Next month, it will be 26 years since my first day at work as the CEO of the Walt Disney Company. I remember it pretty well. I got up early, drove to Burbank, and walked into my new office, where Lucille Martin, who had been Walt Disney's secretary, welcomed me. Maybe 10 minutes later, Frank Wells, who had been hired alongside me as the company president though we had never worked together before, came into the office, gave me a big hello, and sat down across from me at the desk. I pushed back my chair and began talking about what we had to do that day, figuring he'd respond and then head out, but after about 15 minutes, something else became apparent to me.
"Frank," I asked him, "Are we going to sit here together?"
"Well, yeah," he said. "I thought we would."
I wasn't sure how to react. Yes, I suppose partners who work together should be able to actually work together, but the whole idea made me uncomfortable. I need my privacy. I made the point to Frank, and offered to go find another office, leaving this one to him.
"No, no," he said, jumping up. "You stay here, I'll go." And he walked to the room next door and sat down.
Of course, we came into each others' offices anyway about 20 times over the course of that morning, sharing news and comparing notes from phone calls, a pattern that would repeat itself countless times over the next 10 years.
My partnership with Frank Wells at Disney represented the most successful 10 years of my career. Growth and profit and the company soared, and we had a great time together, complementing each others' styles and interests in a way that was, I dare say, magical. But if there's anything to be learned from the story of our first day at work, it's this: working together is never that simple. Even when two people are a perfect fit, there are going to be times when someone needs to speak up, and say something difficult (in this case, "I don't want to share an office with you"). Anyone who's married knows this. As any married person understands, saying "I do" is just the beginning. Marriage is about surviving, counter-balancing, and building. Sometimes, it's hard. Mostly, nothing is more rewarding.
On the whole, though, the institution of marriage -- life collaboration -- gets a lot more attention than the institution of business collaboration. But the benefits of working together -- of finding a partner -- are extraordinary. Partnerships promote common sense, a common purpose, and strong ethics. Think about how many of the world's most successful people have partners. Warren Buffett has been investing alongside his friend Charlie Munger for more than fifty years. The most successful person to come out of the computer revolution, Bill Gates, famously worked with partners at Microsoft, and now, in his new job, saving the world (quite literally) with his foundation, he has perhaps his best partner yet: his wife, Melinda. In Hollywood, you'd be hard-pressed to find a more successful or well-liked movie and television company than Imagine Entertainment -- run by partners Brian Grazer and Ron Howard. One of the biggest retail chains in the United States, Home Depot, was started by a pair of visionaries, Bernie Marcus and Arthur Blank. In fashion, the great designer Valentino spent a half century atop his world flanked by an amazing partner, a man named Giancarlo Giammetti. In finance, Angelo Gordon, a company run by my childhood friend John Angelo and his partner Michael Gordon, has been successful for decades managing billions of dollars, not only surviving the financial meltdown but growing during it. Partnership goes beyond the traditional definition of business as well. In sports, the most successful baseball manager of the last half century, Joe Torre, won his four World Series titles with a partner by his side, a man Yankee fans know well, his bench coach Don Zimmer.
A successful partnership allows you to recognize your own weaknesses, and draw on a partner's strengths, without being uncomfortable about that vulnerability. That comfort, as Warren Buffett says, comes from a complete lack of envy in a partnership. Partners must value trust, they must discover how to keep their ego in check, and they must put a premium on not just brains, but human decency. If we are in an age where loss of integrity is an ever growing concern, then partnerships counter that. Partners also have to be comfortable with the way that someone else views the world. Charlie Munger looks at every possible business deal skeptically, always looking for a reason to say no. And Buffett uses that to his advantage - he tries to find ways to convince his partner to say yes. At Disney, Frank Wells would often play the devil's advocate with me on a range of issues (well, actually every issue).
Perhaps the greatest challenge to increasing the presence of partnerships is the long-held fascination with single heroes -- in and out of business. For generations, the titans of industry, icons of progress, have been individual figures. That's the story the media wants to tell, the story the public wants to hear, and, quite frankly, the fantasy that ambitious young executives conceive for themselves. They want to be the next Andrew Carnegie, the next J.P. Morgan, the next Rupert Murdoch, the next Jack Welch. Sharing those aspirations with someone else runs counter to the way they are bred to achieve. But my guess is that even these iconic figures had strong partnerships. The myth of the individual above all is just that, a dangerous myth, one that is metastasizing in our digital world.
As the partial list of examples of iconic partnership shows, there is plenty of success that has been enjoyed by people who work with someone else. Like in any successful marriage, business partners find ways to get around the dilemmas and the disagreements, and then use the adage that "one plus one is a lot more than two" to build up their companies, and rise above in a world that is dominated by people who think working alone is better. Still, there's something as important as that, as critical as the dollar figures, the stock amounts, the titles and the companies, that builds a case for working together.
Partnerships make people happy, and happier than they'd be if they worked alone. Partnerships provide someone else with whom to experience the challenging lows, and the ecstatic highs; another person in the trenches, another person to pop the champagne. Not too long ago, the Atlantic Monthly published a Harvard University study, for which 250 men had been interviewed every five years since the 1940s, to determine what really makes someone happy. To summarize the results, there was just one overriding cause of happiness: sustained relationships over a long period of time. Wealth and social class didn't mean anything, and even exercise only helped so much. What mattered was having real communication with someone, love, and friendship -- all of which you get through a sustained loving marriage or significant relationship; strong continued contact with your siblings; extended communication with grown children; and satisfying business partnership.
In the study -- and it is among several that have shown the same conclusions -- having real relationships was what led to other factors that were common among happy people: passing wisdom down to future generations, and being adaptable and able to bounce back from disappointments. These come with partnership. I am not surprised that some of the happiest people I have known for years include the people I mentioned earlier. They know what I know. What it's like to share the highs and lows, the successes and the failures, and the feeling of being with someone you know is smarter than you are, all the while confident they think the same way.
So then, do partnerships enhance the good life? We are taught to strive for successful, long-lasting marriages, but what about long-term business partnerships? If life is said to be better with someone alongside you, what about work? Is doing business with a partner better than going at it alone? My answer is yes. Nothing in business is more rewarding. Working together is much better than working ... alone.
Popular in the Community