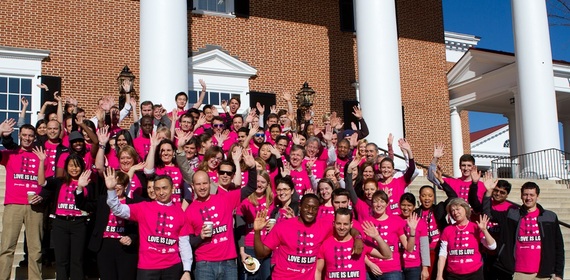 Would you expect MBA programs to be one of America's hotbeds for activating people to show support for their LGBT friends? Neither would I, but 12 of the country's top business schools are proving me wrong.
Friendfactor has just released the initial standings in the MBA Ally Challenge, a year-long competition among business schools to activate their student bodies in building LGBT-inclusive campus culture. Over half of Businessweek's top 20 MBA programs have stepped up to the challenge, and they've already activated 1,800 students since it kicked off in late August. In the lead so far are the Stephen M. Ross School of Business at the University of Michigan, the Kellogg School of Management at Northwestern University, and MIT Sloan School of Management.
I'm amazed to see the enthusiasm and support that these students are showing for their LGBT classmates, particularly in such a traditionally conservative graduate environment. They're draping their student centers in rainbow flags, organizing inter-section competitions, and partnering with local LGBT community groups, all to make it clear that LGBT students are welcome and supported at their schools.
The outpouring of support is particularly poignant this year, when huge legal gains have been realized for the LGBT community but cultural attitudes still have a ways to go. According to the Center for Talent Innovation, 41 percent of LGBT workers remain closeted at work. Our student leader at Ross, Eric Huang, puts the program in context:
As future business leaders, it's more important than ever that we learn the tools to make our workplaces fully inclusive. So far, we've been able to bring these tools to over 40 percent of our student body.
The MBA Ally Challenge ranks schools' efforts to activate their student bodies on three criteria: the number of students involved, the number of activities they execute, and their results on a survey that measures LGBT awareness and the inclusiveness of campus culture. Other participating MBA programs include Harvard University, Columbia University, the University of Chicago, Dartmouth College, the University of Virginia, Duke University, the University of North Carolina, Carnegie Mellon University, and the University of California, Los Angeles. The competition will continue throughout the school year, so stayed tuned for the final results announcement in May of next year!
About the MBA Ally Challenge: The Friendfactor MBA Ally Challenge is the first-ever friendly competition among business schools to build the largest and most impactful LGBT ally initiatives they can over the course of the school year. Since its launch in 2012, the Challenge has activated over 2,700 MBA students and created up to 55-percent improvements in the LGBT friendliness of campus culture at participating schools. Over half of Businessweek's top 20 MBA programs are participants in the MBA Ally Challenge, which is made possible with the generous support of Bain & Company and McKinsey & Company.
About Friendfactor: Friendfactor is an award-winning nonprofit that helps straight people become visible and active allies in their workplace and campus communities. Friendfactor's programs have driven over 30,000 people to stand up and make a difference in the world around them and have been profiled in The New York Times and Businessweek and on CNN and The Huffington Post. For more information please visit www.friendfactor.org.
Calling all HuffPost superfans!
Sign up for membership to become a founding member and help shape HuffPost's next chapter