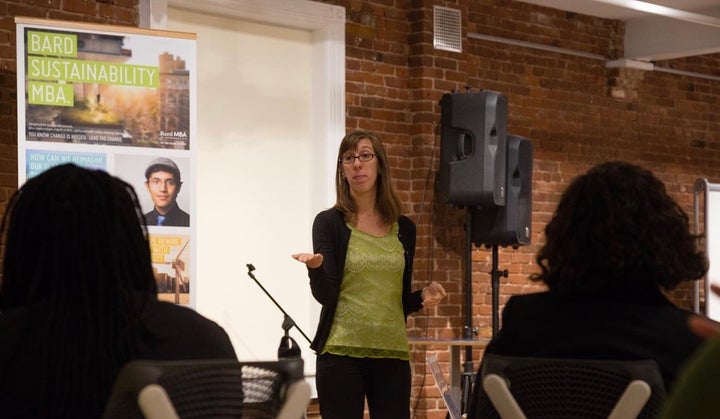 Laura Gitman has been a consultant her whole working life. Working with a variety of companies, helping them to solve big problems, she specializes in helping companies solve sustainability challenges and develop and implement strategies that enable them to create both business and societal value. She leads the New York team and global membership of BSR, a global nonprofit business network and consultancy dedicated to sustainability.
Laura feels privileged to work with large and influential companies to create positive change, a feeling that has strengthened over the past year. The past 12 months since the election have been volatile, with political, economic, technological, social, and environmental disruptions creating both challenges and opportunities for companies. Watching the U.S. government lose its leadership on climate change as we stand alone among the world's nations in support of the Paris Agreement, Laura has been frustrated to see progress also stall or reverse on issues of women's empowerment, human rights, transparency and anti-corruption. However, as a sustainability consultant, she gets "to come to work and do something about it every day." BSR members, like many companies that have embraced sustainability, have remained steadfast in their commitment to sustainability, and recognize that business must play the leading role in advancing sustainability in the future.
This business leadership is also the premise of the Bard MBA in Sustainability program, at which Laura teaches two courses: NYCLab and Strategy for Sustainability. NYCLab is an experiential course in which MBA students complete a yearlong professional consultancy in the first year of their business program. Students experience how consulting can drive impactful change with a range of companies, government agencies, or organizations. These are not hypothetical scenarios or case studies, but live opportunities to create real change on issues such as climate change, human rights, circular economy, responsible sourcing, community development, among others. Recent corporate clients include Siemens, Etsy, Eileen Fisher, Pharmavite, HSBC, JetBlue, and ConEdison. Teams have also helped New York city and state agencies, as well as non-profits and social enterprises.
"It is exhilarating to watch the students learn "on the job" and apply what they're learning across the program in real-time on their projects," Laura says. "Perhaps most important to me is that they also learn the value of the consulting process itself. That it's not enough to have subject matter expertise, but that their consulting skills will enable them to be change agents, regardless of whether they work inside a company or organization, or externally as a formal consultant. They learn how to work in teams, manage projects, drive internal buy-in, engage clients, break down problems, research and analyze data, and convey recommendations in a compelling and persuasive way."
Laura believes that sustainability consulting is one of the most important ways to drive change. Companies cannot and should not have all the expertise they need in-house. Even if they do, sometimes, they just need an external perspective. Consultants facilitate a greater pace of change—so that management can benefit from the collective wisdom and best practices of experts and other companies, rather than having to start from scratch on a problem. Research, advocacy, and networking are all helpful, but often companies need support to move from theory into practice.
The Bard program recognized how important this practical experience is by placing NYCLab as the cornerstone of the program in its first year. The course teaches students how to help companies lead in a time when real leadership is at a premium. As business leaders step up to drive sustainable investments and reform corporate practices, they are also expected to be diplomats and moral leaders. In 2017, business leaders have reinforced their commitment to climate action. They publicly supported DACA and opposed the travel ban. Businesses stood up for tolerance inclusion and diversity. Such leadership requires a different set of skills than a traditional MBA provides. It calls for empathy, integrity, and advocacy, and it requires a comfort level with engaging with all types of stakeholders, not only shareholders. The kind of leadership we will need from the executives of today and tomorrow depends on an adaptability to change and an ability to manage through complexity and uncertainty. Bard MBA students, under Laura's able leadership, develop these skills.
I sure look forward to the more sustainable future they will undoubtedly create.
Popular in the Community