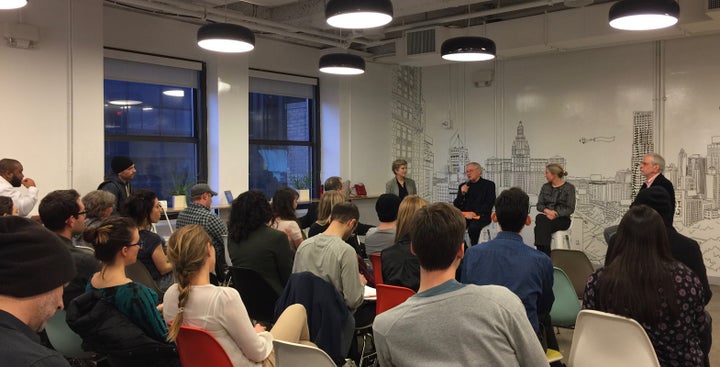 Finance is the mother of all human systems. In order to meet the challenge facing us, from shifting to renewable energy and implementing regenerative agriculture, we have to change finance.
Kathy Hipple, Professor of Finance and Accounting at Bard MBA, believes we can play a role in this. But we have to learn how.
Kathy, who once sold bonds to Japanese institutions at Merrill Lynch and founded and ran Ambassador, a large media company in New York City, stresses that all her students in the rigorous two-semester Bard MBA Finance sequence master financial and managerial accounting, financial statement analysis, behavioral finance, and corporate finance. A module on impact finance and investing then allows students to showcase their hard-earned finance skills in real-life projects. While all her material is presented through the lens of sustainability, Kathy ensures that students know the core principles of finance.
"Through finance, students can focus their passion for creating change. By mastering basic business terms and concepts they can make a solid business case for their projects," notes Kathy. "A deep foundation in finance is key to bringing their ideas to fruition."
In an age when investing with an Environmental, Social and Governance (ESG) framework is delivering superior returns, Kathy believes that students must learn to communicate their goals for impact—whether through ESG-focused investing or launching a start-up—in terms that resonate with the business community at large. "Too often, sustainability professionals 'preach to the choir,' rather than communicating with larger audiences. Reaching a larger audience is crucial—now more than ever," Kathy argues.
"We must leverage capital—especially financial capital—and harness the power of market forces to transform the world," she notes. "The market, for example, will tell us the most impactful ways to shift financial assets to power the transition to a low-carbon future."
Bard MBA's weekend residencies are held a block and a half off Wall St, the world capital of finance. Kathy taps her extensive network of finance professionals and impact investing leaders as guest speakers to illustrate the breadth of opportunities within the finance sector. Speakers include such financial professionals as Pete Grannis, First Deputy Comptroller of the New York Common Fund, Leslie Samuelrich, President of Green Century, David Schilling, Senior Program Director, Interfaith Center on Corporate Responsibility (ICCR), and Reid Capalino, Principal at Aligned Intermediary and former Senior Energy Analyst at Carbon Tracker. This is a rich diet for any student passionate to change the world.
"Investors—particularly millennial investors—must have their long-term interests considered in all investment decisions," Kathy says. "Given all we know about climate change and its impact on asset prices, financial managers who fail to consider environmental impacts are falling short in their fiduciary duty to these investors"
Kathy stokes her students' passion for sustainability, giving them skills they need to persuade businesses to change. Shareholder activism, is explored in depth by such speakers as Nancy Bryson and Uttara Marti, of Evercore, who share how they successfully defended a company from an activist investor. Guest speaker Andrew Behar, CEO of As You Sow and author of the Shareholders Action Guide, supervises students as they write shareholder resolutions. These non-binding, resolutions send a powerful message to company management.
Kathy observes, "Our Bard MBAs have an extraordinary range of interests: from labeling GMOs, and greening the supply chain, to addressing human rights violations, and relocating climate refugees. I help them to pinpoint which companies are not stepping up to address these pressing problems. Writing shareholder resolutions allows them to be a positive force for change in corporate America."
Divestment is of keen interest to students. By debating divest versus invest, students explore their attitudes about what it means to be a responsible investor. "Bill McKibben, co-founder of 350.0rg and Bob Massie, co-founder GRI, for example, both started their sustainability journeys through their leadership in student-led divestment campaigns." Kathy observed. "Divestment efforts often lead to further exploration of the relationship between investing and impact."
Using numbers to tell a financial story is the cornerstone of Kathy's work with her students and with Noosphere Marketing, which she founded with partners Kathryn Streator and Mason Garrity. Noosphere creates online content—case studies, e-newsletters, videos—to help financial services clients communicate ESG-related initiatives, something Kathy teaches, as well.
Cost-benefit analysis is typical in business schools, but Bard MBAs conduct cost-benefit analyses selecting non-financial metrics to study, as well. A bleeding edge of impact finance, this helps professionals measure impact with as much rigor as accountants use when analyzing financial statements.
Along the way, Kathy's students fall in love with finance. "One of the most rewarding parts of teaching is watching students gain confidence," Kathy suggests. "Students who were terrified about accounting in September are ready to become CFOs by May. Many who feared finance when they entered business school choose careers in the world of numbers and money. They know they can lead a team of financial professionals."
By the time they graduate, they have gained the financial acumen to tackle the world's greatest challenges. Good thing. We need them.
Related
Popular in the Community