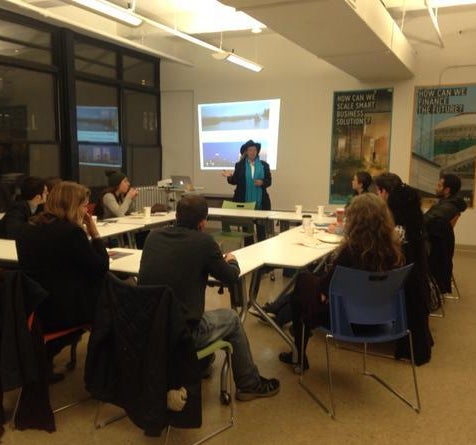 The first in a series in which I will chat with change-agent professors delivering sustainability expertise.
In the early 1990s, Professor Mike Russo suggested that there was a broader context for our work helping companies profit by using resources more efficiently. There is, he stated, a business case for sustainability.
This sounds self-evident today, but back then it was heresy. It flew in the face of the widespread belief spread by Milton Friedman, and the other neoliberal economists that greed is good; the only social responsibility of business was to increase profits and deliver value to owners.
In the late 90s, Dr. Richard Grey, founder of World College West, asked me if I thought it would be a good idea to create a business school based on the emerging discipline of sustainable management to counter this attitude. I did, and in 2002 we built the first accredited MBA in which the principles of sustainable management were baked into every class.
A few years on, Dr. Eban Goodstein asked me to recreate PoSuM (Principles of Sustainable Management) at Bard MBA. In classes held a block off Wall St in New York City, the Bard MBA curriculum is co-created by the faculty to deliver the expertise in social and environmental sustainability that is critical to manage successful organizations today. The world in which business (and all other institutions) operates faces such existential threats as global warming, loss of major ecosystems, extreme inequality, political instability, and resource constraints. Unless countered, these could drive total system collapse.
This is not the talk of radical environmentalists. It is not about polar bears: It is better business. Unilever, the consumer goods giant, is prospering because they have made a commitment to doing business for more than profit. Their purpose-driven brands drove 60% of the company's 2016 growth, and are growing 50% faster than the rest of the company.
Harvard Business Review put it this way: "Sustainability isn't the burden on bottom lines that many executives believe it to be. It can lower your costs and increase your revenues. That's why sustainability should be a touchstone for all innovation....In the future, only companies that make sustainability a goal will achieve competitive advantage. That means rethinking business models as well as products, technologies and processes."
The business case for taking early and aggressive action to cut emissions and implement climate protection is solid. CDP's 2014 "Climate Action and Profitability" showed that companies that integrate sustainability into business strategies outperform those failing to show such leadership. Companies managing their carbon emissions and planning for climate change enjoy 18% higher returns on their investment than companies that aren't, and 67% higher than companies hiding emissions.
Accenture surveyed 1,000 CEOs from more than 100 countries. While a strong majority believed that a corporate commitment to sustainability is a path to growth and innovation (78%), conferring competitive advantage in their industry (79%), only 38% felt they could quantify the business value of such programs to their company. Only 15% felt they had made sufficient progress in making their sustainability commitment a must-have asset for customers. By 2016 attitudes had shifted: 97% believe that sustainability is important to the future success of their business. Transparency is seen as a critical factor, with 79% seeing brand, trust and reputation as driving action on sustainability.
Yet McKinsey found that while most executives see sustainability as important to their future, only 30% said they actively sought opportunities to invest in it, stating that they lacked a clear understanding of how to move forward. Not surprising: few graduates of ordinary business schools are given the tools necessary to manage companies, governments or organizations sustainably.
PoSuM, the foundational course that all students entering Bard MBA take, answers this challenge. Students gain the sustainability knowledge to manage a modern organization, and a deep understanding of the social and environmental opportunities and challenges facing leadership today. It develops students' critical capacities to be change agents, giving them the major frameworks of sustainability and such environmental and social sustainability tools as systems thinking and scenario planning, to drive economic and community success.
Lectures and readings deliver literacy in the issues facing humanity, and the scientific foundations and economic principles of sustainability that enable managers to achieve natural competitive advantage by solving them. Students learn the history of the sustainability movement, including the social and economic movements from which the current discipline grew, and the key actors and the literature in the field. The course addresses the development issues necessary for international management.
These are business issues, but the Bard MBA also raises the moral concerns facing leaders: Paul Polman, CEO of Unilever rejected a lucrative offer from corporate raiders to take over his company, saying that his obligation is not to owners, but to the world as a whole. "Do you run this for society or not?" Polman queried. "The real purpose of business has always been to come up with solutions."
Ray Anderson often asked, "What is the business case for eliminating life on earth?" He also said, "There is no more strategic issue for a company than its ultimate purpose. For those who think that business exists to make a profit, I suggest they think again. Business makes a profit to exist. Surely it must exist for some higher, nobler purpose than that."
Join me in the months ahead as Bard MBA's Business Stepping Up series explores how to define that purpose. Next week: Entrepreneurship
Related
Popular in the Community