No one selects MBA programs based on the hotness of their female students, so a Bloomberg Businessweek ranking of schools based on that criteria is a bit of a joke, right? Or has a heated election cycle cast the practice in a new light?
It's a story that the magazine has posted in the past, but this year the ranking coincided with the election season. After months debating the "war on women," the survey attracted an intense backlash, reports The Daily Dot.
In a tweet that staff deleted, the magazine promoted its poll, asking, "Which business school has the most attractive female students?"
For its part, the magazine now regrets its error. Rachel Nagler, head of communications for Bloomberg Businessweek, told The Huffington Post,
We regret issuing two online polls last week that asked our readers to comment on which business schools had the most attractive male and female students. The Face/Off polls have been taken down from businessweek.com. They were in poor taste and undermine the tremendous value our Business Schools vertical provides.

Following the backfire, editors pulled the survey on Saturday, but the tweet wasn't deleted until Sunday night. According to The Daily Dot, the poll was part of a new Bloomberg Businessweek feature called "Face/Off" that asks readers to vote on small polls. Editors took this down too.
School rankings based on students' looks or its party scene are nothing new. However, the particular focus on women is.
THE SURVEY: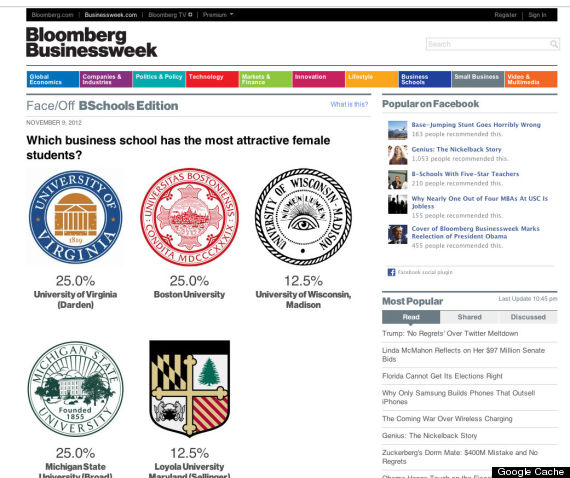 Calling all HuffPost superfans!
Sign up for membership to become a founding member and help shape HuffPost's next chapter
BEFORE YOU GO