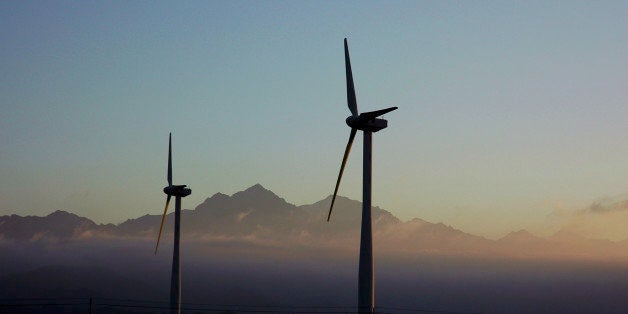 With the historic climate change agreement endorsed by nearly 200 nations last month in Paris, the focus on sustainability across the globe has never been stronger. We all should be encouraged by the willingness of world leaders to make commitments for action on climate change.
Even with this landmark accord, climate change isn't something governments alone can address. As leaders from across society gather in Davos, Switzerland, next week for the World Economic Forum annual meeting, it's essential that businesses also play a key role in creating a sustainable planet for generations to come.
Business leaders recognize this responsibility, as evidenced by the commitments President Obama has secured from 154 U.S. companies, most with global footprints, for the White House's American Business Act on Climate Pledge. Within the business community, the financial services sector is in a unique position to help achieve climate change goals. By providing the necessary financial and intellectual capital, we can accelerate the transition to a low-carbon economy.
We've embraced this challenge at Bank of America, recognizing that our customers are well-informed participants in a changing world. They require business to be conducted in a manner that is responsible and sustainable, in every sense of that term. They also need us to reduce risk while providing financing to help to develop new energy initiatives and other technologies.
This kind of lending and investing requires financial services firms with the scale and influence to make a real difference. Last year, Bank of America CEO Brian Moynihan announced an increase of our global environmental business initiative from $50 billion to $125 billion in low-carbon activity by 2025. We also continue to lead in developing the green bond market, issuing the first benchmark-sized corporate green bond -- $500 million -- in 2013, followed by a second green bond for $600 million in 2015.
Yet climate change is a challenge much larger than one company or one country. Charting a path of emissions reduction worldwide will require as much as $50 trillion in cumulative investment in energy over the next two decades. But without the global business community's active participation, that type of real change can't happen.
The pursuit of true sustainability is an opportunity for companies to capitalize on their size and global reach -- to use not only financial capital but intellectual capital and partnerships to help create a better future.
In 2014, our CEO announced the Catalytic Finance Initiative with an initial $1 billion commitment toward a goal of $10 billion in capital to reduce barriers to greater investments in clean energy. As we move ahead with that initiative, we look forward to working with partners to develop innovative financing structures that help reduce investment risk and advance new energy opportunities.
These kinds of commitments represent both an acknowledgement of climate change and a willingness to do something about it. Collective efforts such as the Catalytic Finance Initiative are innovative, they're making a difference and they're good business.
Businesses also can help create a sustainable economy by simply being great places to work. At Bank of America, that means having a diverse and inclusive workforce, providing competitive wages and helping our employees take control of their physical and financial wellness. Our employees' health-care costs are aligned to how much they earn, and we provide access to education and wellness programs that can help them save money on health expenses. We've also offered all employees a medical plan option with no premium increases each of the past two years. When you add other benefits -- such as child and elder care resources and reimbursements -- that help our employees balance their personal and professional lives, it's clear that giving them a better quality of life is an important part of building a sustainable economy.
As a financial services institution, we'll continue looking for ways to provide the necessary financing and encourage capital investments toward a low-carbon economy. This obligation to address climate change is shared across our company and embedded in our relationships with customers. Put another way, we consider this business as usual, as it should be for all global companies.
The historic agreement in Paris is a significant step in the ongoing climate challenge, but more needs to be done by both the public and private sectors. As we look ahead to Davos, let's ensure that business success and environmental protection aren't mutually exclusive. Through bold, innovative collaboration, we can transform the global economy and help build a more sustainable world.
This post is part of a series produced by The Huffington Post to mark The World Economic Forum's Annual Meeting 2016 (in Davos-Klosters, Switzerland, Jan. 20-23). The theme of this year's conference is "Mastering the Fourth Industrial Revolution." Read all the posts in the series here.
Calling all HuffPost superfans!
Sign up for membership to become a founding member and help shape HuffPost's next chapter