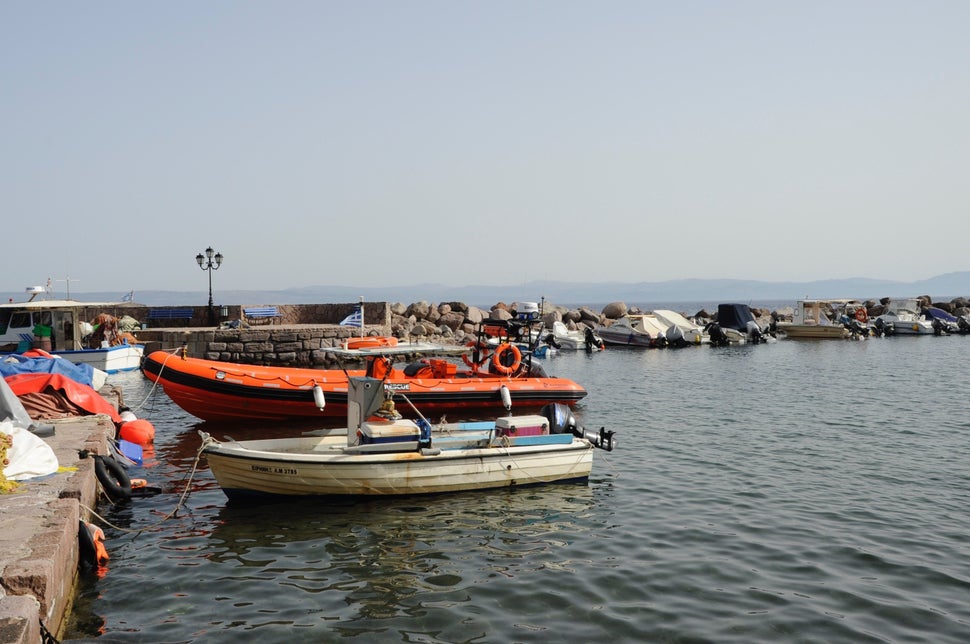 LESBOS, Greece ― The view from the Sunrise Resort Hotel, nestled in the hills above the town of Molyvos overlooking the Aegean Sea, opens up on mile after mile of crystal blue water, with the rocky Turkish coastline in the distance.
But there were hardly any tourists around to enjoy the surroundings on the breezy June day that The Huffington Post visited the island. The hotel was empty except for one Turkish family and a 12-person group of Portuguese maritime policemen, who had taken up residence there during a three-month stint performing refugee search and rescue missions in the waters between the island and Turkey.
The hotel, like most other tourism operations across the small island, has experienced a massive dip in business ever since refugees began arriving ashore in 2015, sometimes thousands per day, leaving many islanders concerned about their livelihoods and many tourists too wary to travel to Lesbos.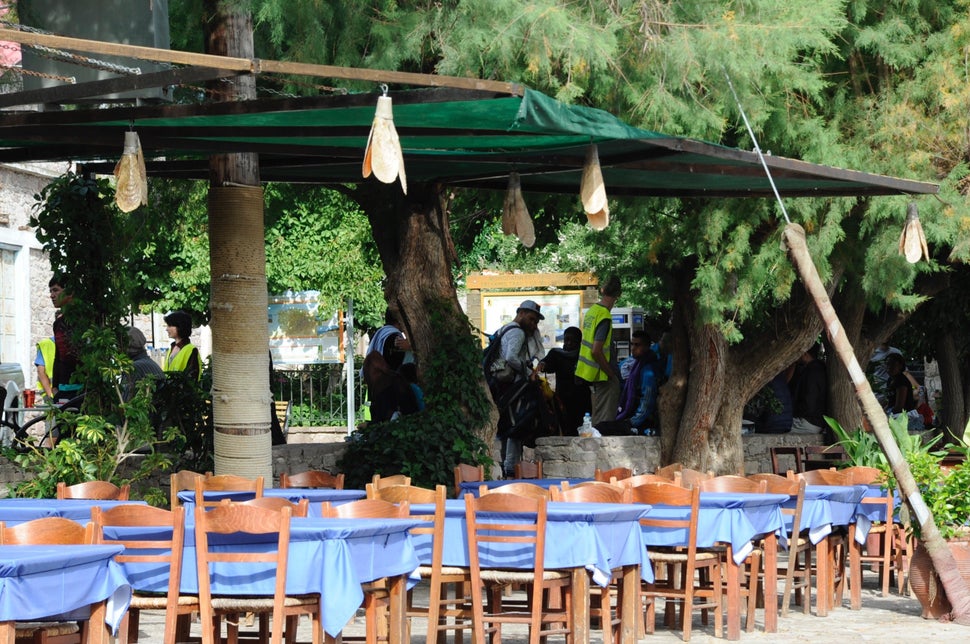 It's a complicated and guilt-inducing situation, explained Sunrise's managing director, Theofilos Chavoutsiotis.
People like Chavoutsiotis have nothing against the refugees or their desire to flee persecution, he said. But his country's willingness to lend a hand to people in need has strained the well-being of its own citizens.
"We are suffering here. We need people to support us because we have supported them on behalf of Europe," he said.
Refugees are now housed in two very heavily monitored camps, Moria and Kara Tepe, but several months ago they were able to wander freely across the island, walking the mountainous roads in between towns and camping outdoors.
Thousands upon thousands of orange life jackets once dotted the island's coastline. Capsized ships used to litter the beaches. Volunteers and residents eventually cleared everything out and placed them all in a landfill near the Sunrise, where they're now piled several feet high.
Lesbos residents once banded together to assist the newcomers, using local restaurants and hotels as staging grounds for volunteer activity, Chavoutsiotis said. They're now working to restore the island to its former glory.
"Even we are diving [under the sea] to collect garbage," he said. 
Whereas once 77,000 tourists flew in every year, he said, he was predicting only 10,000 to 12,000 visitors for 2016. The few people he's seen journey to Lesbos are journalists, writers and documentarians. 
Airlines have also significantly decreased the number of flights into the island's airport. 
"We had 30 flights [per day] from Europe last year, direct from European capitals, and now we have only six," Chavoutsiotis said. 
The island, the third largest in Greece's archipelago, is an important birdwatching hub, said Theo Avgerinos, the owner of Lesvos Taxi Service. He's seen a drop in business since the tourists, mainly from Germany, the U.K. and Scandinavia, have stopped coming.
And Greece's economic situation, he added, has not improved matters for residents already concerned about their finances. Many people on the island have had to take on second or third jobs.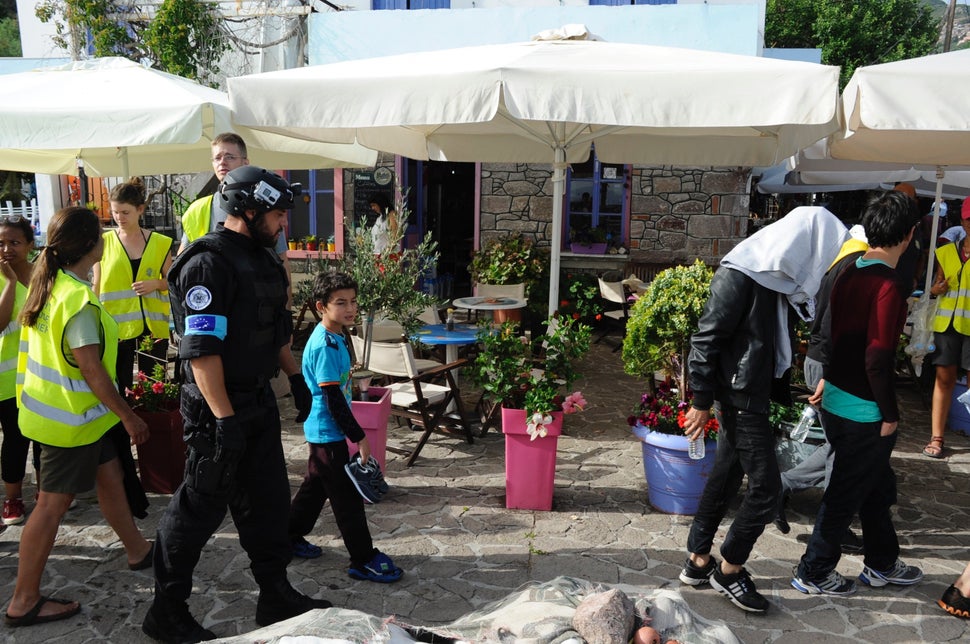 Spyros Galinos, the island's mayor, is partially responsible for the predicament, Chavoutsiotis said. Galinos capitalized on the crisis to tout Greece's generosity and kindness, without considering how it could backfire for the country's image.
"The mayor just reminds people that [Lesbos] is an island for refugees," he said. "And we're trying to ask and beg people to show the people outside ... that there are no more refugees, nobody can see a refugee, it is a quiet island for holidays, clean beaches, the bottom of the sea is clean now."
But there are still refugees arriving in Lesbos, though in far smaller numbers. The European Union struck a deal with Turkey in March to limit the flows of people across the various member states, effectively cutting off any refugee departures from Turkish coasts. 
Things picked up again in late spring, although the influx has been nothing like what the island was experiencing one year ago. At one point in 2015, up to 7,000 people daily were coming ashore. These days, only several dozen arrive at one time. 
As about two dozen refugees disembarked from rescue ships in the port of Skala Sikaminias that same morning in June, a handful of locals watched quietly from restaurant terraces, sipping on Greek coffee.
The numbers are clearly no longer high enough to seriously disrupt daily life. But the arrivals of people from faraway places, seeking new beginnings safe from war, are likely going to be interwoven with life on Lesbos for some time to come.
And as the Greek government still grapples with how to accommodate some 57,000 refugees across the country, waiting to see whether borders into Europe will reopen, the Lesbos tourism industry may face an extended period of uncertainty.
Read more about the brave men rescuing refugees off the coast of Lesbos.
REAL LIFE. REAL NEWS. REAL VOICES.
Help us tell more of the stories that matter from voices that too often remain unheard.
BEFORE YOU GO
PHOTO GALLERY
Snapshots From A Refugee Rescue Mission In The Mediterranean