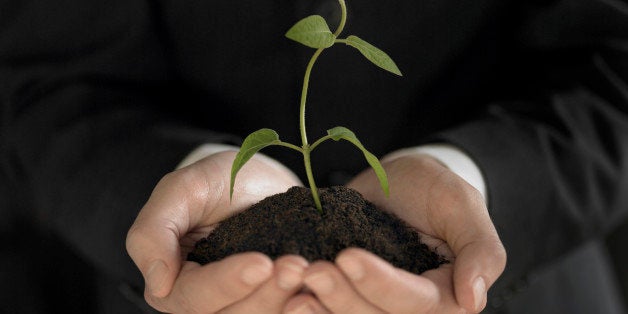 It's no secret that a lot of Americans aren't totally enamored with the corporate world. Skeptics have any number of reasons to question the motives of big businesses, and many people appear to believe that companies care about maximizing profits and not much else. Research from the University of Pennsylvania shows that people tend to perceive a link between companies that make a profit and companies that cause social harm. When participants were asked to assess various companies and industries -- some real, some hypothetical -- both liberals and conservatives viewed profits as undeserved, and even associated strong earnings with evil.
But those attitudes may be slowly eroding. According to the 2014 Edelman Trust Barometer, released last month by the public relations company Edelman, the public's trust in business has been steadily rising since the financial crisis of 2008, while trust in government has been declining worldwide.
This past year marked the most significant gap between trust in the government and trust in business recorded since Edelman began conducting the study in 2001. In nearly half of the 27 countries surveyed, there was a difference of more than 20 points between government and business trust ratings, and in some nations that gap was as high as 40 points. In the U.S., the study found, business got a trust score of 58 percent, while the government got just 37 percent, for a 21-point gap.
"This is a profound evolution in the landscape of trust from 2009 where business had to partner with government to regain trust, to today, where business must lead the debate for change," Edelman president and CEO Richard Edelman wrote in a press release about the Trust Barometer.
A full 84 percent of respondents worldwide even said that they believe businesses can pursue self-interest and profits while also doing good work for society.
More and more businesses are beginning to create change, making social responsibility a part of their corporate mission and taking action for the public good.
"The smart CEO starts to become the 'Chief Engagement Officer,'" Edelman told The Huffington Post, explaining that if government can't be relied upon to create changes, companies must take on that role in whatever ways they can. "They have to try to push for good regulation."
Edelman cited PepsiCo, which has lately taken strides to invest in local communities and locally grown products, as an example of "performance and progress." General Electric has also made social responsibility a priority, hiring 5,000 veterans for aviation manufacturing positions.
Unilever, the multinational consumer goods company, has taken a somewhat different approach, harnessing the power of its consumers to create change. The company's "Project Sunlight" initiative has gotten 70 million people to sign up and pledge daily acts of environmental mindfulness, like taking shorter showers or turning off the lights when they leave a room.
The question of businesses' social responsibility was also on the agenda last month in Davos, at the World Economic Forum's annual meeting, where global business leaders discussed the issue of public distrust and the imperative for companies to act in the public interest.
"The role of business in society has been changed," Feike Sijbesma, CEO of the Dutch life sciences company DSM, said during a Davos panel, "Doing Business The Right Way."
Sijbesma urged business leaders to consider whether economic growth should be an end in itself, or instead a means of improving the well-being and quality of life of people around the world. "The boundaries between what is public interest and what is private interest have been blurred," he said. "Companies have a public responsibility ... taking care of the environment, taking care of the social issues in the world."
Virgin Group founder and CEO Richard Branson believes that profits shouldn't be a company's only concern. Last year, Branson formed The B Team, a nonprofit that he described as a "new way of doing business that prioritizes people and the planet alongside profit," to promote social entrepreneurship and corporate giving. (Arianna Huffington, the chair, president and editor-in-chief of The Huffington Post Media Group, is a member of The B Team.)
"It shouldn't just be left to politicians and community organizations to tackle the world's problems -- businesses should help, too," Branson wrote in a HuffPost Impact blog. "Although individually lots of businesses do great things, collectively they could be far more powerful and do much more good."
Social entrepreneur and Nobel laureate Muhammad Yunus agrees with Branson that profits are "not the way" to measure success.
"Forget about personal profit-making. Once you get out of the personal profit idea, business is a very powerful tool," Yunus told HuffPost Live at Davos in January. "You can use it to solve human problems."
These sentiments can create a virtuous circle: Businesses that prioritize their social responsibility may actually end up increasing their profits. In a 2013 survey from the marketing agency Good.Must.Grow, 60 percent of respondents said that buying goods from socially responsible companies is important to them. Consumers ranked treatment of workers as the most important factor when deciding how responsible a company is (45 percent), followed by treatment of the environment (38 percent).
This page contains materials from The Huffington Post and/or other third party writers. PricewaterhouseCoopers LLP ("PwC") has not selected or reviewed such third party content and it does not necessarily reflect the views of PwC. PwC does not endorse and is not affiliated with any such third party. The materials are provided for general information purposes only, should not be used as a substitute for consultation with professional advisors, and PwC shall have no liability or responsibility in connection therewith.
Related