 In the wake of the tragic and horrifying events at Sandy Hook elementary school in Newtown, Connecticut, we have seen an outpouring of support across social media platforms. Twitter, Facebook, and Google+ are buzzing with reflections and commentary on this tragedy.
Businesses from across the world have joined in to express their condolences, heartfelt wishes, prayers and thoughts. Unfortunately, despite the fact that our nation is still in shock and mourning, some businesses have outraged consumers by shamelessly, or more often unintentionally, seizing the opportunity to exploit the tragedy to make more sales.
A seemingly innocent Facebook page that garnered over 200,000 likes titling itself "R.I.P Sandy Hook Elementary School Children" is really set up to divert people to like a personal hip hop music page. One gun shop in Texas is reportedly offering discounts to teachers who purchase guns. Kmart tweeted "Our thoughts and prayers are with the victims of this terrible tragedy" with the hashtag #Fab15Toys. Hashtagging is a way to trend and attract users to discussion using the hashtag. After an uproar of criticism Kmart retracted the post, tweeting "#Fab15Toys was unintentionally used in conjunction with the CT tragedy." Even giving Kmart the benefit of the doubt that the #Fab15Toys hashtag was unintentional, the outrage on Twitter was very telling of the way consumers view such promotional attempts.
Consumers appreciate when they see companies reflect, pray and mourn with the nation. On the day of the shooting Walmart posted "To those affected by today's tragedy in Connecticut, our thoughts and prayers are with you" sharing the sentiment of the nation. Many other businesses did the same. At our company 1SaleADay.com, we posted a Facebook status asking our fans to take a moment to send their thoughts and prayers to the families impacted by the tragedy.
Admittedly, companies sending "thoughts and prayers" through social media updates get lots of "shares," "likes" and "comments." But increasing brand awareness should be ancillary to the point of publicly expressing condolences with the nation. There is nothing to be gained when doing good crosses the line into cheap attempts at publicity.
To send the message to customers that we felt our sympathetic words about the shooting were not enough and to leverage the outpouring of support and love, our company let our 415,000+ Facebook users know that, thanks to their support, we are able to donate $27,000 worth of toys to the Sandy Hook elementary students. We chose 27 to reflect the number of victims. We engaged in a specific and positive act in memory of the victims. The outpouring of appreciation was tremendous. The image we posted is pictured below: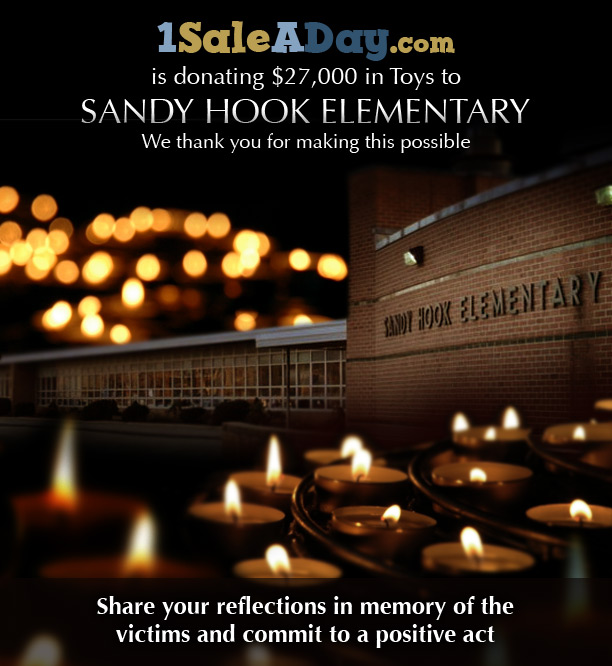 The post garnered well over a thousand likes in a half-hour and many meaningful comments followed. Stefanie DiGiacomo's comment read "May God bless you always. Thank you for your beautiful act of kindness for the families of this unspeakable tragedy." One customer enthusiastically cited the benefit of refocusing trauma, however temporary, to something positive: "[T]his is an awesome thing for you guys to do. Its proven that children in traumatic situations benefit from having something to focus on besides the horrorific situation they have been exposed to. This is wonderful and shows the true spirit of the season. God bless you." The most moving comment was from, Heidi Werner, the mother of, Grace, a Sandy Hook School student who was in a class room across the hall from the shooter:

"They were just hoping and praying no one would come through that door," said Werner recounting her daughters brush with death in a New York Times article titled "Seeking Comfort in Song Amid the Whiz of Bullets".
1SaleADay was responding with something specific, translating the flood of support, prayers and sympathy expressed on their fan pages, to a warm and specific gesture. Toys will obviously not console the mourners but may uplift their broken spirits this season and remind them how much this country cares.
Consumers appreciate when companies take time out of their day to reflect on tragedies, offer prayer and support to victims, without just shamelessly promoting products or services. But if those same companies want to harness the collective support of their customer, by expressing their genuine care for victims of national tragedies, they should go beyond posting free updates and statuses. They should take meaningful action to give back to the community.
REAL LIFE. REAL NEWS. REAL VOICES.
Help us tell more of the stories that matter from voices that too often remain unheard.