 Busta Rhymes is one of those performers who manages to stay around for years while staying true to his sound. Perhaps it's the commanding nature of his voice, its effect amplified by the speed and vigor that characterize his verses and hooks. In any case, the 40-year-old rapper has made a career out of sharp, energetic moments (example: everyone remembers the intro to "Pass the Courvoisier Part II," even if they can't remember the verses).
So on Aug. 21, Busta is hunting for more moments. The New York native is releasing "Year of the Dragon," his ninth studio album, for free on Google Play. It's his 21st year in the rap game, and he reflected on the two quick decades in an interview with HuffPost Entertainment. We talked about achieving longevity in a fiercely competitive field, his new label (Lil Wayne and Birdman's Young Money Cash Money Billionaires), and what's he's learned. Bonus: Read Busta's thoughts on the infamous beef between Hot 97's Peter Rosenberg and his label-mate Nicki Minaj.
Is there anything different you wanted to accomplish with this album?
Nothing outside of the fact that every time you do something you trying to make sure that you trailblaze a new way of doing things, whether it's creatively or professionally, on a business level, based on the decisions and the moves that you make. So people can see that on a creative and business level, everything is creative to your last move.
I'm also trying to make sure that people see that, from a business side, it's always important that we try new things. And that we're never stagnate in any capacity. This whole move with the Google situation, and the Google Play release and the album coming out exclusively through Google Play -- my ninth solo album -- for free. It's important for people to see that it's good to challenge yourself and try to do some unconventional sh-t and spearhead and lead the new sh-t.
Has it been refreshing to see that you have a whole new generation of fans?
I mean the beautiful thing is that I've been able to have many different points of my career. I'm celebrating my 21st year of professionally recording. So every five years, it's like the kid that was ten years old is 15 now. So from elementary to junior high school, there's a dramatic shift in the way that they see thing and understand things and being fortunate to change with the times and stay in tune with the way things realign themselves -- I've always been able to have an advantage in being one of those dudes who keeps his ear to the streets and my thumb on the pulse of the soul of the people.
As someone who's seen it come up and die down a bit, what do you make of the New York hip-hop scene right now, with guys like A$AP [Rocky] doing their thing?
I really don't look at just New York hip-hop right now. I think the beautiful thing in hip hop right now is just that there's a lot of new shit going on. A$AP and Azaelia Banks are definitely doing their part, but what feels good is that this shit doesn't feel regional anymore. There's Kendrick Lamar and Schoolboy Q, those dudes don't sound like "West Coast Hip-Hop" anymore, in the way that people used to sound like "West Coast Hip-Hop." You got your Mac Millers and your Odd Futures and nothing sounds like a particular place, everything sounds like new movements. I'm more happy about that than anything. Because now it's starting to feel like as long as you can make some dope sh-t that's new and refreshing, all the regions are embracing it and f---ing with it.
I hear Kendrick Lamar more in New York than I hear him in his own town. It's just about hip-hop. And certain places are going to have to catch up that this is just about a wave overall. It's not about regional anymore.
Is that why you didn't have any hesitation to sign with Young Money Cash Money Billionaires, a label which has traditionally been a home to Southern artists? Is it all just about putting good music?
I've always been about just putting out good music. I've never had a problem doing business with anybody that is prepared to do business with Busta Rhymes. Not just because of the money or what we can gain from each other, but at this stage in my career I'm only trying to do work with people that I have relationships with and that I have a significant amount of respect for, and they have the same amount of respect and values in the things that I hold as well. And that was the determining factor why I did business with Cash Money and Young Money. Because we have had friendship and respect for a very long time.
I'm on Tha Carter III and Tha Carter IV, you don't do records back to back with an artist because you're just trying to rock and be on the hottest project, you do that and work with each other regularly because y'all respect each other. There's a love. Wayne was on "Respect My Conglomerate" on Back on My Bullsh-t. Wayne was on "Year of the Dragon" on a song that I have called "Pressure." I got more songs with Wayne on future sh-t that we're going to drop. There's a camaraderie, there's a respect.
Me and Birdman were spending a million dollars a year, if not more than that on car shows with Funk Flex for three, four years straight. To the point where the accountants were looking at us like, "you're f---ing crazy." You know what I'm saying? Just to have fun. There was no money coming out of that for us. If anything, we was exerting more money than was even rational. There was no rational reason to do any of that. This is the way we f---ed around and showed each other our respect for each other and vibed with each other and just appreciated the friendship.
There's no dispute that that they're the number one machine in the entire industry. They run this rap sh-t. As a business and with the work ethic and with the product they're putting out. Drake is an incredible artist. Nicki is an incredible artist. Wayne is probably the most, one of the hardest motherf---ers I've seen work.
As a label-mate of Nicki Minaj, what do you make of all the drama at Summer Jam and all the talk about whether she's a pop star or a hip-hop artist, with Rosenberg's comments?
I don't really feel anything about a critic's opinion, because I came from a time when a critics opinion didn't mean sh-t, and their opinion still won't mean sh-t. At the end of a day, I respect an opinion. I don't know if I really understand what the job of a critic is. Because that's just your job, to criticize people's sh-t.
I don't mean a critic in the sense of people writing reviews, I'm talking about people in the industry who were hating or saying certain things, like DJs and other rappers.
To each his own. When it's just a general, regular opinion, people can definitely have that. I respect that wholeheartedly. I just don't respect that critics sh-t. Every day you wake up just to give people your opinion and that's what they're paid for. Sometimes people have their own agenda when they have something personal against you. They purposefully criticize in a way that's anti your thing, even if it's not an honest opinion. Because they have a platform that's provided for them in a way that's not honest. Now, if you're giving an honest opinion, you're entitled to it because it's only an opinion. It's not a fact, it's based on a feeling.
Now, at the end of the day, my opinion: Rosenberg could have handled the situation differently. She was the only female on the line-up. Even if she wasn't female, you don't introduce somebody before they go on stage and disrespect them and speak anti-them. Let the people have a clean slate about how they feel, so that person's set can be honestly judged by the people. If you go out there and set a tone with the consumer in a way that's negative before that person even hits the stage, that is a problem. And it's disrespectful.
In a sense, you came up in hip hop when values may have been slightly different, or it may have been meant something else to be a rapper. What's the biggest difference between the game in the '90s and now?
These record companies are making it a lot easier for themselves to not be needed because they don't develop artists anymore. And if artists are left to have that responsibility to develop themselves on their own, when they become the sh-t and they become the stars, would they need a record label? They already became the sh-t without the record label. Becoming the sh-t on their own is what makes the label want to do business with them, but if they're already the sh-t, why do they need the label? That's why the independent movement has become so powerful in the past five years. That's the only thing I see that's changed a lot, among other things.
You know, they're not throwing money around like they used to. We used to spend $2 million on a video, at least I did. [laughs] So them days is over, but there's a lot of things that have changed. Radio has changed, I think it's starting to come back around. A real climate shift that's happened in music lately has definitely been inspiring things for the better, or a little bit better over the past couple of years. But ultimately, I'm not mad at where hip-hop is. Sometimes for good changes to come we have to encounter some bad ones, that's how life is, a balance of good and bad. But I definitely feel like hip-hop is at an amazing stage right now, both professionally and creatively. And I think as long as we stay on this course we'll be back to the things that we love and maybe even better.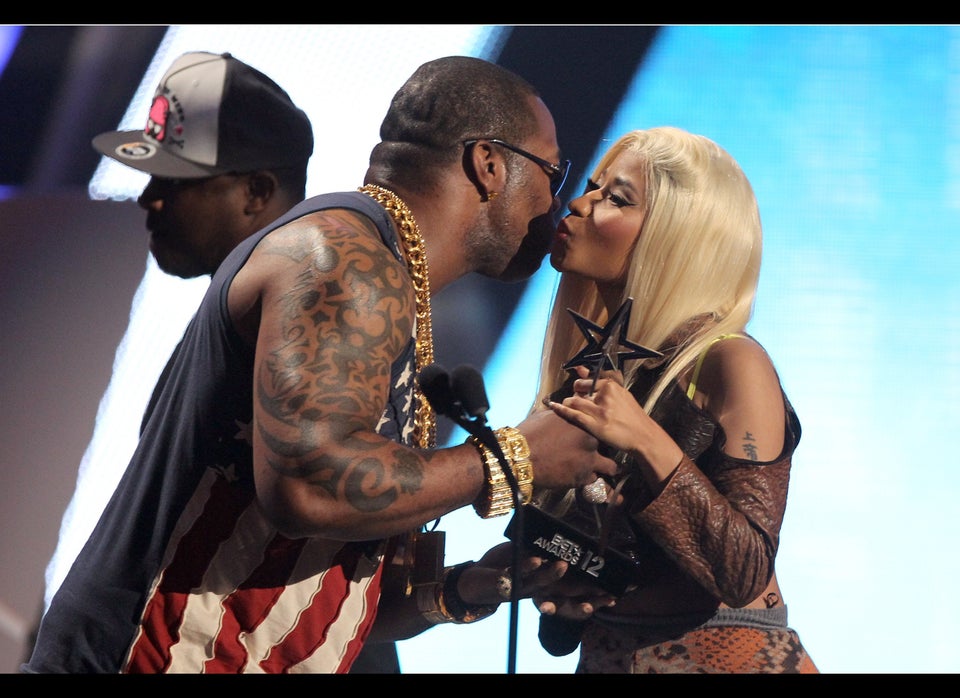 Busta Rhymes
Popular in the Community