Buster Murdaugh, whose father was convicted in March of murdering his mother and younger brother, believes their killer is still out there — and he may be a target himself.
"When I go to bed at night, I have a fear that there's somebody else out there," Richard Alexander "Buster" Murdaugh told Fox News anchor Martha MacCallum in his first television interview since Alex Murdaugh was convicted of gunning down Maggie Murdaugh, 52, and their youngest son Paul Murdaugh, 22, on the night of June 7, 2021.
"I think that I've set myself up to be safe, but yes, when I go to bed at night I have a fear that there is somebody that is still out there," Buster told MacCallum calmly.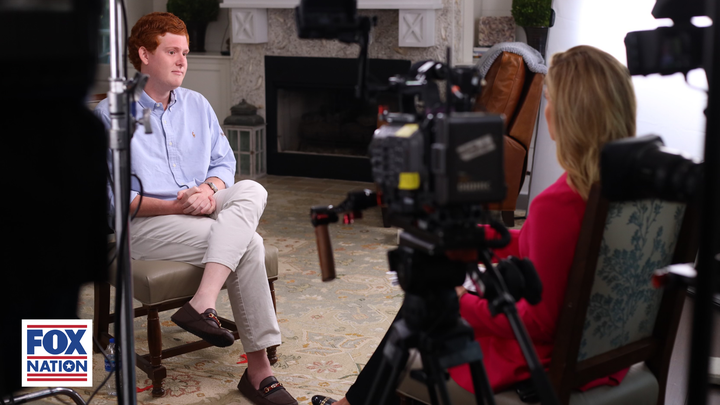 Several clips of the interview, part of Fox Nation's three-part docuseries "The Fall of the House of Murdaugh," were released to People and others to HuffPost on Tuesday. They mark the first time Buster has spoken on camera since he testified at his father's highly watched trial, which he attended every day. His matter-of-fact responses to questions about his father's role in the gruesome slaying lack force and emotion, the opposite of his father's bluster and histrionics on the witness stand.
Alex Murdaugh was sentenced to two consecutive life sentences in May, and the jury deliberated only three hours before finding him guilty. Yet when pressed by MacCallum, Buster confirmed his belief that his father didn't pull the trigger — or hire anyone else to do it.
"No, ma'am," Buster said in a gentle Southern drawl. "I don't think that he could be affiliated with endangering my mother and brother. I mean, that's, I mean, we've been here for a while now and that's been my stance."
Alex stunned court observers when he admitted he'd lied about his whereabouts on the night of the murders after video from Paul's cellphone surfaced that placed him at their hunting property's dog kennels moments before the shooting.
Buster chuckled and said "crappy motive" when MacCallum mentioned the "digital evidence," and called the trial unfair.
"I was there for six weeks studying it, and I think it was a tilted table from the beginning. And I think, unfortunately, a lot of the jurors felt that way prior to when they had to deliberate. It was predetermined in their minds prior to when they ever heard any shred of evidence that was given in that room."
"I think that people get overwhelmed, and I think that they believe everything that they read," Buster said about the 12 jurors who found his father guilty. "And I think it took advantage of a jury pool in a very small town in a very small county."
At trial, prosecutors argued that Alex feared exposure of his financial crimes because of an impending lawsuit by the family of Mallory Beach, who was killed in a boat crash caused by Paul Murdaugh. Seeking to create a distraction and earn public sympathy, he killed his family, prosecutors said.
When MacCallum asked whether Buster worried he might be like his father, he responded, "No, I do not worry, because I am not a thief. I am not a liar. I'm not a manipulator."
He added that he shares some of his father's "more admirable traits, which I am quite proud of."
Beach's family was recently awarded $15 million in a settlement with the insurance carrier for the owner of a convenience store that allegedly sold alcohol to Paul, then 19, before the fatal crash in February 2019.
Another local death, that of 19-year-old Stephen Smith in July 2015, had also caused rumors to swirl around Buster. That case is now being investigated as a homicide, and Buster has denied any involvement, calling the rumors "baseless" and "vicious" in a statement weeks after his father's conviction.
In the interview with MacCallum, Buster added that he never considered the possibility that his father was guilty.
"I think that I hold a very unique perspective that nobody else in that courtroom ever held," he said. "And I know the love that I have witnessed."
"The Fall of the House of Murdaugh" premieres on Aug. 31 on Fox Nation, Fox News' subscription-based streaming service.
Support HuffPost
The Stakes Have Never Been Higher
Popular in the Community