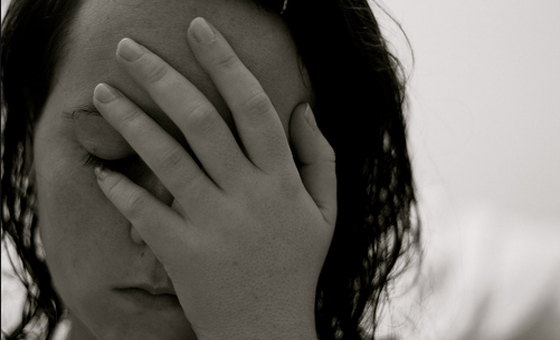 In spite of raising three kids, having a full-time job and several other commitments, 44-year old Sandra Eden still somehow finds time for putting herself down.
"I really don't know how she does it," says her best friend, who rarely sees her. "If I don't see her scurrying through the grocery store talking to herself about how she's a failure, she'll never forget to me about it before bed. It's actually very impressive."
"If I have a few minutes in the morning, I like to start with what I call the self-defeating questions, like, 'Who do you think you are?' and 'What gives you the right to be better than anyone?' But you really can't count on that, so I usually incorporate it into my beauty routine."
After working with no breaks until 1pm, she will often heat up a Lean Cuisine and get in some solid self-degradation over lunch. Sandra puts in earbuds to deter coworkers from talking to her during that time: "Janet thinks I'm listening to something; little does she know, I am just quietly tearing myself down."
Sandra notes that bathroom breaks are great for efficient, negative self-talk. "There's a mirror there, so if this time is used right, it can be really efficient for self-criticism."
"And the more specific, the better," Sandra says. "Instead of just 'You don't look good today,' find something about the way your body looks in that particular outfit. For example: 'Look at the size of your right thigh in these mom jeans.'"
Eden leaves work by 3:30 PM to pick up her kids and take them to their soccer games, violin lessons, and dance recitals. The car ride is spent making personal phone calls to her mother, who is often filled with criticism. "It's nice to take a break from it all," says Eden. "Plus, I really couldn't feel this bad about myself without her."
Eden says she can get in a few negative statements between placing her fast food order and picking it up at the window before picking up the kids. "They usually talk about their days the whole time so I don't have much time for any negative self-talk at that point."
By 6pm, Sandra cooks dinner and checks over homework and makes sure that their projects are done. "I'm so tired by the time they're in bed, the negative self-talk is not as strong as it could be. I've thought about just putting it in my calendar, but I'm just too much of a procrastinator to actually do it."
REAL LIFE. REAL NEWS. REAL VOICES.
Help us tell more of the stories that matter from voices that too often remain unheard.