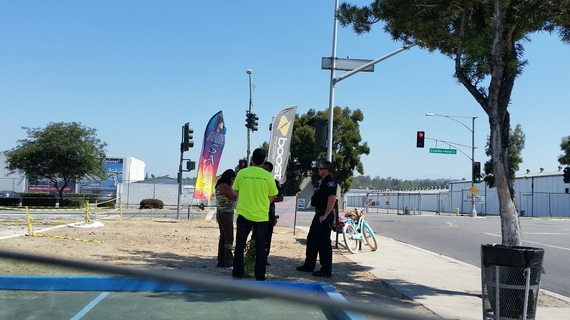 "My parents were immigrants. My mother is from Cuba and my father is from Lebanon. They only had pennies in their wallets when they met in New York City."
Dennis Saab knows the value of appreciation. As a child of immigrants, his parents encouraged him to make the most of opportunities, create them when necessary and always be grateful.
Today, Dennis is a practicing attorney and a homeless outreach volunteer. On Thursday mornings, Dennis solves the problem of homelessness in a unique way along with police officers from the Southern California city of Fullerton.
The Police Officers Liaison Program combines the talents of sworn police officers and dedicated volunteers to reach out to the homeless community. The goal is to break the homeless cycle by building trust and providing resources. For some, it's a bus pass to the DMV. For others, it's finding transitional living or medical care. And for those who are ready, it's a bus, train, or plane ticket back home to their family.
Volunteers Build Trust
"Today we gave out food bags. Some people just want that," explains Dennis. "We've also given out bus passes and today we're going to buy some pots and pans for someone who recently found a home. Our main focus though is to reunite the homeless, whether it's with someone across the county or someone in another country. We've done that. Last year we had the opportunity to reunite somebody to Lebanon who just arrived here and became homeless."
Fullerton business person Marie Avena and Fullerton Police Officer John DeCaprio (retired) developed the Police Officer Liaison Program. Other cities have seen the benefit and it has expanded. Avena is now focuses her efforts as the Executive Director of the nonprofit Coast to Coast Foundation, "Wherever there's a need, Coast to Coast is going to try to bridge that gap," she says. "I just want to help. That's what we're all about."
Why did Dennis choose Coast to Coast? "I was introduced to Coast last year by a friend and I was blown away by the work they do and how efficient it was. As time has gone by, it continues to impress me."
Dennis knows about getting results. "Growing up, my parents expected us to get 'A's' and not miss a day of school. My older brother was very studious, and so of course, with the competitive nature I have, I had to do the same thing and try to get better grades than him. He went to UCLA and then UCLA Medical School, it was just a natural progression for me to do the same thing. I went to UCLA and then Loyola for my law degree. My older brother is a doctor and a liver specialist at UCLA, I'm a lawyer, one of my younger brothers is a lawyer and city council member, and my youngest brother does very well at a pharmaceutical company, so my mom has done a great job."
"Homeless Liaison Officers are still assigned patrol," explains Fullerton Police Officer Brad Fernandes. "Coast to Coast is a great partner because they help us to help the homeless connect with the services they need."
"We're committed to assisting all members of our community," Fullerton Police Sergeant Kathryn Hamel says proudly. "We've found a great partnership with Coast to Coast and their ability to provide case management."
By partnering together, both volunteers' and officers' efforts are compounded. Volunteers make a meaningful and noticeable impact in their community, police officers focus on the highly demanding and skilled job they're trained to do, more homeless enter a continuum of care, the city uses taxpayer dollars more efficiently, and the quality of life goes up for everyone.
Making The Most Of Opportunities
"I'm fortunate, both with my employment and with my family," says Dennis. "Growing up, my family was poor, hard-working, blue-collar but fortunate to have food on the table and a roof over our heads. Our parents encouraged my brothers and I to give back. Whenever we could, we would volunteer. We did all sorts of things as a family: We would hand out food at food banks, and even go to Mexico to give out clothes to the poor, on our own. My mom would collect clothes and then we would give them out to people in Tijuana, right here, close by."
"America welcomed my parents. They became residents and as soon as they could, they became US citizens. My father passed away in 2013 but he voted in every election, and my mom does too. They were proud to vote because they came from countries, where either they couldn't vote or their vote didn't matter. Here in America, they voted because their votes mattered."
Creating Opportunities To Give Back
"My parents pushed my brothers and I to go to school and pushed us to help out in the community. That's where we get it from, our parents."
The example set by his parents extended into adulthood for Dennis and his brother. "During his first year of college at UCLA, my older brother started a program "Students For Students" and we would get students from college and unite them with LA Unified School District children that needed help with Math and English. The goal was to keep the kids from dropping out. The city has a huge problem with dropout rates and sometimes the kids just needed a helping hand, someone to show them the way. While at UCLA, I also worked for the International Rescue Committee. We helped refugees who came to the United States to get their immigration paperwork in order. That was an awesome experience as well. Today, in addition to Coast to Coast, I volunteer for the Kiwanis and other organizations."
Gratitude
Even though he's a skilled lawyer and busy professional, Dennis takes the time to volunteer for homeless outreach because it's important. "Coast to Coast is a fantastic organization. I'm lucky to be a part of it. We have a wonderful director, Marie puts her heart and soul into this. She's an angel for what she does for homeless people. You don't need to come from a background of immigration or parents who pushed you to help."
"If you don't have time to volunteer, you could donate money, you could donate clothes, but if you have the time to do it, why not volunteer?"
Disclosure: Chad Armstrong is a volunteer with Coast to Coast Foundation.
Calling all HuffPost superfans!
Sign up for membership to become a founding member and help shape HuffPost's next chapter