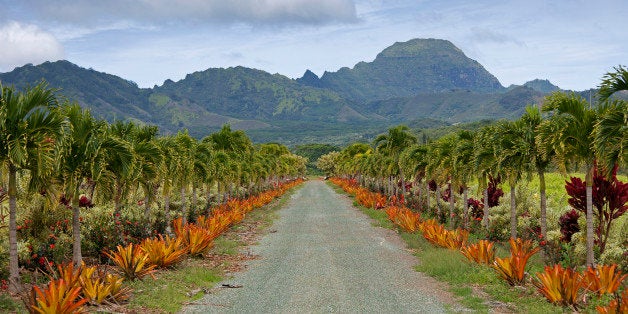 It started out with my being part of a panel discussion for the Ulumau IX class.
This was the ninth class of the Hawaiʻi Island Leadership Series called Ulumau, which was founded by Mark McGuffie in 2003. It has its roots firmly planted in the core values of Hawaiian values, community and servant leadership.
Unlike a traditional "leadership" class, where attendees are usually taught how to "manage" people, Ulumau expands the ranks of community leadership by providing a broad range of leaders (both existing and emerging) who have the knowledge and incentive to confront the needs of our specific community.
There were five of us on the panel. Jeff Melrose gave an overview of agriculture and what different types of farming are happening where on the Big Island. Everyone should see his presentation, which gives the context in which agriculture exists on the Big Island.
Nancy Redfeather talked about the school garden network and the many other outreach events she is involved in. She touches a large group of people. Other speakers were Elizabeth Cole, deputy director of the Kohala Center, and Amanda Rieux, who leads the culinary garden the Mala'ai Garden at Waimea Middle School.
I talked about agriculture and energy, and how they are inextricably tied together. I also explained about how food security involves farmers farming and that if the farmer makes money, the farmer will farm.
I am helping to sponsor students in the Sustainable Hawaii Youth Leadership Initiative (SHYLI). This group's mission is "to inspire young people to envision, plan and create a more sustainable future for their lives and their island."
The students I'm sponsoring are Sherry Anne Pancho and KaMele E. Sanchez, who were both Big Island delegates to the Stone Soup Leadership Institute's Ninth Annual Youth Leadership Summit for Sustainable Development conference on Martha's Vineyard this summer. They came by the farm a few days ago to give a presentation of their project on hydroponic food production.
This is something I can help with and I will track and write about their progress. I am very interested in supporting our next generation leaders as they work on ways to continue and improve our food security through changing and difficult times.
A crew from the University of Hawai'i at Hilo came by the farm to test an unmanned aerial vehicle. "Flight Control" was in the back of the pickup where the screen was so we could see what the camera was viewing.
They set up a GPS coordinate, and the little six-bladed chopper flew the route as directed by the program. It was set up to fly parallel, overlapping camera runs until our whole banana field was filmed. Then they will make the recording into one large map.
Besides doing photographic imaging, they ran a light spectrum recording. The value of seeing our banana plants from the air in different light spectrums is that we will be able to see where plants are stressed and take corrective action. The possibilities are immense. This is so interesting to me.
All three of these things that happened this week had to do with the future. I'm not only thinking of our farm and profit from day-to-day; it's much bigger than all that. It's the future of Big Island farming, of our people, and of our island.
Sometimes looking forward is actually about looking to and learning about how we used to do things, and I will continue to write posts about what I'm doing in those areas. And sometimes, it's looking at new technologies and ways. Always it's about talking with the young people coming up, so we can share what we know and discuss some of the challenges they are going to be facing.
REAL LIFE. REAL NEWS. REAL VOICES.
Help us tell more of the stories that matter from voices that too often remain unheard.