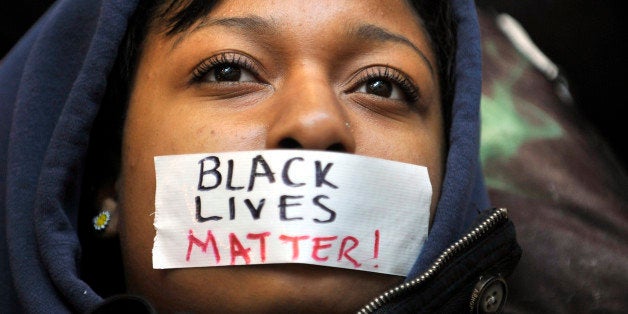 Before Thursday, May 19, Kentrill Carraway was a young man from Miami, Florida. Kentrill, 22, comes from a large family whose love for him reaches across the east coast from New York City down to Miami. He was a father trying to make a way out of no way. No way, in this case, is the system that says when black boys are born, their pipeline is to be incarcerated or violently killed. Unfortunately the latter happened, and he was shot in the back by a Miami-Dade police officer.
The evening of May 19, 2016, Kentrill was under a tree in his neighborhood, sitting with a group of friends and probably discussing his birthday plans since he would have turned 23 years old the following week. A group of plainclothes officers approached the group, targeting them for "suspicious activity", and one of the detectives shot Kentrill twice in the back as he tried to escape. The officer claimed my cousin had a gun and feared for his life, but how can you murder out of fear when that someone may have feared you just the same? He was running from the officer with his back turned when he was shot. He did not have a gun, and that night my cousin became a hashtag.
I remember how I felt about Trayvon Martin, Eric Garner, Mike Brown and Sandra Bland. When I heard about their stories, of who they were before they became a hashtag and the unjustly circumstances of their deaths; I posted about it, I attended rallies and I prayed. Although I feared for myself and my family members (one of them being a police officer), I never imagined that the experience of losing someone at the hands of an officer would hit so close to home. I never thought that a family member, let alone my cousin, would share a similar plight like the other 506 and more persons who have been wrongly killed by a police officer.
Last week Alton Sterling and Philando Castile were added to the list of those who were wrongfully killed by police officers. July 5 - 7 were some of the toughest days I had to experience since Kentrill's death. The emotions were high for me, because I actually know what it feels like to lose someone at the hands of an officer. As we talked about Alton and Philando, I was saddened because no one knew Kentrill's name. No one was saying his name and no one was sharing his story. When Beyonce shared the names of people who have been killed by police, I wondered if Kentrill's name was on that list at her recent concert. Each day I thought to myself, "Do they know his name?"
The last time Kentrill's death was discussed in the media was on May 22. The discussion around his wrongful death abruptly stopped like it never happened. I admit that I'm embarrassed and ashamed that I am just now sharing his story, but I had a range of emotions that I didn't quite know how to handle. Silence didn't mean any of us didn't care, but it is different when the headline involves your own kin. Last week, I felt the weight almost take me under; I was carrying my cousin on my back as I carry Sandra, Mike, Eric, Trayvon, and now Philando and Alton. All I want is justice for Kentrill. All I want is for you to know his name and say his name, too. Kentrill Carraway.
REAL LIFE. REAL NEWS. REAL VOICES.
Help us tell more of the stories that matter from voices that too often remain unheard.