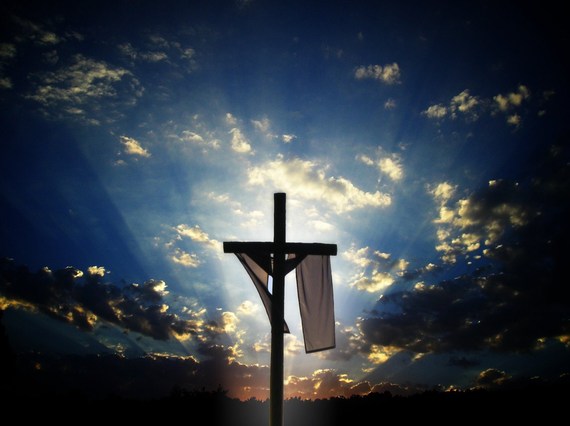 We celebrate Easter in a variety of ways. Some of us squeeze into tightly packed pews and sing, "Jesus Christ is risen today!" Some of us gather with aunts, uncles, cousins and grandparents for a delicious feast of ham and pineapple filing. Some of us hide and hunt for eggs.
Some of us even decorate our yards. A couple of years ago, I drove past a home and saw a dozen pastel eggs hanging from a tree. This seems to be an increasingly popular practice. Unfortunately, these eggs were still in their original wrapping; a plastic bag hung from that budding dogwood!
From the quaint to the quirky, on Sunday many of us will celebrate the resurrection of Jesus.
But exactly what are we celebrating? What does Easter mean for us today?
Perhaps Ethel can point us in a helpful direction.
Ethel was a ninety year old member of my congregation. She couldn't see very well, and her hearing was even worse. When I visited her in the nursing home, I would lean over her bed and speak directly into her right ear. Ethel was often confused, but if you asked, she was honest and direct enough to tell you that she hurt and felt awful.
One afternoon while she was sleeping, I quietly pulled a chair up to her bed. When her eyes fluttered open, I called out her name. She reached out her hand, and I gently clasped it in mine. "Ethel, I'm from Old Waxhaw church."
For about five minutes we simply sat together. I don't know if she ever really knew who I was, but the longer I sat there the more she tried to talk and to listen. Once or twice she even managed to smile.
Suddenly, she extended her other arm, and touched my cheek. She asked, "Is this real? Is this real?"
Ethel speaks for me, and, I imagine, she speaks for many, many others as well.
When we hear the doctor say, "Cancer," we wonder, "God, is your love real?"
When we are shaken to the core by violence, violence in our homes, on our streets and around the world, we ask, "God, is your love real?"
When we are swallowed up by the darkness of depression or addiction, our hearts yearn to know, "God, is your love real?"
When we witness the deadly devastation wreaked by earthquakes, we lament, "God, is your love real?"
Life has a way of breaking us. Life has a way of pushing us to ask, "Is it real?"
In the resurrection of Jesus, God says, "Yes!"
Easter makes a bold affirmation about God. Easter means that nothing can separate us from God's love in Jesus. Not Parkinson's. Not divorce. Not the death of a daughter. Not poverty. Easter reminds us that we belong to God. God has claimed us, and not even the cold darkness of death can change that.
Maybe that's why so many people flock to church on Easter morning. Yeah, it's tradition. It will make Mom happy. We want to make sure our children are spiritually nurtured.
But, much more importantly, somewhere deep down in our gut, we want to hear that we are loved and cherished. We want to believe that light shines in the darkest night. We want to know that somehow, someway God will and is even now making everything right.
Terri is my second, half cousin. Or something like that. My grandfather and her mother were half brother and sister.
I haven't seen or spoken to Terri in three decades. But a couple of years ago, her eight year old daughter died of cancer. It made no sense. It's just not right. I wanted to reach out to her, but what would I say?
Or what about Jan? She and her husband radiated with joy when I performed their wedding a few years ago. Jack recently died after a six month battle with leukemia. What would you say to her?
Or what about Jack? He's about seventy-three years old. A wonderful man. Over the past ten years he cared for his wife as dementia slowly suffocated her. This will be his first Easter without her.
Or what about....
I want to write to my friends and tell them that God has not abandoned them, that God even now has raised their loved ones to new life, that in Jesus' resurrection we see the depths of God's love for each and every one of us.
But then I remember that the hope and joy of Easter cannot be explained. Not really. But hope and joy can be trusted. Hope and joy can be celebrated. And hope and joy can be shared.
Call it presumptuous if you will, but I think that though a card or an email or a phone call, I'm just going to whisper, "God says, 'Yes.'"
REAL LIFE. REAL NEWS. REAL VOICES.
Help us tell more of the stories that matter from voices that too often remain unheard.