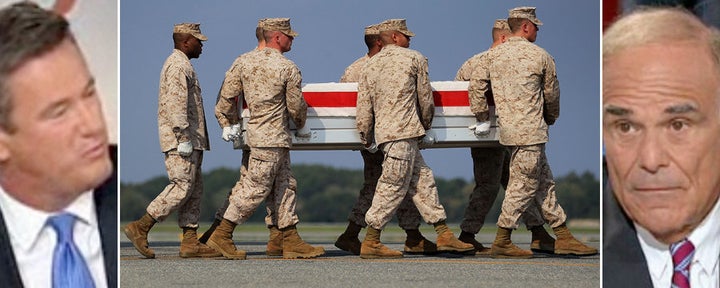 Hmm, perhaps the private military and security (PMSC) industry is right; maybe using PMSC contractors IS more cost-effective than using regular military folks. At least that is one conclusion some are drawing from the findings of a management letter issued by the office of the Special Inspector General for Afghanistan Reconstruction (SIGAR). But is that really the case? Read on.
The letter (PDF) provided the preliminary findings of an ongoing SIGAR audit to 1) identify the PSCs used by USAID's implementing partners, 2) assess the costs of providing security, and 3) determine what plans USAID's implementing partners have for continuing reconstruction work as security is transferred to the Afghan Public Protection Force (APPF).
According to the March 9 letter by Steven J. Trent, the acting Special Inspector General for Afghanistan Reconstruction to the U.S. Agency for International Development, the cost of providing security for U.S. development work in Afghanistan will increase sharply as program managers are forced to rely on an Afghan government-run security enterprise. He had three main points.
First, the auditor's analysis found that the cost of Afghan guards that provide security for U.S.-funded projects could increase by as much as 46 percent and the number of expatriate personnel could rise by as much as 200 percent for implementing partners. While that would be bad news for American taxpayers it would, of course, be very good news for those PSC firms -- DynCorp anyone? -- providing the necessary expatriate personnel.
Trent also wrote that if the still-being-staffed-up APPF, created to take over security responsibilities from private firms, was not "fully-functioning" by the March 20 deadline to disband private security companies, USAID projects worth $899 million were at "significant risk of termination." That amounts to $55.2 million for 13 of USAID's largest projects for the first year after transition to the APPF.
Of course, we are past the March 20 deadline and the APPF is nowhere near reaching the goal of a 25,000-guard force goal by March 2013 that it set out to recruit a year ago. It currently has roughly 6,000 guards on staff, but most of those are already assigned to sensitive installations, such as banks. Although on March 18 the Afghan government announced that it had granted 30-90 day provisional licenses to some implementing partners to give them time to finalize contracts with the APPF.
Third, SIGAR found that two PSCs that were not licensed by MOI had contracts with USAID implementers as of December 2011.
On March 13 S. Ken Yamashita, the USAID mission director in Kabul, provided a response. Trent wrote that the response:
took exception to our findings, conclusions, and suggested action items (see enclosure 2). Unfortunately, as shown by its comments, USAID has interpreted this alert letter as an affront to its management of the transition, instead of as a constructive document that would aid it in assessing and responding to the risks we identified.
In other words, to decipher the bureaucratese, Yamashita just didn't get it.
The House Oversight & Government Reform Committee held a hearing on this issue on March 29 where you can find written testimony by both Trent and Alexander Their, Assistant to the Administrator for the Office of Afghanistan and Pakistan Affairs USAID.
It is very interesting to note that in his written testimony Trent states:
To date, SIGAR has completed three reports related to PSCs. These include two audits of PSC contracts -- one funded by the U.S. Army Corps of Engineers (USACE) and one by USAID. Due to sensitivities in Afghanistan over the role of PSCs, the implementing agencies asked SIGAR not to publicly release these audits. Consequently, we did not publish them, but we delivered both audits to our Congressional oversight committees.
Trent also provides some information regarding PSC costs which makes claims of cost effectiveness ring a bit hollow.
True, using the APPF, will cost more than using the current mix of Afghan and foreign PSC. For example, for 13 projects SIGAR examined, Afghan guards may cost an additional $3.1 million -- as much as 46 percent higher than current costs -- and expatriate labor costs could rise by as much as $52.1 million during the first year of the transition.
But that says nothing about the cost difference between using foreign PSC and regular U.S. military forces, which is the comparison usually talked about by PMSC advocates. For example, Doug Brooks, president of ISOA, a PMSC trade association tweeted "Predictable: US lawmakers offended by spike in Afghan guards' cost."
Since the vast majority of PSC personnel in Afghanistan are Afghani the traditional cost comparison calculus does not apply.
Granted, providing security in Afghanistan is going to be expensive no matter who does it. SIGAR found that:
Our audits have shown that security costs have been significant over the last five years. For example, in 2007, USAID awarded a five-year contract with a ceiling price of $1.4 billion for its Afghanistan Infrastructure and Rehabilitation Program. SIGAR found that by 2011, the contractor had subcontracted with six PSCs for a total of $231.6 million -- more than 16 percent of the contract's value. The DoD has also incurred significant security costs. In May 2008, USACE awarded a $90 million indefinite delivery/indefinite quantity (IDIQ) contract to provide security services for USACE operations throughout Afghanistan. As of August 2011, USACE had issued 12 task orders, increasing the value of the contract to more than $165 million.
The truth is that in this case there is not enough reliable data to make a firm conclusion. SIGAR wrote:
Determining security costs is extremely challenging because, as the Government Accountability Office (GAO) pointed out last year, the tracking systems that U.S. government agencies are using do not reliably distinguish security personnel from other contract personnel. USAID does not track security costs. Therefore, SIGAR analyzed PSC invoices paid by the implementing partners on the projects we reviewed from fiscal year 2009 through fiscal year 2011. Although SIGAR attempted to collect information for all PSCs, we cannot verify that we captured all costs for PSCs hired by subcontractors for their security. Neither USAID nor its prime contractors have full visibility of the security costs incurred by subcontractors. Further complicating efforts to determine security costs, SIGAR found that some implementing partners also hired security guards internally. Their salaries are not included in reported security costs. Consequently, SIGAR's cost analysis represents the minimum spent on security. Total costs are likely higher.
It would have been illuminating if someone had done a cost comparison between PSCs and the Afghan National Army or the Afghan National Police. It would not surprise me if such a comparison found that using PSC personnel was more expensive, given how that the ANA and ANP have traditionally been ill-paid. But that, as was said in the Conan the Barbarian movie, "is another story."

REAL LIFE. REAL NEWS. REAL VOICES.
Help us tell more of the stories that matter from voices that too often remain unheard.