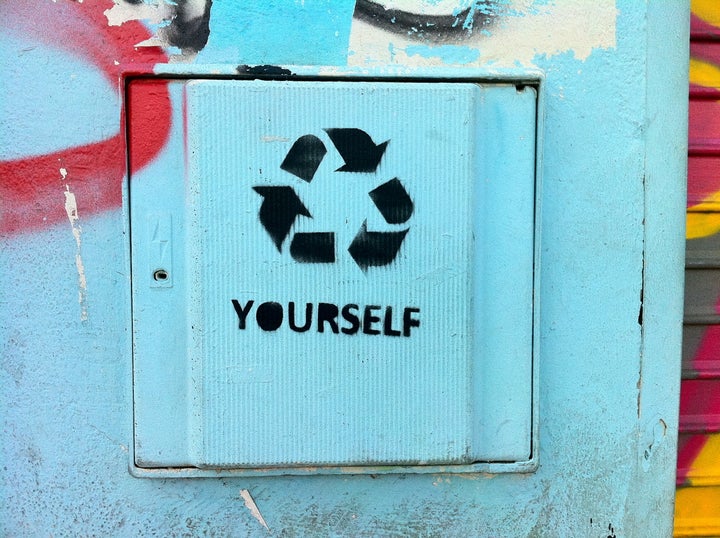 I am not domestic. The only thing piled higher than the laundry is my stack of partially-flipped-through catalogs that I refuse to get rid of. Recipes that require more time than tacos or more prep than pasta are out of the question. But on Monday, I take out the recycling before it reaches the ceiling. I fold the laundry and put it away. And I empty the dishwasher in one fell swoop instead of eight interrupted stages.
I am not a perfect mom. I'm tired, and I yell sometimes. I don't really feel like playing outside if it's below 70 degrees, and one more round of Zingo Bingo might put me over the edge. But on Tuesday, I don't go to work so I can spend the day with my daughter. My kids get themselves dressed without being asked. After school, they don't fight over whether to play Legos or light sabers. I make quesadillas; they tell me about recess and who fell off the monkey bars. Before bed, they surprise us with cards that say, "I love you" in bright orange crayon.
I am not a full-time employee. I work half-time and have no idea how I ever worked more. But on Wednesday, I put on mascara and put in a solid nine-hour workday. I have back-to-back meetings and catch up on email. I write two press releases and present a marketing plan to the Board of Trustees. I munch kale salad in my cubicle, feeling productive and professional.
I am not an athlete. I never played a sport for more than a season and was never really part of a team. No one has ever used the term "coordinated" to describe me, and it wasn't until college that I realized my body wasn't going to tone itself. But on Thursday, I lace up my sneakers, put on my favorite Van Halen t-shirt, and go for a run. I listen to Katy Perry and Kelly Clarkson, and (despite my nine-minute mile) feel like a gazelle.
I'm not a great friend. I forget birthdays (unless I happen to catch them on Facebook). I can't stand talking on the phone, and have a perpetual pile of books and baby items that I've been meaning to return for months. I owe countless dinner invitations and thank you notes. But on Friday, I head into the city with two of my best girlfriends. We go to the MoMa and have a long, leisurely brunch. We pop into more than a few boutiques and drink tequila cocktails with dinner. We talk about our kids, our husbands, our favorite books and dream vacations. We dance all night to an 80's yacht rock band, beaming.
I am not an activist. I rarely make time to sign petitions or take a stand. But yesterday, as I marched with tens of thousands through the rainy streets of San Francisco, I overcame my fear of crowds and Boston Marathon bombers. I got off of my comfortable couch, trading reality TV for reality. I yelled and smiled and high-fived people I'd never met. I felt proud of myself, proud of my country, and—finally after months of disillusionment—proud of my fellow Americans.
I am not a writer. I'm too tired at night and too busy during the day. I haven't written anything over four pages since my college thesis. But today, I crawl into bed with my laptop and a cup of tea. I somehow feel the need to express that, while we can't be all things to all people at all times, we can be anything we want to be, depending on the day.
About the Author: Liza Bennigson is a mom of two and the Content Marketing Manager for Teen Mental Health at CHC. She enjoys running, writing, and spontaneous dance parties with her kids. Find her on Medium and Twitter @LizaBennigson.
Calling all HuffPost superfans!
Sign up for membership to become a founding member and help shape HuffPost's next chapter