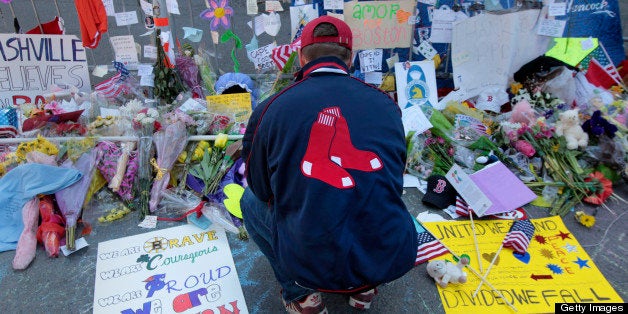 As we encounter death and disaster, we often ask the question, "But where is God?" It does not matter if these are natural disasters like Hurricane Sandy or the earthquake in China, horrific accidents like in West, Texas, or intentional tragedies as in Boston and Newtown, Conn.

Intense grief overwhelms families and friends of those most affected. For the rest of us, grief touches us in ways that we may not expect, with a sense of sinking sadness. We mourn for those who have died. We inevitably feel sorrow for the families dealing with the aftermath. We grieve their grief. But there's more.
As Thompson and Holland note in "Coping with Public Tragedy," we seek to make meaning even in the most senseless tragedies. Sometimes this raises deep spiritual questions as we confront the paradox of God's goodness and omnipotence. Where is that God at times like these?
Rabbi Harold Kushner asked it in his classic and aptly-named book, "Why Do Bad things Happen to Good People?" It was not simply a philosophical inquiry. Kushner was a rabbi who dedicated his life to the service of God and humankind. He had a baby boy who was the light of his life. As he delighted in watching his child grow, he learned that the boy had a rare genetic disorder that would soon snuff out this bright and promising life. The book was a product of his torment. Kushner's answer was that God was removed. God was the benign watchmaker -- proud of his creation yet content to see it flourish or perish under the natural laws that He had fashioned.
C.S. Lewis, the great Christian writer, pondered the question as well. He was happy in his somewhat solitary academic life until he fell in love and got married, bringing a certain amount of chaos and compromise to a once untroubled existence. After his beloved wife died painfully from cancer, this man of great faith asked, "Where is God when you need him?" "A door slammed in your face" was his initial answer. Lewis, too, pondered the paradox, but his answer was different than Kushner's. He accepted both the omnipotence and love of God, acknowledging that there were no ready answers.
Tragedies such as the one in Boston last week can do more than provoke grief and shake our faiths; they challenge our assumptive world of relative safety. 9/11, Hurricane Katrina, Aurora, Colo., and the list can go on and on, shatter those assumptions. They remind us that the world can be a dangerous place -- unsafe at moments when least expected. These events reaffirm that the sources of danger are many -- the power of nature, the unforeseen consequences of a careless action, or twisted and vengeful actions of fellow humans. The world then seems unpredictable. Our safe world can no longer be taken for granted. We are not always able to control events or actions around us.
Our search for meaning in the aftermath of disaster, tragedy or evil is that desire for control. If we can understand it, perhaps we can prevent or ameliorate it. Often the rituals that soon follow in the wake of these events are a first step toward constructing a common narrative - a shared understanding of the event. But even after the public attention to the event subsides, the grief and search for meaning continues. There is no right or wrong way to grieve; each person finds his or her own way to cope.
Yet, this is a beginning and not an end. The process to find meaning is an ongoing process. Victor Frankl, the author of "Man's Search for Meaning," was a survivor of the Nazi concentration camps. He recognized that those in the camps, those who found some answer to that question of "Why" were more likely to survive than those who succumbed to despair and hopelessness. His resolution was to ask a simple question, given the horror of what happened: What do I do now? He chose to bear witness.
Perhaps we will never answer the questions of Why? and Where is God in this? But we can answer Frankl's question: "What do I do now?' The answers may vary. For some it might lie in collective action, such as participating in an advocacy movement or starting a scholarship fund in the memory of a loved one. For others it might be living life with a certain existential awareness demonstrated by expressions of love and affection to those around as if it were a last day. It does not really matter as each offer some sense of meaning in an otherwise meaningless event.