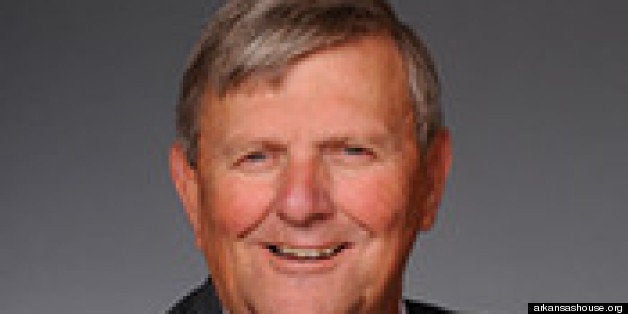 A Democratic state legislator in Arkansas recently announced in a Facebook post that he had attended a Ku Klux Klan rally as a 19-year-old a half-century ago. The revelation from state Rep. Butch Wilkins (D-Bono) came as part of a slam against former state Rep. Jon Hubbard (R-Jonesboro), who is rather well-known for his own racially insensitive views.
How many of you have ever attended a Klan rally. I did once out of pure curiosity in the early 1960's. The babbling of the speaker is now available in the form of a guest columnist in the Jboro Sun. Not the same man but very much the same words.
Wilkins' post does not mention Hubbard by name, but the Arkansas Project, a conservative political blog, got the Democrat to confirm that he was talking about Hubbard. The Facebook post has since been deleted.
"Oh, I was a teenage boy and I had no idea what was going on. Somebody said 'let's go' and I said 'let's go.' You know I never was involved in anything like that," Wilkins told the Arkansas Project of his attendance at the KKK rally. "I seen a few of their rallies over here. I spent ... or, their demonstrations later on in law enforcement. We had to show up a lot of times where they were supposed to be and all that kind of stuff. That was ... I was probably 19 years old, so it's nearly been 50 years ago. So that's a long time. But, I didn't have no interest in it. I just happened to go with another guy."
Wilkins also told the Arkansas Project that he had not fully read Hubbard's latest column -- which the website described as having only one mention of race "calling for unity across racial lines."
However, Hubbard, a fairly regular guest columnist for the Jonesboro Sun, repeatedly slams President Barack Obama and calls for traditional Christian values in his writings. In May, the Arkansas Times reported that Hubbard had used his column to attack Obama's support for abortion rights and marriage equality as well as to lament Internal Revenue Service scrutiny of tea party groups. Hubbard then indicated that he expected to hear from Democrats.
"There is no doubt that the Arkansas branch of the liberal-Democrat-socialist propaganda machine will come out in full force to try to discredit both this message and the messenger, but let's not forget that Adolf Hitler also had his own well-oiled propaganda machine working around the clock to deceive and masquerade his true intentions of evil and world subjugation," Hubbard wrote, according to the Arkansas Times.
Hubbard's most infamous comments likely came last year in a self-published book, in which he expressed support for slavery, writing that it had been a blessing for African Americans.
Moreover, Wilkins is not the first Democrat to admit to past interaction with the KKK. The late Sen. Robert Byrd (D-W.Va.) had been involved with the KKK in the 1940s, but later apologized for his membership.
REAL LIFE. REAL NEWS. REAL VOICES.
Help us tell more of the stories that matter from voices that too often remain unheard.
BEFORE YOU GO
PHOTO GALLERY
U.S. State Capitol Buildings