You are not going to be cooking for yourself on Mother's Day. You are not going to be making restaurant reservations either. You're going to let the people who made you a mother take care of that.
You are, however, going to make yourself one hell of a cup of coffee, because any day that calls for celebration also calls for a little liquid pick-me-up.
A few weeks ago, I was sitting on the floor of my friend Jessica's beautiful old house. We were mapping out my book about cooking and coping, which Jessica had agreed to edit. We had printed out all the essays and lined them up on the floor of her front hall. Her teenage son was sitting in the next room with a friend, watching a movie. There were almost forty essays, so there were rows and rows of them. There were even more recipes, and we were trying to figure out how to arrange them all so that the book felt as much like a memoir as it did a cookbook. Jessica had little Post-its and was writing down the theme of each essay and trying to categorize everything. I was trying to figure out what movie the teenage boys were watching. ("Kill Bill").
We were only stopping for snacks every forty-five minutes or so.
The first day I arrived at Jessica's, she told me she had made a pot of red lentil curry for us for lunch. "You cooked?" I was shocked. I had brought some homemade granola bars from Panetica, a bag of baby carrots, some apples and bananas, and a big iced soy mocha with an extra shot from Starbucks. I did not expect to be fed. I knew Jessica didn't cook. I had gone into the writing of this book a confident cook and Jessica had gone into editing it an uninterested one. She was, dare I say, even slightly hostile about cooking. Still, she agreed to take on this editing project, perhaps out of pity, perhaps out of a latent interest in cooking, perhaps because her best friend is married to my brother. Plus, we'd worked together before. I had faith in her and she had patience with me.
The red lentil curry was outrageously good. During the course of editing the book, it appeared Jes had turned into a cook.
While we sat on the floor amid a sea of essays, she asked, "Do you want some of this coffee Scott makes?" Scott is Jessica's husband. "Sure," I said. "It's got grass-fed Irish butter in it," Jessica said. "And coconut oil. Does that sound disgusting?" No. I have been using coconut oil in everything lately and know how good it is. And a smidge of butter in your food is one of life's great pleasures. On the other hand, butter in coffee actually did sound a little gross. But the red lentil curry had given her some street cred.
"Scott says when he drinks this in the morning, he doesn't need to eat or drink anything again until 3 p.m.," Jessica said. That sounded illegal. And perfect.
Jes made some organic espresso on the stove. When it was done, she poured it into her Vitamix, telling me the Vitamix was so awesome, it would even clean itself after it was done mixing things up."Christmas present," she said. "I don't even want to know how much it cost." She added a tablespoon of grass fed Irish butter and a tablespoon of coconut oil to the coffee and turned the machine on. "Here you go," she said and handed me a mug of something dark and frothy.
I took a sip. Thick, rich and potent as hell. So many strong flavors, all competing for my attention and all deeply satisfying. The combination of fat and caffeine powered through my veins up to my brain. Boy, was I happy. What followed was a very productive afternoon. Then, Jessica sent me home with the essays and told me I had to revise them.
I didn't want to revise them. I wanted to write new stuff! Oh, the joy of starting something new! Hemingway once wrote about F. Scott Fitzgerald: "[He] took literature so solemnly, He never understood that it was just writing as well as you can and finishing what you start." Of course, I had to finish what we had started, but it was far more fun to think about new projects. I sent Jessica some new ideas for essays. Maybe we would write another book together! She emailed back: "Sorry, lady. I'm not reading anything new until you revise the old."
I collapsed onto the floor. Revising nearly 40 essays. Who had the strength to do that?
Naturally, we had no grass-fed Irish butter so I used Land O'Lakes salt-free butter from Shoprite. We didn't have the right special bag of organic espresso either so I used ground Medaglia D'Oro Italian Roast Espresso Coffee that was in a can in the freezer. We did have two glass containers full of coconut oil so that was good. We didn't have a Vitamix so I took out the blender. I didn't bother to fill it with hot water and warm it first as Jes had done.
I brewed two cups of coffee, poured them in the blender, added two tablespoons of butter and two tablespoons of coconut oil, and pushed "Mix." Then I carefully poured the liquid into a mug.
Nothing fancy. Nothing difficult. Just delicious and restorative. Your brain wakes up and says, "Party on, dude! We're on a roll now!"
(If you want to read more about why your brain likes this combination of caffeine and saturated fat, click here.)
This coffee nailed my butt to the floor of my office and got me to work for hours at a stretch. I wasn't medicated but I was focused. Jes was a little appalled by my choice of butter so that night, I ordered some grass-fed Kerrygold Irish butter off Amazon. (You can also get it at Whole Foods.)
The next day, I went back to Jessica's. We sat back down on the floor.
"Do you have any more of that coffee?" I asked innocently.
Jessica grinned. I followed her into the kitchen.
It's Mother's Day. Buttered coffee is gonna fix you right up. Make yourself a cup. And let the people who love you generate the rest of the fun.
Buttered Coffee Ingredients:
1 cup hot coffee
1 tablespoon coconut oil
1 tablespoon butter or more to taste (organic, grass fed is the best, but regular butter will do)
Put all ingredients in the blender. Blend. Drink immediately, then have a fabulous day.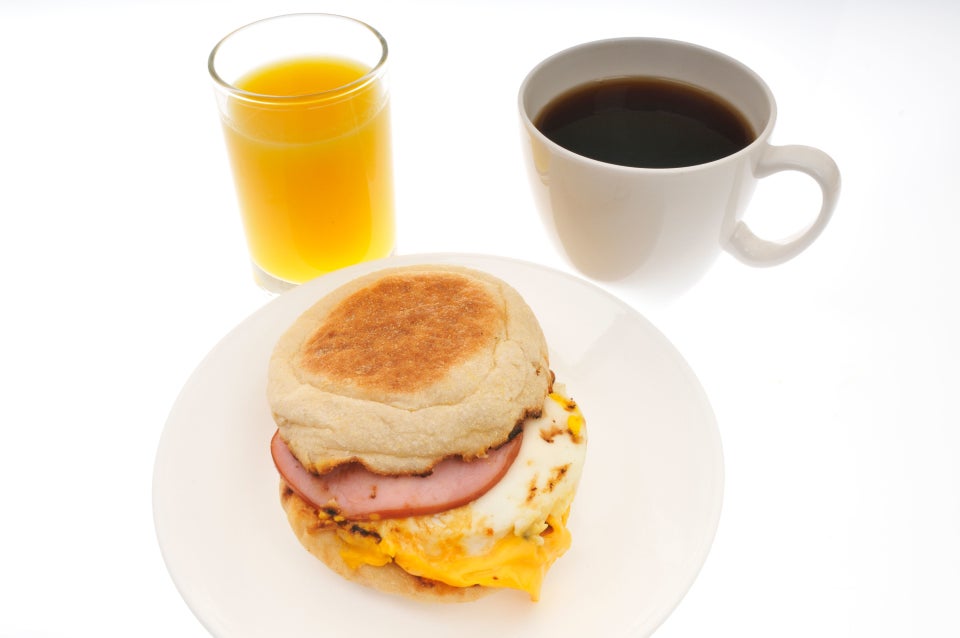 Six Things You Should Never Eat (And What To Eat Instead)
Related