DES MOINES, Iowa (Associated Press) -- Life-size butter sculptures of everything from cows to space heroes and Hollywood stars are among the most beloved traditions of state fairs, drawing thousands of admirers each year from Iowa to Ohio and as far south as Texas.
In Iowa, where the tradition started, the fair will celebrate the 100th year of its butter cow when it begins Thursday. While other state fairs may mimic the butter cow or tout other creamy creations, none has gained as much fame as the original, Iowa State Fair President Gary Slater said.
"None of the others have become that one thing that when you think of the fair, you think of it like you do here at the Iowa State Fair," Slater said. "It's become our icon."
Other states with butter cows include Illinois, Kansas, New York and Utah, while the Wisconsin and Indiana state fairs feature mammoth cheese carvings.
But Minnesota may come the closest to Iowa in celebration of its dairy sculptures. The state's dairy queen - Princess Kay of the Milky Way - and her court are immortalized in butter busts. Other state sculptures have included Darth Vadar and, in his home state of Illinois, former President Abraham Lincoln.
Here's a slideshow of some fantastic butter sculptures from recent years.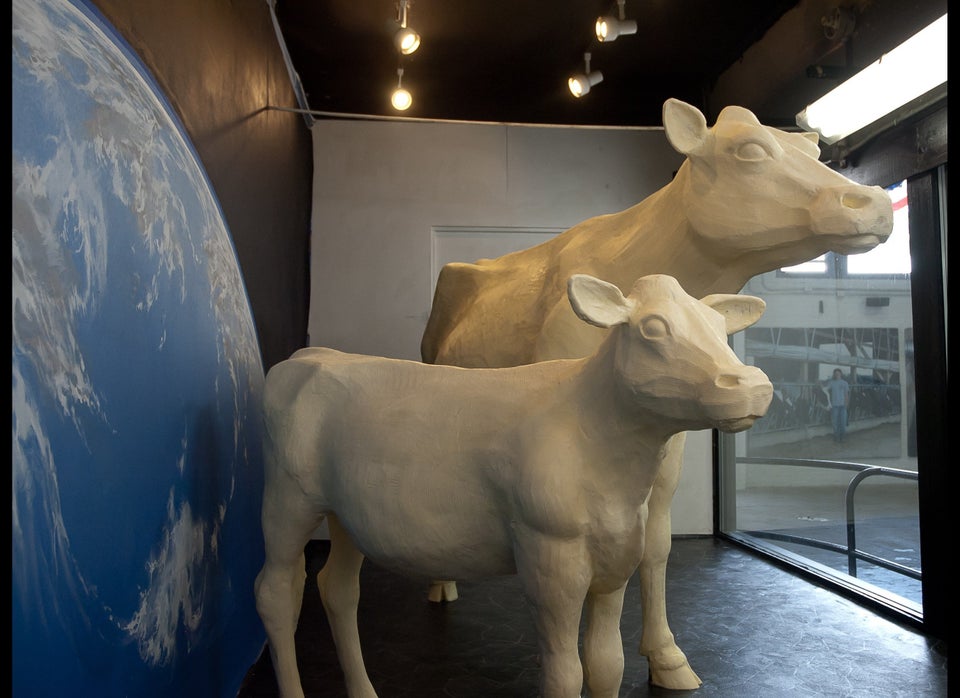 Butter Sculptures
But it's Iowa where the rich history was born, confirmed Gary Welling, head of the pastry program at Johnson & Wales University in Providence, R.I.
There, sculptor Sarah Pratt works in a cooler where the air lingers in the low 40s, applying 600 pounds of butter over a metal, wood and wire frame to create a slick and fatty cow that's 5 1/2- feet tall and about 8-feet long.
The 34-year-old elementary school teacher took over the job in 2006 from the late Norma "Duffy" Lyon, who was Iowa's "Butter Cow Lady" for 46 years. The butter in the cow may have been around longer than Pratt: It can be reused for up to 10 years.
Pratt, who apprenticed with Lyon for 15 years, said she strives to achieve the same level of success in both her sculpting and promotion of the butter cow.
"I try to hone my skills more and more each year," said Pratt, who lives in West Des Moines. "She was very good and strived to make the perfect cow. That is what I strive to do and honor what she did."
Along with the cow, Lyon's butter works for the fair included Grant Wood's famous painting "American Gothic," Leonardo d Vinci's The Last Supper, John Wayne and Elvis Presley. She died earlier this year.
"To be able to carry on this tradition, it's a huge honor," Pratt said.
Minnesota's reigning dairy queen, Katie Miron, 20, said she's honored to be the subject of a butter sculpture.
"I think every farmer's daughter dreams of being a butter head one day," said Miron, who's from Hugo, Minn.
The fair has had butter sculptures since the late 1800s but it wasn't until 1965 that the tradition of carving the heads of the dairy princesses began. They remain one of the fair's most popular attractions, spokeswoman Brienna Schuette said.
Princess Kay and her court each spend one day sitting in a revolving cooler while Linda Christensen, an artist who now lives in Oceanside, Calif., carves their likenesses in 90 pounds of butter.
"It's like opening your refrigerator, climbing inside and staying there," Miron said.
The princesses take their sculptures home after the fair. Some keep them in coolers for years, taking them out only for their wedding, where guests are invited to spread the artwork on bread or eat it in some other fashion. Others have used the butter to bake cookies for charity, or as Miron plans to do later this month, melt it on corn at a hometown corn feed.
Butter sculptures date back to ancient Tibet, where monks carved animals and deities out of yak butter, said Sherry Newell, a spokeswoman for the Midwest Dairy Association.
The tradition spread to North America in the early 1800s, and today there's a Facebook application where people can create photos of themselves carved in butter and have it printed on a postcard from one of nine Midwestern states, she said.
Welling said butter sculptures really took off in the early 1900s, when the dairy industry began using them as marketing tools.
"They really could rival great sculptures of art in their detail and as elaborate as they've become," he said.
Ohio's tradition started with a butter carving competition in 1903, and its cow eventually became a permanent display. The cow is accompanied by a companion piece, which over the year has included Darth Vader and astronauts John Glenn and Neil Armstrong, both Ohio natives. There have been tributes to the Ohio State Buckeyes football team and golfer Jack Nicklaus. This year, the sculpture was a space shuttle with a floating astronaut enjoying freeze-dried ice cream.
The sculpture honored the end of the shuttle program in the state that has produced more astronauts than any other.
"I think it's really cool, with the shuttle mission being over," said David Cunningham, an 18-year-old Ohio State University business student. "It keeps the program in a good light."
Nancy Walcutt, 60, a retired teacher from Lewis Center, Ohio, marveled at the butter cow during her recent visit to the fair.
"To put so much butter together and manipulate it in so many ways to come together and make a cow - the muscles and the veins and just the detail that goes into it," she said. "It's really skillful."
Associated Press writer Andy Brownfield contributed to this story from Columbus, Ohio.
Related
Popular in the Community