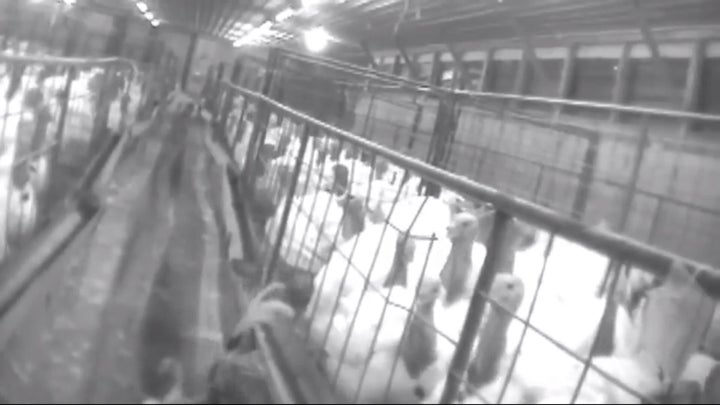 County sheriffs in North Carolina raided a Butterball turkey raising facility this morning to investigate claims of animal cruelty, after the animal rights group Mercy For Animals released a video depicting what they are calling serious animal abuse.
If that's the case, there could be trouble ahead for more than a few employees. The video shows multiple turkey handlers kicking, throwing and dragging birds around the Butterball farm. It also features images of sad-looking turkeys marred by disfiguring, likely painful, ulcers and sores, not to mention missing feathers. It's by no means inconceivable that the location in the video might face the kind of repercussions that egg producer Sparboe Farms felt at the hands of McDonald's and Target after its own history of animal cruelty was revealed.
The timing of the release date seems a little strange. Mercy For Animals might have had a bigger impact if they'd circulated the video in advance of the Thanksgiving and Christmas turkey buying seasons. That might have encouraged customers to move away from factory farmed turkeys in favor of pricier -- but often more humanely raised -- heritage turkeys. But better late than never.
Here's the undercover video. A warning: the following depicts animal cruelty, so some images may be disturbing, especially to young viewers.
Popular in the Community