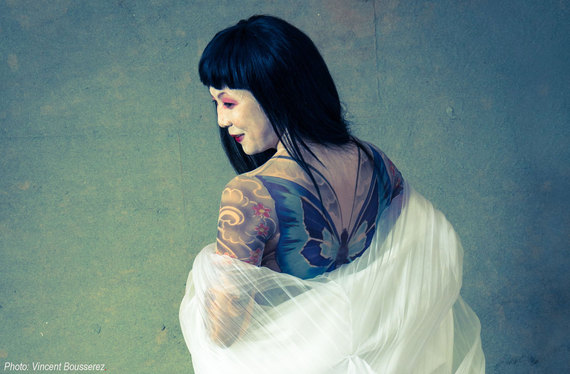 A tale of an American military man seeking a temporary marriage with a 15-year-old Asian girl is highly unpalatable to a contemporary audience. For that reason Madama Butterfly can be one of the trickiest operas to realize today. It is to opera what The Taming of the Shrew is to theater. Times and values have changed.
To add to the challenge of the work itself is the venue. This new production of Madama Butterfly is presented on floating outdoor stage on Sydney Harbor. On stage, a bamboo forest evokes the rolling hills above Nagasaki harbor. Beyond the stage, the iconic Sydney Harbor Bridge, opera house and city lights seduce and dazzle.
But despite the glittering surrounds, there is a dark underbelly to this production - created by Spain's Àlex Ollé and La Fura dels Baus, that moves the work far beyond a dated orientalist fantasy. Instead it becomes a present-day fable that pits greed, development and power against a fragile and natural world.
This is the third Handa Opera on Sydney Harbor and the most satisfying, rising to the seemingly contradictory challenge of combining of ravishing visual spectacle with intellectual rigor.
Even before Puccini's first notes are heard, a surveyor is busy on stage sizing up the verdant landscape so ripe for development. In this production, B.F. Pinkerton is not a naval officer but a property tycoon. As chief executive of Pinkerton Construction, he views the land as he does his young bride-to-be, as property to be exploited, plundered and discarded.
So why is the young geisha so smitten with this figure that she is prepared to cast off her traditions? A clue comes in the form of her furious uncle, the Bonze, who arrives at her wedding accompanied not by fellow priests but criminal gang members.
But it is not until Cio-Cio-San's traditional gown slips from her shoulders at the end of act one that we see her back is covered in elaborate tattoos that evoke the Japanese mafia or Yazuka. Here is a Madama Butterfly pulled between equally destructive and exploitative forces.
Paradise has been paved over as the second act opens. Pinkerton Construction's half-built waterfront apartments flank the stage. Between high-rise pillars, Madama Butterfly lives in urban squalor. She is not the only one. The humming chorus is delivered by a line of homeless souls carrying their scant belongings.
It is a prescient image of a growing urban underclass, not least in Sydney where long-term public housing tenants are poised to be evicted and their waterfront dwellings sold.
There is no shortage of spectacle. There's fireworks, a speedboat and a rising moon, but this thought-provoking production, designed by Alfons Flores, challenges its audience even as it beguiles with its beauty.
In the title role, Japanese soprano Hiromi Omura is assured vocally and dramatically, bringing complexity to her characterization. In her hands, Cio-Cio-San's attraction to modernity in the form of Pinkerton is not mere naivety, but a means to escape her manipulation by dark traditional forces. Her vulnerability as her child is wrenched away is deeply moving.
Omura is well-paired with Russian tenor Georgy Vasiliev as Pinkerton. He conveys the callous, brashness of the role, yet sings with warmth and richness.
Michael Honeyman is restrained as Sharpless, the decent if ineffectual man of conscience. Anna Yun, as the loyal maid Suzuki, sings with strength and clarity.
On opening night, the sound balance meant that at times the orchestra, conducted by Brian Castles-Onion, was overshadowed. With a three-week run ahead, it is an irritant that needs addressing.
The annual harbor production, which increasingly draws international visitors and first-time opera goers, is part of Opera Australia's strategy to broaden its audience. When opera companies internationally are folding, most recently the San Diego Opera, the strategy appears to be working.
Having become one of the most anticipated events on Australia's operatic calendar, it is hoped that Opera on Sydney Harbor will continue. Japanese benefactor Haruhisa Handa backed the program for three years. It is not certain whether future funding will be forthcoming.
The first outdoor opera (La traviata) demonstrated it was possible to deliver an engaging, fully staged production on a floating state, the second (Carmen) that there was a growing audience for opera presented in non-traditional venues. This year has raised the bar with a production that brings a new dimension to this problematic, if musically ravishing, opera.
Handa Opera on Sydney Harbor continues in Sydney, Australia, until April 12, 2014.
PHOTO GALLERY
Madama Butterfly, Opera on Sydney Harbor